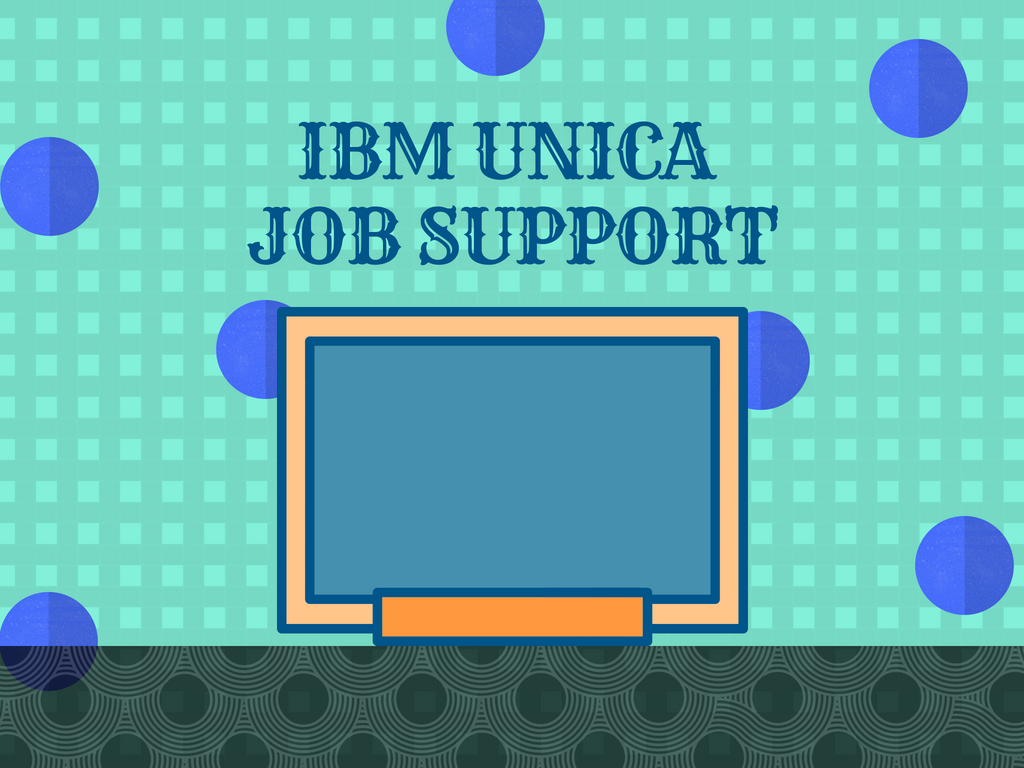 Introduction of IBM UNICA Job Support:
IBM Unica job support is provided by 'Idestrainings' which is the best online job support firm from India. We are offering the best IBM Unica job support with the best trainers. Idestrainings also gives the best Unica campaign job support with the best trainers. Before going to IBM Unica job support details, let's have a look at the basic concepts of IBM Unica job support. Now, let's see what IBM UNICA is In todays marketing happening at internet speed but the pace can get frantic for thinly stretched marketing teams fire drills crowd out analysis and creative thinking and the technical aspects of digital channels can leave. The Cloud computing is merely a distribution of computing resources over the internet.
The IdesTrainings provides the Best campaign management Job Support from India with all required skills for all the aspects. the IBM unica campaign and terminology  it's a process flow and step by step for campaign so lets create a campaign.
Here first you have to build the logic that selects the targets of you campaign with a flowchart.
Then you should create a offers from a central repository of offers that can be dynamically generated for each campaign target
To determine which target groups are in campaign they are know as cells will receive which offers.
Then you generate a contact list from the flow chart and store the list in the ibm in the IBM unica campaign database
You have to check via various means contact the customer with the customer with the marketing communication
The customer responds to the campaign and their response activity is recorded at the end of the process you generates reports that analyze contact history and responses
Learn components of IBM UNICA job support:
All stages that appear with the red border occur within IBM unica campaign those are do not outside of IBM unica campaign
In a moment you will see how to start building campaign in IBM unica campaign, first some keys concepts
A flowchart is a collection or set of one more tasks or processes ,that IBM unica campaign executed to specify and select the desired targets of your marketing campaign and optionally assign offers track responses
In default configuration real time profiling generates a sql query that select all values for the field database and return to campaign analytics server before displaying and de-duplicating of a list of values
In the profile dialog particularly on large table these queries can casuse performance degradration and latency in displaying values to users
Learn IBM UNICA services in IBM UNIC job support:
The interactive channels represents the clients-facing touch points that is used to coordinates all of the objects data and server resources that are involved in interactive marketing in this scenario ,your company has a web site .this web site the touch points where customer visit to make purchases  this demonstration shows how to create the interactive channels
Create the Interactive channel

Map the dimension table

map the profited table
Standard options include in the ability to specify the number of bins values are categorised into different segments and an option to profile by meta type which sorts the resulting values by their data type, ex: data rather than ASCLL text.
From your dashboard select campaign then choose interactive channels select add interactive channels

The profiling is available in any flowchart process where can reference a data base table ,flat file or derived fields .

It enables users to see and select table values when editing a flowchart.
Overview of IBM UNICA Job Support:
The Idestrainings has best industry experienced trainers for IBM Unica and we have also gives job support for related courses IBM unica campaign, our job support team understands the problems faced by the new joiners & also their struggle to solve technical issues because they have lack of exposure and less technical knowledge. We will take care of your project and technologies used; if we are 100% confident then we agree to support you. Idestrainings is the fastest growing online job support provider firm you can utilize the services of 'Idestrainings' to improve your skills and also to get on your first job