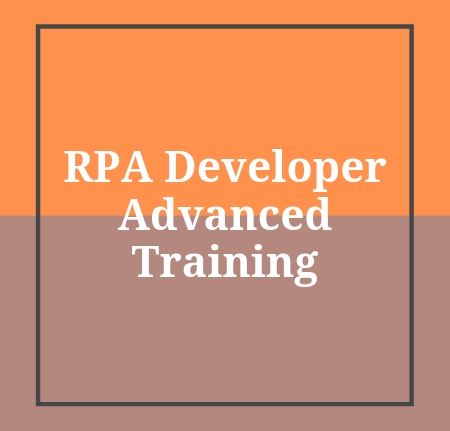 Introduction to RPA Developer Advanced Training:
RPA developer Advanced Training is someone who works with business operations and business analysts to create and optimize workflow processes. It can also cause test or bug fixes, so coding skills are also important. The role of RPA developer, you must have the ability to navigate various appropriate technologies, An RPA developer Adv online Training may be responsible for the design and management of workflow automation projects in this role. Idestrainings provide the training on the RPA Developer Advanced Training by the real-time experienced trainers and we will cover the full advanced concepts of the RPA Developer Advanced Online Training. We provide Best RPA Developer Advanced Training videos and the material also.
Prerequisites of RPA Developer Advanced Course:
The People who are willing to take this RPA Developer Advanced Training should have basic knowledge on the RPA Developer Foundation Training, Orchestrator Training.
RPA Developer Advanced Online Training outline:
Program Name: RPA Developer Advanced Training
Duration of Course:30 Hours (It can also be optimized as per required period).
Mode of training:Online, Classroom, and corporate training.
Timings:According to one's feasibility.
Batch Type: Regular, weekends and fast track.
Materials:Yes, we are providing materials for RPA Developer Advanced Online Training. (We will get the soft copy material)

Sessions will be conducted through WEBEX, GoToMeeting OR SKYPE.

Basic Requirements: Good Internet Speed, Headset.
Trainer Experience:10+ years.
Course Fee: please register on our website, so that one of our agents will assist you
RPA DEVELOPER ADVANCED ONLINE TRAINING COURSE CONTENT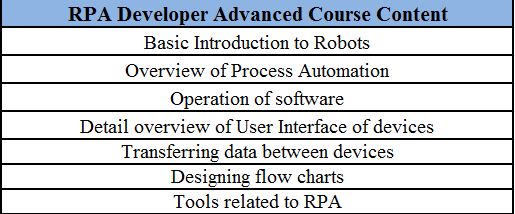 Overview of RPA Developer Advanced Training:
RPA developers are responsible for the creation, design, development and implementation of RPA systems. It is necessary to research, analyze, and establish automated processes to increase efficiency for the business model. This is done with the help of RPA technologies and tools.
Some of the most used Robotic process automation tools:
Blue Prism

UI Automation

Automation Anywhere

OpenSpan

UiPath

NICE

Work Fusion
The roles of responsibilities of RPA Developer Advanced Course:
Implement Blue Prism process solutions in accordance with standard Blue Prism design principles and conventions

Work with Business Analyst, SME for process identification and feasibility

Perform Proof of Concepts to help the business recognise the feasibility of an automated solution

Identifying and communicating the technical implementation requirements

Configuring new Blue Prism processes and objects and also maintaining the old repository of codes developed by other developers

Supporting the Project Manager in creating the transparency of the ongoing activities

Creating and maintaining solution and other relevant documentations e.g PDD, ODI, SDD and etc

Supporting existing processes and implement change requirements as part of a structured change control process

Solving issues that arise in day to day running of Blue Prism processes and providing timely responses and solutions as required

Creating and documenting test procedures and scenarios for the pre-UAT phases

Supporting the Operational Teams during the UAT and rollout

Participate in structured peer reviews and walkthroughs

Administration of the Blue Prism live environment (running processes, maintaining resource PCs, viewing logs etc.)

Case Management, managing and allocating process workloads

Managing and investigating exceptions (Business and System Exceptions)

Communicating with Blue Prism on software related issues, suggesting improvements and participating with other users in the Blue Prism community.

Required to attend meetings relating to process development and problems identified with solution

Have knowledge of ongoing technologies and where applicable advise the company to take advantage of it
What is RPA Developer Advanced?
Robotic Process Automation (RPA) is an advanced technology that automates huge quantities of redundant tasks by applying artificial intelligence (AI). It is becoming an increasingly popular technology in modern industries such as banking and finance, healthcare, insurance, etc. due to its wide spectra of benefits: reliable, customer-friendly, less cost, with UiPath Training, RPA provides a complete and scalable solution that provides dedicated recorders for desktop and web applications, an extensive functionality library, powerful debugging, third-party integration and centralized server-based licensing.
Who can take this RPA Developer Advanced Training?
Developers

Project Managers

Architects

Operations Support

Team Leads

Product Managers
What are Skills to use RPA Developer Advanced Training?
There are different types of the skills in the RPA Developer Advanced Training:
Strategic Planning Skills:Planning is imperative for success in this role. Setting design goals or initiatives for your RPA Training project and mapping out workflow will allow for an easier implementation.
Strong Analytical Skills: You will need to be able to analyze a process and provide improvement recommendations. A key benefit of adopting RPA is its ability to improve workflow; therefore as an RPA developer you are responsible for managing the technology that does just that: improves workflow.
Problem Solving Skills:Automation does not always go smoothly the first time around. Mistakes happen, and bugs will pop up. We already mentioned that you maybe responsible for testing and bug fixes. The ability to debug a robot will come in handy, saving you time and stress as you handle any crisis that comes along.
Understanding of Programming Languages:It's critical that you have experience and thorough knowledge in programming languages such as C/C++, Python, Ruby, and Java 
RPA Business Analyst Training:
RPA business analyst training is a key role because they need to perform a complete discovery phase in which they identify and document the end-to-end process and workflow. The RPA Business Analyst Training will manage and deliver components of business engagements that identify, design, and implement technology and creative RPA solutions for the organization. Key responsibilities will include:
Analyze business processes, identify automation opportunities, define RPA value proposition, reengineer process to improve automation potential and recommend RPA approach/strategy

Develop Detail As Is Process Description – PDD (Process Description Document), Detail To Be Automated Process Description – SDD (Solution Design Document)

Conduct RPA High Level Assessments

Develop RPA client architecture and solution proposal focusing on scalability and extensibility

Develop high level project plans for implementation projects

Provides continuous updates to RPA stakeholders and Project Manager during project delivery
Conclusion to RPA Developer Advanced Training:
RPA Developer Advanced Training with its super technology will provide many benefits such as increased quality, faster production, reduce costs, improve customer satisfaction. While many businessmen fear that it will discharge a large part of the workforce but it is a valuable tool that provides innovative tasks to humans, These RPA users have developed, in the process, a strong sense of what it takes to avoid running into trouble with the technology.
IdesTrainings gives the best online training, corporate training and job support for RPA Developer Advanced Training. We have best mentors to manage you through this RPA Developer Advanced online course and numerous different courses; in our Idestrainings and just as, for both individual and for corporate bunches too. Our trainers will be available 24/7 online support. IdesTrainings gives training to all RPA Tools at a sensible cost and at trainee's adaptable hours? We likewise give classroom training at customer premises Noida Bangalore, Gurgaon, Hyderabad, Mumbai, Delhi, Pune.