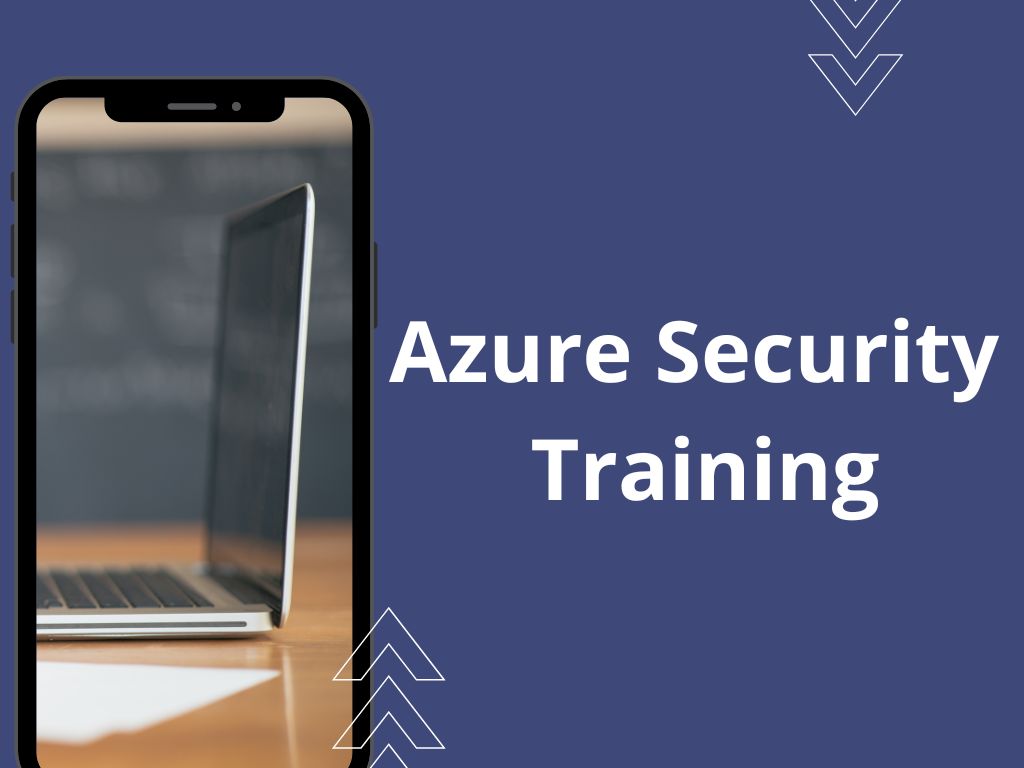 Introduction to Azure Security Training:
Azure security Training at Idestrainings. Azure Security is used to implement the security controls and threat protection, manage identity and access; and protect data, applications, and networks in cloud and hybrid environments as part of end-to-end infrastructure. These professionals identify and remediate vulnerabilities by using a variety of security tools, implement threat protection, and respond to security incident escalations. They will often serve as part of a larger team dedicated to cloud-based management and security and may also secure hybrid environments as part of an end-to-end infrastructure. Idestrainings provide Azure security online training and also corporate training from our real-time experts. We also provide Azure Security classroom Training in Hyderabad, Noida, Mumbai, Delhi, Bangalore etc.,
Prerequisites of Azure Security Training:
The requirements to sign up for this online Microsoft Azure Security Services course are mentioned below:
Experience in the cloud network, storage, and computing services
AZ-103 and AZ-900 certifications are beneficial, but they are not compulsory
Azure Security online Training course Outline:
Course Name: Azure Security Training
Mode of Training: We provide Online Training and Corporate Training for Azure Security Course
Duration of Course:30 Hrs (Can be customized as per the requirement)
Do you Provide Materials: Yes, If you register with IdesTrainings, the Azure Security Training Materials will be provided.
Course Fee: After register with IdesTrainings, our coordinator will contact you.
Trainer Experience:15 years+ of experience
Timings: According to one's feasibility
Batch Type: We provide all types of batches like Regular, Weekends and Fast track
Backup Session: If the student misses the session, we also provide backup session
Azure Security online Training Course Content: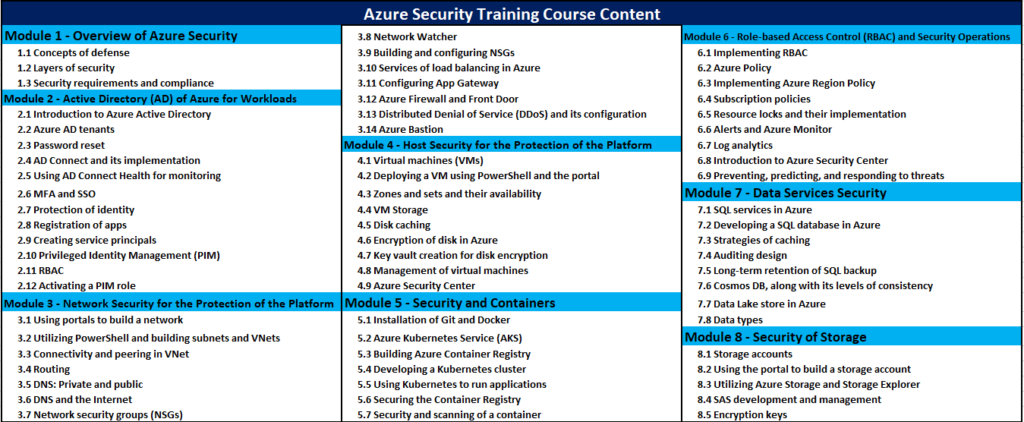 Overview of Azure Security Training:
The Azure Security Center provides centralized threat protection and security management across hybrid cloud workloads. By leveraging the Azure Security Center, you can apply security policies across your workloads, limit your exposure to threats, and detect and respond to attacks. Through centralized policy management, compliance with company and regulatory security requirements is ensured. 
Administrators can monitor the security of machines, networks, storage services, and more to uncover potential security issues. The Security Center can make recommendations on actions to take to remediate security vulnerabilities before they are exploited. By offering the ability to collect, search, and analyze security data the Azure Security Center provides administrators with a way to ensure the security of all workloads. 
The Azure Security Center helps with meeting security requirements through the definition of security policies used to maintain the desired configuration of workloads. Policies defined in the Azure subscription can be adapted to the type of workload or to the sensitivity of the data being protected. Azure Security Center can also provide security recommendations for resources such as compute, networking, SQL, storage, and applications.
Azure Security Center is a unified security management system offered by Microsoft to Azure customers. Some Azure Security Center benefits customers can enjoy are:
Providing visibility and control over the security of Azure resources (like Virtual Machines, Cloud Services, Azure Virtual Networks, and Blob Storage).

Protecting hybrid workloads deployed in Azure or non-Azure environments and on customers' premises.

Strengthening security posture. The Azure Security Center checks the cloud environment and helps customers understand the status and security of their resources.

Detecting and blocking cyber security threats. There's a single dashboard that provides Azure Security Center alerts and recommendations. This also helps with regulatory compliance as security policies can be streamlined across the Azure Security Center dashboard.
Enhancing Azure Security:
While native tools and services often provide a good starting point, you also need tools with advanced capabilities to guardrail your applications from evolving threat actors in the cloud. The following additional capabilities are essential to ensure comprehensive cloud security:
Visibility: Real-time cloud intrusion detection, network traffic visualization, and user activity analytics that deliver contextual information will help proactively identify and mitigate anomalies.
Automation: Integrating automation into cloud security operations from day one through options like predefined templates and self-adaptive security policies will help avoid human error and misconfigurations.
Compliance and Governance: Security reports tailored to showcase compliance and governance against industry standards will simplify your reporting and audit process.
Minimizing Misconfiguration: Continuous assessment of your environment configurations against defined security standards and the automation of workflows and policy implementations will help minimize misconfigurations.
Intelligence and Predictive Analytics: Threat hunting and predictive analytics powered by AI can help detect anomalies faster and generate real-time alerts on malicious activities.
Workload/ Storage Protection (for Container and Serverless): Extend your security capabilities to containers and serverless to protect modern, microservices-based workloads.
Benefits of Azure Security Training:
Implement enterprise governance strategies including role-based access control, Azure policies, and resource locks.

Implement an Azure AD infrastructure including users, groups, and multi-factor authentication.

Implement Azure AD Identity Protection including risk policies, conditional access, and access reviews.

Implement Azure AD Privileged Identity Management including Azure AD roles and Azure resources.

Implement Azure AD Connect including authentication methods and on-premises directory synchronization.

Implement perimeter security strategies including Azure Firewall.

Implement network security strategies including Network Security Groups and Application Security Groups.

Implement host security strategies including endpoint protection, remote access management, update management, and disk encryption.

Implement container security strategies including Azure Container Instances, Azure Container Registry, and Azure Kubernetes.

Implement Azure Key Vault including certificates, keys, and secrets.

Implement application security strategies including app registration, managed identities, and service endpoints.

Implement storage security strategies including shared access signatures, blob retention policies, and Azure Files authentication.

Implement database security strategies including authentication, data classification, dynamic data masking, and always encrypted.

Implement Azure Monitor including connected sources, log analytics, and alerts.

Implement Azure Security Center including policies, recommendations, and just in time virtual machine access.

Implement Azure Sentinel including workbooks, incidents, and playbooks.
Conclusion to Azure Security Training:
Idestrainings is all this taken care of the real time consultant and real-time scenario, all the consultant in Idestrainings is a subject matter real-time expert, who is working in azure and they will be helping your Azure security online training. Idestrainings trainers have supported you all your Azure Security job support project technical problems & guide you to the right path in order to obtain a favorable solution. You will learn to build your work we help to that development techniques.
Idestrainings has consultants are highly experienced and they are 24/7 training services, they are having real-time professionals with full stake technical skills. We are complete with the projects at client's deadline with we proud to say confidentially, the Azure Security Training is complete to take the best way as to care of the professionals. Idestrainings consultant helps the students and as well as working professionals till the end of a course. Trainees will get confidence by trainer support in their project. Will also support their projects completed. Our Training have done five or six projects regarding each module in Azure Security corporate training. At Idestrainings We also provide Azure Security classroom Training in Hyderabad, Noida, Mumbai, Delhi etc., We also provide training for Azure etc.,,