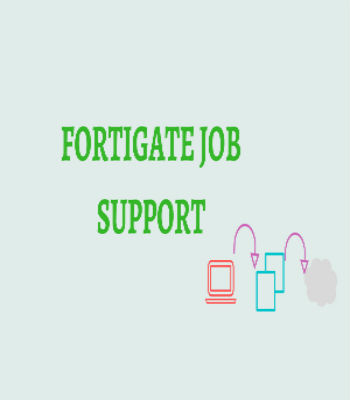 Introduction of FortiGate job support:
Idestrainings provides FortiGate online job support and the we will explain the Fortinet FortiGate firewall by experts. Idestrainings is the best and quality IT service provider for FortiGate job support and its latest versions. Our FortiGate Job support provides help for fresher's and also working professionals. We are here to support the employees by providing online support for resolving technical issues in their working projects. We provide Idestrainings to the employees who are joined into a new job and also unable to perform the task effectively. Our team will be experts in complete the projects at client's deadline with full accuracy and confidentiality. Fortigate is basically a hardware firewall and a unified threat management device which provides administrative access to the device by modifying access restrictions, managing authorized users with their access profiles and ability to backup as well as restore the configuration files.
FortiGate unit is nothing but unified threat management service. The FortiGate it will be built multiple single purpose devices. Each device will be performed a specific task and these FortiGate have multiple devices. One of the device in this FortiGate is firewall. Not only this device it will have many devices, it will be having virus scanning device. Idestrainings explains FORTIGATE with cover all the related topics like FortiGate Fortinet Firewall.
For email filtering it has device and for instruction scanning, for application control and one device dealing was the VPNs. So, in this way the FortiGate different devices for controlling, multiple applications. Most important thing is these all devices are provided by multiple vendors.
The FortiGate network it can mostly use as a private network and the internet. In between the two networks the FortiGate can be installed as a gateway or router. By using the NAT, the private network hides the IP address by allowing the FortiGate.
Before Firewall came into existence the devices we were having in networking was pretty simple. It was a router and it was a switch, so basically router is edge device for VAN and for ISP connection. The firewall is either a software or a hardware with embedded software which divides computer network into multiple security segments. It then applies security policy for all traffic travelling one segment to other.
Why FortiGate Job Support?
IdesTrainings has a team of experts who will let you know the significance of using FortiGate that why it is more useful for your business growth. In a typical network solution, the network connectivity is mainly relying on many devices, so it is made up of multiple single purposes devices and each device is assigned to perform a specific task.

There are many devices such as one device is for firewall, another is for virus scanning, for filtering email, websites, optimization, application control, intrusion scanning and so on.

So, there is lot of different devices doing different things and most likely these services are being provided by multiple vendors.

All of this can introduce many points of failure to your business environment so a FortiGate unit combines all of this and more into a single device by providing different types of user authentication.

This way you only need to access one device and you can make changes to every aspects of the network and security deployment.

Furthermore, these security offerings are based on in-house technologies which do not rely on any third-party vendors because the FortiGate unit provides a comprehensive approach to security.

A FortiGate unit can act as a firewall, prevent data from getting leaked out of the network, optimize the WAN traffic and handle SSL VPNs by managing wireless controllers.

It also provides both static and dynamic routing facility for enforcing endpoint compliance, managing virtual domains, enforce traffic shaping and can be configured for high availability.
Overview of FortiGate job support:
IdesTrainings is providing the best FortiGate job support with the best trainers from India. 'Idestrainings' is the fastest growing online job support provider firm. We provide FortiGate online job support at an affordable cost. We are providing the most senior consultants from India for this FortiGate job support. 'Idestrainings' offers online job support for technically weak candidates. 'Idestrainings' is more reliable and expert consultancy for online job support. Moreover, we have a good experience in providing quick solutions to our FortiGate job support clients. Our senior consultants are always available for Fortinet FortiGate firewall job support from India.
We have a core technical team of consultants who are industry experts and having experience in delivering successfully the Fortinet FortiGate job support. Our team will help you to complete the project on time. In our the FortiGate job support.