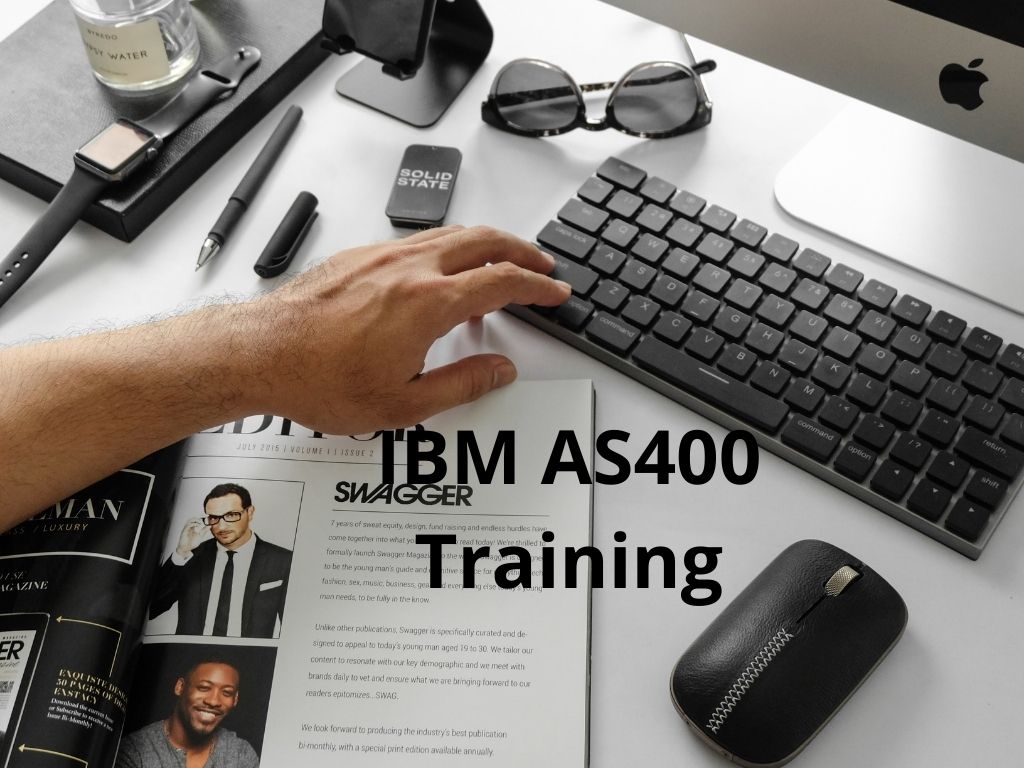 Introduction to IBM AS400 Training:
Our AS/400 Training helps you to learn its user and managing skill .In AS400, AS stands for Application System it is  based on layered machine architecture. It enables the user to move to a  new hardware technology at any time, without disrupting their application programs. IBM Announced a powerful new line of AS400 servers with faster processors which is also called as IBM i series with increased performance & greater flexibility to handle the multiple application workloads on a single server. . It provides contiguous memory between main storage, disk storage and also provides authority to add any disk space. IdesTrainings covers a 100% Real-Time, Practical and Job Oriented IBM AS400 Online Training. Our IBM AS400 course focuses on advanced level training from basic level training. The Training focuses on understanding the system capabilities, program development tools, info ideas, and system management from a programming perspective. Enroll today for the training course by filling your details in the contact us page, or simply message below in the drop box.
Prerequisites to learn IBM AS 400 Online Training:
Anybody wants to learn IBM AS 400 Training. They must have
Basic knowledge of Java programming language and also distributed systems and concepts is a benefit.

Basic knowledge of computer concepts.
IBM AS400 Online Training Course Details:
Course Name: IBM AS400 Training
Mode of Training: Online Training and Corporate Training for IBM AS 400 Training Course
Duration of Course: 30 Hrs
Do we Provide Materials? Yes, If you register with IdesTraining's, the IBM AS 400 Training Materials will be provided.
Course Fee:  After register with IdesTrainings, our coordinator will contact you.
Trainer Experience: 15 years+
Timings: According to one's feasibility
Batch Type: Regular, Weekends and Fast Track
Overview of IBM AS 400 Training:
The IBM AS400 is an integrated system that encompasses hardware and operating systems that serve as main functions such as an integrated database. Much of this software and hardware has gone through many upgrades, although many still refer to the system as an AS / 400 or sometimes iSeries IBM server, hardware is technically Power Systems, which runs an updated operating system called IBM i.
IBM AS 400 was introduced in the year 1988 by IBM. The it is also known as the IBM Power Systems Server Line. Technically, AS400 is the first generation and now is also named as IBM iSeries,

AS/400 stands for Application System Four Hundred. AS/400 may be a mid-range I series system with information management language for low-priced budget offices. They are very secure and are principally employed in banking, insurance, and monetary establishments to run their applications.

The IBM AS 400 is meant to supply extraordinarily high redundancy and period of time. 

The administrative used IBM AS 400 on the basis of the structural design of OS/400 and AIX.

Now a day's most of the businesses are benefited by IBM iSeries Cloud hosting and extra OS Choices.
Learn all these concepts in our online IBM AS400 training program.
Learn about the uses of IBM AS 400 in our IBM AS400 Training:
The advantages of IBM AS 400 are well explained by our trainers in our IBM AS400 Online training. Today AS 400 is the greatest success story of IBM because all departments of firms are using IBM AS 400 power systems and installed IBM AS 400 in all government sectors, small businesses, and large businesses. All IT Enterprises are using IBM Power System Computers from the 1980s to till. Current IBM iSeries from original AS400, they are rewarding for performance, stability, and reliability.
With a highly decreasing cost of cloud hosting services, and earliest times by it criticizes, and also as price rituals, the IBM AS 400 is portrayed. In addition, there is no IT support – particularly for companies that go to a cloud – some companies have started to restart their IBM Power Systems infrastructure to review. However, the criticisms have surpassed, and there are good reasons why so many companies still use the IBM AS400. The extensive installation of AS400 Administration database and comes with a database built-in, below are some major uses for the IBM AS400 training to learn in our online classes:
Corporate groupware services:
IBM AS 400 helps to create reports faster and provide business emails and project reports sharing easy. And also provide easy electronic collaboration.
Web Serving and e-commerce serving:
IBM AS400 with a web server was designed to take orders from the customers and also track them easily to offer best services to the customers.  It supports e-commerce enterprises with smooth actions. Like this IBM AS400 can manage internet serving for medium-size organizations.
Java application development:
AS400 can be used as a development system with its closest Java virtual machine and new tools designed in IBM AS 400 to build commercial applications with Java.
RAM in gigabytes and hard disks in terabytes are both advantages of IBM AS 400. So that it works as a storehouse for organizations who have a huge amount of data.
Are there any specific AS400 certifications available?
IBM has rebranded its AS400 certifications under the IBM Power Systems name in recent years. These certifications are offered at several levels:
IBM Certified Advanced Technical Expert

IBM Certified Systems Expert

IBM Certified Operator

IBM Certified Technical Sales Expert

IBM Certified System Administrator
These certification paths also contain sub-paths, to help workers specialize their skills. For example, here are some paths for IBM Certified Systems Experts:
Enterprise Technical Support for AIX and Linux

Virtualization Technical Support for AIX and Linux

High Availability for AIX Technical Support and Administration
Learn how to boost Career with IBM AS400 training?
By IBM AS400 training you can always boost your career with its wide work domains.   An AS400 is now called IBM iSeries and is a family of mainframe servers. It's a rock-solid platform but it has a lot of plus points and is used to some of the biggest companies in the world, which is also matched nicely. If you're totally new to computing/DevOps/system admin then you'd likely be better off at learning the basics e.g. how to navigate around Unix, how to use ducker, how to deploy something to Amazon Web Services, how to write a shell script, how to write SQL and then a scripting language like python. If you can master the basics in each of those areas then you'll be set up for pretty much any job in IT that you like.
Want to start a career with IBM:
Start switching careers using an IBM iSeries (AS400) is much easier than trying to start a career from scratch. The company that uses an iSeries is very happy to be able to train those who have better IT skills and do not have a non-IBM iSeries customer than a person who knows how to use iSeries.
Join in our IdesTrainings. We provide IBM AS400 Training by real-time experts. Our trainers will teach IBM AS400 Online Training with practical examples in your flexible timings. IAM AS400 Training cost at IdesTrainings is very low and affordable. We also provide AS400 training from our real time experts. Why because the price does not matter to us but our main vision is to help students in upgrading their skills in the path they have chosen to reach their goal by providing training in all IT technologies. Don't miss this opportunity. Come and Join immediately.
Learn the advantages of the Operating systems in Our IBM AS400 Online Training :
IBM Power Systems has been a major part of Enterprise IT since the 1980s. The original IBM AS / 400 from current IBM iSeries, they were rewarded for performance, stability, and dependence. Nonetheless, as the company cloud services continue to replace Onsite ERP, some people have written AS / 400 off. With a decrease in the cost of cloud hosting, IBM AS / 400 is from the earliest times by its critics, as a price ritual. But many companies are considering IBM Power Systems for the lack of IT Support, where the companies want to move to the cloud. This is because we can say those still companies use IBM AS 400.
Do you know that? IBM AS / 400 is one of the leading and the most accepted in major industries such as manufacturing, IT software industries. However, worldwide companies like American Pharmacy, Health care giant, the Indian retail chain, and CVS Health care using IBM AS 400. One of the major companies like Vishal Mega Mart also uses AS / 400 for their purposes. IBM AS/400 is most popular among all companies but is used across organizations of all sizes. Our Trainers help in dealing all these important concepts in the IBM AS400 Training Program.
What are the Course Objectives of IBM AS400 Online Training?
IdesTrainings's  IBM AS400  Training program AS400 ideas, ADTS, Query400, DB2 / 400, management Language (CL400), RPG400, RPG4, ILE ideas, OS400 Commands, SQL400, the period of time Scenes.

Also, students learn varied things concerning virtual computing, that's vital for effective use of AS / 400.

WebSphere/Java focus on development, monitoring, and tuning of WebSphere applications and Java technologies

The IBM IUser Interface

Enterprise technology support for AIX and Linux, Virtualization support for AIX and Linux and higher availability for AIX technical support and administration.

The AS400 Corporate Training Program helps to improve the work managers, developers, and technical support staff.

Taught to apply their administrative skills to the developing world of remote and virtual computing

Using Source Entry Utility (SEU)

Using Data Areas

DDS for Display Files
Conclusion To IBM AS400 Training:
Nowadays, IBM tools are playing a vital role in the current market. As IBM AS 400 is one of the biggest platforms, most of the enterprises are moving their large amount of digital business resources into the client/server model. So, IdesTrainings IBM AS400 training is one of the best ways for IT employees to expert in the architectures and configurations of these vital server machines. Join in our IdesTrainings IBM AS400 Training. We have a team of IBM certified professionals with having 15+yrs of real-time experience. Here our IBM AS/400 course makes you an expert in IBM Tools. Join the training class by enrolling in the contact us page or drop a message below.