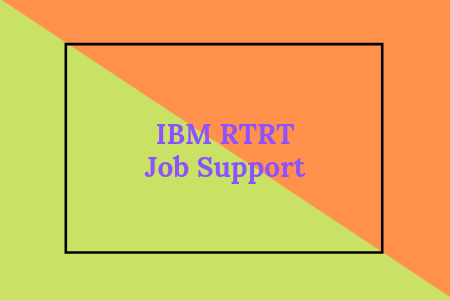 Introduction of IBM RTRT Job Support:
Our IBM RTRT Job Support plays a very important role for newly joined employees and also for the experienced employees who are not able to finish their project on time due to any reason. For those employees, this is the best way to approach our Idestrainings. Our team is always ready to solve any issue regarding the project. IBM RTRT Training is a brief form for the Rational Test Real Time, which testes the design software and is designed by IBM. It is a simple tool that software tester uses for different software testing. This tool is primarily used for aerospace-related software testing or airborne software testing. The test teams face limited resources, time limits, critical and cross-development environment, and test execution platforms. Therefore, organizations need to automate the process of identifying and fixing errors.
Overview of IBM RTRT Job Support:
The IBM RTRT Job Support component automates the creation and expansion of testing test gestures, test stubs, and test drivers. This allows development teams to create profile memory and performance reports, analyze code coverage, and take into account the behavior of program implementation. It is used to create test specialists that introduce the basics of IBM Rational Test Automatics tools to use in Java and Web applications. Testers can build, improve, and manage scripts in a fully fledged Java IDE, which connects with IBM Rational Tools Delivery of a platform.
The test is Real-time Target Deposit technology directly covers your Test cases and Target Execution analytics directly to the system that embeds your target. They are designed specifically for embedded and other types of computing products that support secure and business-complex embedded applications. This is more efficient in your debugging, enabling you to find and correct the errors before entering the product code. These reports will be used to update the other team members who participated in the development program. By implementing this process, some test criteria, such as failure test cases from the RTRT, are automatically routed to other devices connected to the error tracking tool
Benefits of IBM RTRT Job Support:
Compiler dialectic-known and link-aware for transparent testing building.
The target pilot environment can be downloaded easily by user IDE, debugger, simulator or emulator.
Powerful Test Execution Monitoring to distribute, start, synchronizes and test saddle components, as well as implements communication and exclusion management.
Versatile communication protocol adaptation to send and receive test messages.
The XML-based TDP editor allows general, internal TDP customization
Conclusion of RTRT Job Support:
Today, as increasing the demand for RTRT technology, you must have lots of technical stuff. At Idestrainings, we have been dealing with thousands of professionals/Aspirants/ Students every year. We are experts in completing the projects at client deadline with full accuracy and confidentiality. We provide IBM RTRT Online on Job Support for almost all IT Courses. At Idestrainings, we are giving one to one online IBM RTRT job support for everyone. This makes feel free to learn from any place at your choice. Here our support processes are secure and confidential.
Join and get your project complete with full satisfaction with Mutual Corporation from our experienced faculty.