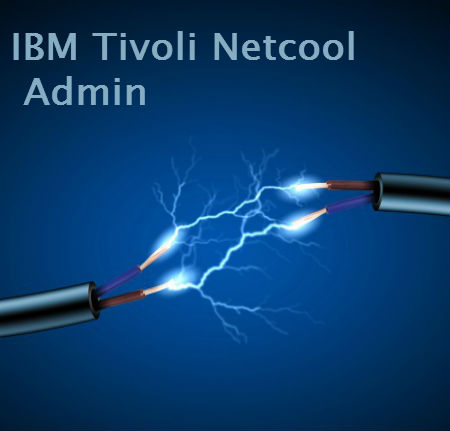 Introduction of IBM Tivoli Netcool Admin Training:
IBM Tivoli Netcool Admin Training from IdesTrainings, to centralize and operate secure connections in complex networks. Our Netcool OMNIbus online Training helps you to identify where they have faults and problems in their IT infrastructure. It is a service level management tool and it is mainly using to concentrate on approximate errors which are raised in service providers such as telecommunications, banking sectors and database storage sectors etc. It also provides a database named as object server and it collect and stores every event. In this IBM Tivoli Netcool Admin Training, you will learn many integrations using to solve the issues which are affecting the customer network.
IBM Tivoli Netcool Admin Corporate Training Outline Details:
Course Name: IBM Tivoli Netcool Admin Training
Mode of training: Online Training, Corporate Training and Job Support
Duration of course: 30 hrs
Do you provide materials: Yes, If you register with IdesTrainings, the materials will be provided.
course fee:  After register with IdesTrainings, our coordinator will contact you.
Trainer experience: 10 years+
Batch Type: Regular, weekends and fast track.
IBM TIVOLI NETCOOL ADMIN COURSE CONTENT

Service Manager UI in IBM Tivoli Netcool Admin Training:
With the IBM Tivoli Netcool Admin Training you can handle Service Manager UI (User Interface). In this training our trainers will explain the capabilities of Service Manager UI for that you need to install omnibus root user.
In Netcool OMNIbus online Training you will know about the topology view of Agile Service Management User Interface.

In the dashboard the service manager to specify with a list of resources or nodes, these nodes are useful for topology view of Netcool OMNIbus.

Our experts will explain how the Service Manger UI enhances IBM Tivoli Netcool event management capabilities.

The details view of application resource to see the properties and details of the node.

Every node contains several properties and those are like standard properties  

The key challenge in IBM Netcool Admin is, managing dynamic environment for operators and this environment is related to the event resource.

With IBM Tivoli Netcool Config you will know how to handle Object server automation and its configurations etc.

There are some standard properties Service Manager UI and those are defined with additional properties. The standards properties are attached to selective nodes or OMNIbus nodes.
With our training you will understand the infrastructure and service composition of OMNIbus and messaging in the sense of topology etc. in the real case of stream.    
Gateway in IBM Tivoli Netcool Admin Training:

With our IBM Tivoli Netcool Admin Training you will know the purpose of APM (Application Performance Monitoring) and Hybrid Gateway and the configuration of Hybrid Gateway on IBM.
The aim of our training is to get hands – on knowledge of the Gateway products direct to you.

IBM Tivoli Netcool Admin Training will provide support for multiple hybrid gateways to allows for an equation of multiple IT hubs.

Application Performance Monitoring Hybrid Gateway is useful to maintain existing UI (User Interface) and UX (User Experience).

By using IBM Tivoli Netcool Identity Manager you can Tivoli serviceability functions, problem identification and fixing etc.

The new and updated Hybrid Gateway Manager UI is useful to manage configuration profiles and integration of configuration profiles there are multiple hybrid gateways are also ported in latest versions.

The Hybrid Gateway the configuration profile name must match with the name specified during the installation time of APM Hybrid Gateway. It also supports a blank configuration profile name in IBM Tivoli Netcool Admin system.

The main advantage of Hybrid Gateway is that you can download the image from the possible source or platform and pre – configure the APM Hybrid Gateway.

The topology of the integration in IBM Tivoli and APM environment consists of three different servers and those three are connecting through three different hybrid gateways to an APM server.
With our training you can manage maximum number of menu systems includes with set nodes that you can view from IBM Tivoli Monitoring domain.
Integrations in IBM Tivoli Netcool Admin Training:
In this Netcool OMNIbus online Training we also discuss about Netcool impact integrations for the solution which includes the installation packages in IBM project connections. The integrations with IBM solutions includes with the NCI server props files, connections functions, action options and policy forms.
For integrations IBM Tivoli Netcool Admin impact installation package will requires GUI server and its extensions for Netcool OMNIbus server operations.

The data model, policies, services and operator view will be used in the integrations of forums and files.

For integration the files will be located in NCI server and in the NC directory.

The NC directory has the entries for the default sizes for IBM connections for the title, content of forums and topics, those can be modified and then provides options for your cool impact in integrations.

The IBM connections function can be used within policies to communicate with the connection server.
The integration process consists with two input parameters, first one is action object and second one is impact object.
Action Object:
With action options in IBM Netcool you can create and delete forms as well as reply and report forms. The action object will also deal with GUI related policy with Netcool impact.
Impact Object:
The impact object requires two parameters to use those parameters are authentication and connection to the IBM connection server.
Event Flow in IBM Tivoli Netcool Admin Training:
The Event Flow in IBM Netcool OMNIbus is a multi-configuration and it involves for event movement through a three layers of object servers before arriving at the desktop. In those three layers of object server at each layer there is a processing step and that may alert the event and these steps will prevent the event from reaching the desktop layer.
The Events in Netcool OMNIbus are defined by their identifier field and this identifier field is usually made up of the generic fields.

In Netcool OMNIbus online Training, we will teach you about where a generic clear is to use for problem resolution.

It is important to use a simple string of alphanumeric characters in at identifiers especially if there is a risk of multi byte or language specific characters being misinterpreted.

With IBM Tivoli Netcool Admin Training, you can interpret characters based on their components local settings, these must be kept consistent throughout the system.    

The collection layer in object server name and server serial, this must remain constant throughout the life of the Event Flow because the gateways use these fields for event processing.

In aggregation layer the event is processed by the object server that is acting as a primary object server. In custom triggers, the aggregations must be disabled in the backup object server and become active only if the backup object server is the primary object server.
In IdesTrainings our trainers we explain clearly how the aggregation will maintain Event Flow in backup object server in case of fail over. 
Overview of IBM Tivoli Netcool Admin Training:
This IBM Tivoli Netcool Admin Training is mainly about how the product is being given to the customer and how to assure the customer as a developer. The Netcool OMNIbus solutions are basically comes into picture where product is delivered.
With our Netcool OMNIbus online Training you will know the probe rules so that you can check syntax by using syntax probe and can resolve those syntax before targeting files.

With the IBM Tivoli Netcool you can define the target object servers, these are important to ensure that the necessary object server are available before attempting to debug rules files. You can use syntax probe from the command line using Netcool OMNIbus rules.
In this IBM Tivoli Netcool Admin our trainers will clearly explain all aspects in detail.
Conclusion of IBM Tivoli Netcool Admin Training:
The leading online training cloud IdesTrainings is providing IBM Tivoli Netcool Admin Training from India. Students who are willing to work in Netcool OMNIbus after their studies and employees who are got position in India and in other countries are also eligible to take our training. We have years of experienced trainers and they will teach all elements from the basics in Tivoli Admin.
Get register for the best IBM Tivoli Netcool Admin online Training, our experts always available through online to resolve your project related queries. IdesTrainings is also providing class room training as well as Corporate Training on client premise in Noida, Delhi, Mumbai, Hyderabad etc. for an affordable cost. For more details visit our official website, thank you.