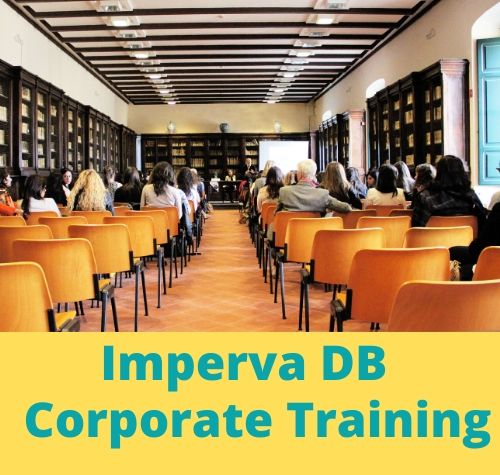 Imperva DB Corporate training:
Our program on Imperva DB Corporate training helps you provide the trainers for the companies ,of those wanting to learn and establish a skillful team ahead  , we help you  learn all the technical concepts and  help you learn how to manage application security, Web application firewall, application delivery and also other Data security authorisations like cloud data security data masking, bot protection and data protection using imperva Data base security management and deployment tools ,. For more information on SAP Enable now Corporate Training classes , register with us or call our helpline  to find best training guides for Corporate and Classroom training programs  and become a better executive. IdesTrainings is one of the best IT Training delivering Partners , we can gather up profound trainers for all the possible latest technologies at Hyderabad, Bangalore, Pune, Gurgaon and other such IT hubs.
Course outline of Imperva DB Corporate training:
Course Name: Imperva DB Corporate training /Imperva DB Classroom training

Mode of Training: We provide Corporate trainings also  , class room training for Imperva DB.

Duration of Course: 30 Hrs

We Provide Materials, once you register with IdesTrainings, the required Training Materials will be provided.

Course Fee: After registering with IdesTrainings, our coordinator will contact you.
An Overview on Imperva DB Corporate Trainings:
The securesphere can be used to effectively and easily apply security and auditing capabilities through your data environment so the first screen that we're on here is the service discoverthe scan screen and the scan that were particularly looking at in particular here at the service discovery stands

 The purpose of the service discovery can discover where your data list is that's going to be the first step in protecting your environment and so we're able to do that so what we take a look over 

The right side we define a range of items that we like to span across , there are defined by home lab environment at VSS network and we pick the services that we all look for in casecan have the option

It has a running spin or sitting at the recurring stand and so ,thing cac be  about having a recurring skin as we keep a history of all the scans

It comes back with a database so the information that you can see here is connect with you know of a variety of information so add the IP port you know what OS is ready

The  type of database  is on the sequel database in this case and when it was found and then most importantly we have actionable results so you see here 

All these concepts will be explained in detail in our Imperva DB corporate training programs and also in our Imperva DB Classroom training programs by our expert trainers.

we have an action and right now the action is pending but i had the option to accept the rejected so once I've added it or accepted it , it has got added to the slate stream the suite tree is or securesphere is representation of your physical infrastructure or your virtual infrastructure between on how your database is agropoli but that our representation of your enter search

 one of the great things about the securesphere solution if it's not tied to physical layout so what we can do is , we can group on databases have been discovered by business process  

The types of database is generated in  seconds one a compiler sequel safe databases together 

once a database hasn't got  into the site treat your automatically if we go over here and start looking at applies policies we automatically have a very long list of policies that can be applied right away 

Those policies don't become available once we've added a database to the side stream so the next thing is once we expand the data kind of where are they doing this or where they are not needed to do

The next thing is to kind of figure out what type of data exists in those we want to record information report activity and those databases that have sensitive information so out of the box.

We have a number of predefined data types that exist ranging from things like account numbers the social news rating numbers and our scan 

The databases for those types of data and then we also have the ability because obviously, yWe  know this list here doesn't encompass with every single type of data that might exist in your environment.

 we also have the ability to define custom compensation rules because in publication ruleswe  can be defined by regular expression by looking at the contents of tables and columns also be looking at the actual metadata of those tables

 So looking at the table names and column it can be known  that ,one since you can look at and you look for specific patterns in our data you know maybe like a three digit a two digit and four digit for Social Security numbers but also looking at naming convention so maybe we know that you have insurance

 In the above stated case you know insurance provider is a sensitive table on that our sensitive field and that's something that we want to look forward

We know that we mean it any reference or instance of insurance provider in the database we know that we've named it with specific naming convention so you can go ahead and leverage that and for those types of data and that way as well

All these concepts will be explained in detail in our Imperva DB corporate training programs and also in our Imperva DB Classroom training programs by our expert trainers.
Features of the Database management that you can learn in our Imperva DB corporate training program:
Once we have gone ahead and set up our classification ,we have the ability again to schedule to run and again we have the option to run the scan now or have a recurring stand to them so the next thing to do is take a look at the results, below are the feature you can learn in our Imperva DB Corporate training program,
The  types of data and the database in sets that is data that they existed and you know kind of which table which calm etc., and we can also speak a business information sensitive or no

It can be leveraged in a little bit but essentially what's happening here is we can define a bunch of data that was discovered as being sensitive and then instead of having to create policies that look for every single individual call or for field we can just treat policies that reference you know what is the data offensive 

You can  have actionable results their data confiscation skin and so we go here on the right and we say you know accepted or rejected and basically that's just going this isn't a yes you 

What we do with that make set position is accepted apparent clinton information and this is a finding or no you know this doesn't look like something that we're interested in so now we've discovered kind of where our databases exists kind of where the sensitive information in the databases

The next step is to kind of figure out okay well who has access to our environment so we're able to properly use your rights means and skin against their environment and see the users that have access

The baseline can then be used in security policies that kind of look for anomalous behavior and potentially block their performance we can have action against that anomalous behavior and all of this again automatically

Definitely right out of the box that make this is an easy as possible to get going with securing and auditing your environment now we want to start you know writing policies to kind of audit and secure

The data and pushing one of the important kind of differentiators securesphere is the notion of having two separate engines one for audit and one for security so audit is going to be recording actions of a specific bit of users and security is going to be looking at all activity .

All these concepts will be explained in detail in our Imperva DB corporate training programs and also in our Imperva DB Classroom training programs by our expert trainers.

 Trying to pick out kind of an activity and performing some specific type of extra noise I'm in this kind of center pane .

These little icons that that's the ADC logo and the ATC is our application design center and what they've done is they've come from ahead and created a bunch of different policies for on it an press security that helps me to specific compliance regulation so a little of using one of the ad schemes you know pre prepackaged content.
Conclusion to Imperva DB Corporate Trainings :
Our courses on Imperva DB Corporate Trainings and also Imperva DB Classroom Training has been most happening training programs at IdesTrainings, many young enthusiastic job seekers are able to make a good job deal form our guiding classes, also companies teams to get started with such technologies, we provide corporate and classroom trainings from India at Hyderabad, Pune, Bangalore, Gurgaon also in states. Register with us for the best training program for your company or you can call our helpline mobile number or send details in our website contact us page or simply drop a  message down below , soon our assisting managements will contact you to fix a right trainer and can schedule the classes as per your timings.