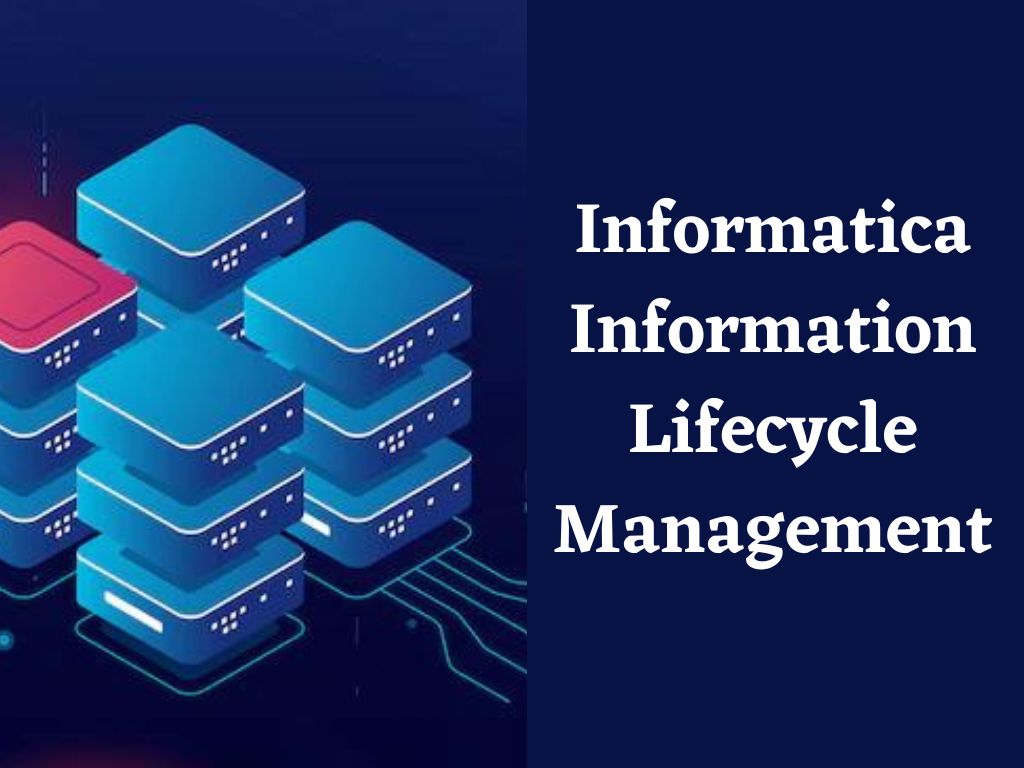 Introduction to Informatica ILM Training
Informatica ILM is the effort to oversee data, from creation through retirement, in order to optimize its utility, lower costs, as well as minimize the legal and compliance risks that may be introduced through that data.
We at Ides Trainings provide Informatica ILM training. We have trainers who are experienced in Informatica ILM. Ides Trainings provides you with cost-effective services. We provide the quality content for all the courses. We provide Informatica ILM online training. We provide corporate training, Classroom training and Virtual Job Support as well. We provide Classroom trainings at client locations like Hyderabad, Chennai, Bangalore, Delhi, Pune, Mumbai, etc.
Prerequisites of Informatica ILM Training
Should have knowledge of
SQL
Linux or Unix Command Lines
Microsoft Windows GUI
Programming languages like C#, Java
Course Outline of Informatica ILM Training
Course Name: Informatica Information Lifecycle Management (ILM) Training
Mode of Training: We provide Online, Corporate and Classroom Training. We provide Virtual Job Support as well.
Duration of Course: 20 Hours (Can be customized as per the requirement)
Trainer Experience: 15+ years
Timings: According to one's feasibility
Batch Type: Regular, Weekends and Fast track
Do you provide Materials: Yes, if you register with Ides Trainings, we will provide materials for Informatica Lifecycle Management training.
Course Fee: After registering on our website, one of our coordinators will contact you for further details
Online Mode: WEBEX, GoToMeeting or SKYPE
Basic Requirement: Good Internet Speed, Headset
Course Content for Informatica ILM Training
Section 1: Introduction to ILM Data Archive
1.1 Describe Informatica's approach to the data archive
1.2 Introduction to the ILM Data Archive architecture
1.3 Identify the components of the Data Archive
Section 2: System Administration
2.1 Describe the system configuration
2.2 Create and manage source and target connections
2.3 Describe JDBC connectivity
2.4 Describe auditing
Section 3: Users and Security
3.1 Creating and managing users
3.2 Describing the concepts of system-defined roles
3.3 Describe the significance of the Administrator role and its privileges
3.4 Describe the use of security groups
3.5 Describe the required database privileges
3.6 Describe the various file archive roles
Section 4: Informatica Enterprise Data Manager
4.1 Describe the ILM Enterprise Data Manager (EDM)
4.2 Describe the EDM architecture
4.3 Describe the key benefits of using the EDM
Section 5: ILM Data Archive Web UI
5.1 Describe the archive process flow
5.2 Create a source repository
5.3 Create a target repository
5.4 Create a security group
5.5 Create and define an archive project
5.6 Schedule and run an archive project
5.7 Monitor the status of the archive job
5.8 Open and read the Row Count report
Section 6: ILM Data Archive Web UI Online Restore
6.1 Describe the restore process
6.2 Describe the restored flow
6.3 Describe the various methods to restore an archive
6.4 Describe a cycle restore project
6.5 Describe a transaction restore project
Section 7: Seamless Access
Section 8: Describe and create a seamless access job
Section 9: ILM Data Archive-Application Retirement
Section 10: Introduction to ILM Data Archive
10.1 Describe Informatica's approach to Application Retirement
10.2 Describe Informatica ILM DATA ARCHIVE
10.3 Explain ILM Data Archive Architecture
Section 11: System Administration
11.1 Describe System Configuration
11.2 Explain Source and Target Connections
11.3 Explain JDBC Connectivity
11.4 Describe Auditing
Section 12: Users and Security
12.1 Creating and Managing Users
12.2 Understand the concept of System-Defined Roles
12.3 Describe the significance of Administrator Role and its privileges
12.4 Describe Security groups
12.5 Explain Database privileges
12.6 Describe File Archive user roles
Section 13: Informatica Enterprise Data Manager
13.1 Describe ILM Enterprise Data Management (EDM)
13.2 Describe its Architecture
13.3 Describe the key features, benefits, and uses
Section 14: ILM File Archive Service (FAS)
14.1 Describe features and architecture
Section 15: ILM Application Retirement Project
15.1 Describe the application retirement process
15.2 Create a source repository
15.3 Create a target repository
15.4 Create a security group
15.5 Create a retirement project
15.6 Schedule and run the retirement job
15.7 Open and read the Row Count report
Section 16: Handling External Attachments
16.1 Describe how to manage attachments
Section 17: Data Discovery Retention Management and Legal Hold
17.1 Describe Discovery Portal
17.2 Describe retention management and types of retention
17.3 Describe the significance of legal hold
Informatica ILM is abbreviated as Informatica Information Lifecycle Management. ILM includes storage optimization as well as strategies to enhance data quality and security. Finally, a secure information lifecycle management execution will proactively manage data retention and disposal in accordance with business policy.
Where do you start Informatica ILM?
The fundamental principle of Informatica ILM is like money the value of information changes based on context and time. There are five keys to it.
1.Assess your compliance and regulatory environment: It has the power of a thunderstorm and can be a real challenge.
2.Determine the Business Process Requirements (Bridge): Try not to increase management or overhead costs.
3.Collect Information Management Requirements: Look at business records, emails, etc., and describe retention, security, classification
4.Examine Business Continuity and Disaster Recovery: It's the operational plan to safeguard information assets.
5.Determine the infrastructure requirements: Ensure valuable information assets are on optimal infrastructure.
Challenges faced due to huge application data
Reduces application performance
Reduces timely upgrade of database servers
High maintenance time and cost
Increase in storage space
Data cannot be deleted due to compliance requirements
How to overcome the challenges faced due to huge data growth?
The solution for this is Database Archiving which is the process of intelligently moving historic or inactive data from the production environment to an archive environment. Thus, freeing up the application database storage space and other resources.
Benefits of Archiving Inactive Data
Improve application performance by a large extent
Reduce storage, maintenance and infrastructure cost
Safely retire legacy or redundant applications
Support data retention policies
Key Benefits of using Informatica Data Archival tool
Informatica data archival tool supports a broad range of data connectivity. It enables you to connect to all major database types and platforms including Oracle, SQL Server, Salesforce, IBM DB2, SAP, SYBASE, TERADATA, NETEZZA, Informix and other databases the supports JDBC connections. It also supports  archival of CSV and XML files.
Informatica data vault is another key feature that supports data archival tool. It is a brilliant file archive method implemented by informatica which lets you archive data to an optimized and compressed file format. It can achieve high compression rate upto 98% depending upon the data.  This highly compressed data is immutable which means the data cannot be modified once archived. Also, it can be accessed securely. It also enables data access to third party querying and reporting tools.
It allows you to perform both live database archival as well as retirement of  legacy application using the same tool. The live archiving feature of informatica data archiving tool lets you archive live system data while retaining full access to the production database when the database growth negatively impacts query performance, management of application backup, replication and hardware requirements. Live archival can be performed to archive data either to another similar database format as source or to informatica data vault which stores the data in highly compressed file format. With informatica data archival tool you can also decommission legacy system to drastically reduce hardware, software, storage and maintenance cost by archiving the data to a secure and highly compressed archive which is also referred to as data vault. This process is termed as retirement of data. This process definitely helps the organizations save a lot of money.
Seamless access to archived data is another useful feature which is part of the informatica data archival tool. Consider, you have a production database on which the customer transactions happen. You have archived historic or inactive data to another database in the same format as source.
Now how do you access both production data and archived data through the same application interface?
A solution to this would be seamless data access. This feature enables you to seamlessly access live data as well as archived data through the same application interface eliminating the fact that the data is being accessed through two different databases. This feature enhances the user experience.
Compliance manager is another key feature of Informatica data archival tool. Sometimes, you want to dispose the inactive or history data, since, you think you no longer require it. But, the regulatory authority requires your organization to retain data for a certain amount of time or may be forever. Informatica archival tool helps you with this too. It lets you manage and document the lifecycle of your application data using retention policies in accordance with your compliance and data governance directives. It also helps to manage legal hold, defensible dispositions and compliance reporting.
Integrated validation is one of the key features of informatica data archival tool. It allows  you to validate the integrity between source and archived data beat archive into another database in the same format as source or the data vault. It provides us with a report which shows the integrity of data. This report helps us identify any deviation in the data that is archived and ensures its integrity by helping us identify data that might have been deleted, truncated or changed during the retirement or the live archive process. It performs this check by calculating and verifying check some value for each row and column of the database table before and after the archival.
Data restore is also a feature of informatica data archival tools. If a cycle was archived in error or if you want to modify an archive transaction, you can restore the data back from the archive. When you restore data, data archive reverses the actions that it used to archive the data. You can restore the data from the data vault or database archive. You can restore data from a database archive to an empty or existing production database. You can restore data from the data vault to an empty or existing production database or to a database archive. You can also restore external attachments that have been archived to a database archive or to the data vault.
Full restore: Restores the entire contents of a database archive
Cycle restore: Restores an archive cycle (data archived by a job)
Transactional restore: Restores a single transaction such as purchase order or invoice, etc.
Ides Trainings has consultants who are highly experienced and we provide 24/7 training services. We are having real-time professionals with full stake technical skills. We complete with the projects at client's deadline which we are proud to say confidently. The Informatica Lifecycle Management Training is complete to take the best way as to we have the best professionals. Ides Trainings consultant helps the students and as well as working professionals till the end of a course. Trainees will get confidence by trainer support in their project. Will also support their projects till the end. We have done five to six projects regarding each module in Informatica ILM corporate training. At Ides Trainings, we provide Informatica ILM classroom training at locations like Hyderabad, Noida, Mumbai, Delhi etc.
Frequently Asked Questions (FAQs)
1.Why should you learn Informatica ILM?
Informatica Cloud is an open-source tool which is being used by most of the businesses. Many major companies are looking for Informatica ILM professionals. The expected average salary for this is $86,972 per annum.
2.Who should learn Informatica ILM?
Software developers and Test data managers can get the benefit by learning this course.
3.What will you learn in this Informatica ILM training?
After this course, you can understand the basics of ILM TDM and its architecture, learn different types of masking techniques and audit report, implement the distinct functions of ILM Techniques.
4.What if I miss the class?
We will provide you with the backup sessions when you miss the class.
5.What is the purpose of ILM?
ILM seeks to classify data according to its business value and establish policies to migrate and store data on the appropriate storage tier and ultimately, remove it altogether.