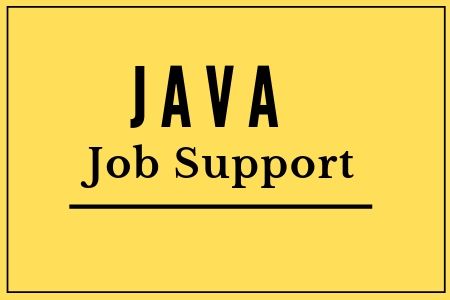 Introduction of Java Job Support:
Java Job Support at Idestrainings helps you to up-skill your knowledge in IT industry. Depending on your level of expertise, our expert will provide you with appropriate guidance. If your knowledge is limited to theory, our developers will explain to you how to crack the code. You can also choose one of our mentoring classes and / or online training sessions. At Idestrainings, our Java Job Support trainers will easily communicate with you and gives you the flexibility. Our team has the expertise to solve all kinds of programming problems. Our Software Development Job-Support team consists of core software Java professionals with over 10 years of experience in software development execution and delivery. Get excellent proxy support on Java today!
Overview of Java Job Support:
Today, one of the most widely used computer language in the world is java.  It is a simple, general-purpose, object-oriented, annotated, visual, minimal, secure, architecture-neutral, portable, high-performance, multithreaded computer language. Java is a high-level, visual, minimal, minimalist, secure, and object-oriented programming language. And any hardware or software environment on which the program is running is called a platform. Because Java has its own runtime environment and API, it is called Platform.
Before going to learn Java Online Job Support, let's have a look at what is the exact definition of Java and why we need job support for it?
Java is a stable language with proven track record and established best practices. Java code that worked on the earlier version can still be worked in the latest version. That is why java is a backward compatibility language and gives the ability to work in large teams. It is well said that predicting future is a dangerous game. We have seen tremendous changes in and around in the last few years with the development of apps and which reduce the human work load. Java has turned out to be one of the technologies which emerged as a boon to IT sector. Java is relevant and is continue to be relevant in the enterprise, computing world and major corporate backing.
Reasons why java continue to be a strong choice:
 Today, software development is one of the most explosive fields in the market.  We are developing a new programming language every day to be better than others. If you have a programming language like Magic Potion to take your standpoint in the world of software development, then surely Java is. It's a language that's been used for ages and it's something that never goes anywhere.
There are some excellent reasons that show java is still present today! They are…
The language for the enterprises

Inevitable growth

Mobile apps still doesn't exist without Java

Most of the java tools are free and all open source.

Java is strategic platform supported by many of the world's largest companies like Google, IBM.

Java also has significant support from major users of technology, such as banks and media companies. There is no other language so far.
We provide a unique one-stop guided service for Java Online Job Support; provide easy solution with minimal discomfort and stress. We are equipped with comprehensive tools; we can manage complex problems, and provide the best possible solutions to your Java problems.
Why we need Java Job Support?
In today's competitive market, it is important for the IT industry to develop and work with multiple web or server based applications to maximize their potential. Many companies are investing their resources in Java to create many applications for desktop and embedded devices, because Java can serve as a programming environment where applications can be developed and implemented. Java has no limits, and Java developers have a great demand not only in IT but also in the service industry. Many financial institutions rely on Java for back-end and front-end processes. In addition, the frequent updates and secure nature of Java make it more popular. With the recent update to Java it is becoming more and more user-friendly, becoming a language and a skill that organizations are actively looking to invest.
This is because as a Java developer you have a lot of technical problems and you have to solve them. If you need Java technical support from India, join Idestrainings, we will help you to complete your project and provide you with effective employment assistance to resolve similar cases in the future. At Idestrainings, our Java Job Support Consultants are real-time working professionals and have 15+ years of experience. Our Java Job Support Consultants not only help you solve your problem but also hold you back to do it very efficiently so that you can make it your own next time. Get ready to join in our Online Java Development Support!
We also provides python job support, Python programs by Python Job Support with best consultants and Python skills can be embedded anywhere means the code from other languages can be used with python and python code can be used with other languages.
Conclusion of Java Job Support:
Idestrainings provides Java job support to individuals Candidates who are from the USA, Canada, UK and Africa, India and so on. Our real-time industry experts are ready to give specialized technical job support on Java and other all technical IT advancements. Our groups of IT experts are also ready to give on job technical support to the candidates who need and want to clear the technical issues at their specific employment. We have IT Service trainer who is most friendly, and ability to give administrations, for example, Technical Job Support, Online IT Training and Resume Support. We have been serving for some representatives and counseling organizations.  To get good practical knowledge with real-time examples regarding Java project Support please contact Idestrainings. Get Online Java Project Support Today!