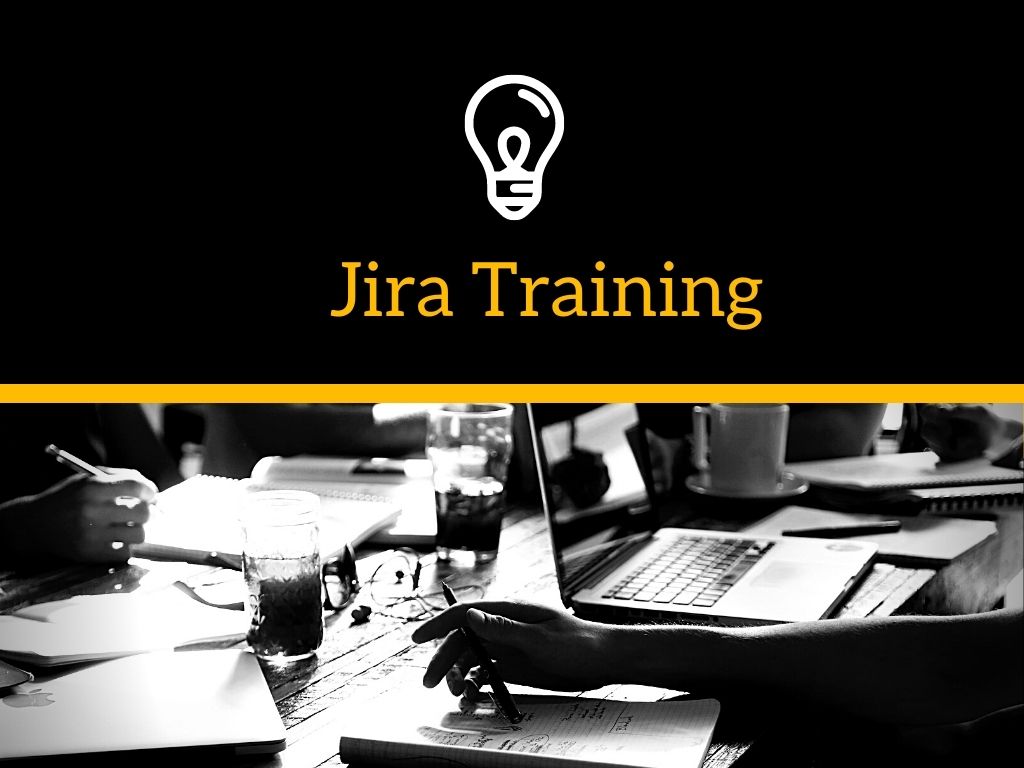 Introduction of JIRA Training:
Idestrainings is the leading corporate training organization. We provide JIRA Training in online mode. JIRA is a tool to help you manage your tasks and manage your projects and also software development work flow. It has track deliverables feature. JIRA has reporting features to help you find out what's assigned to you and time tracking. When you start hearing about JIRA, here the people talk about issues, components, work flows and projects.  Idestrainings provide Jira online training from our real-time experts. We also provide Jira corporate training from our experienced trainers. At Idestrainings we also provide Jira classroom training in Hyderabad, Noida, Mumbai, Delhi and Bangalore. 
The collection of issues is known as project. Every issue that is created belongs to the project. A project is identified by name and key. Once you created the key, it cannot be changed. That is why, key is very important and used as an identifier for the projects. Now, what is an issue? The issue is nothing but the building block of the project. An issue can be represented many things such as a project task, a product improvement, a leave request from client, a software bug etc., and it depends on how your company using that software. Let's talk about components, the components is sub sections of a project.
Prerequisites of Jira Training:
There are no specific prerequisites to learn JIRA. Anyone interested to build a career in JIRA can join this training.
Jira online Training course Details:
Course Name: Jira Training
Mode of Training: We provide Online Training and Corporate Training for Jira Course
Duration of Course:30 Hrs (Can be customized as per the requirement)
Do you Provide Materials: Yes, If you register with IdesTrainings, the Jira Training Materials will be provided.
Course Fee: After register with IdesTrainings, our coordinator will contact you.
Trainer Experience:15 years+ of experience
Timings: According to one's feasibility
Batch Type: We provide all types of batches like Regular, Weekends and Fast track
Backup Session: If the student misses the session, we also provide backup session
Jira online Training Course Content: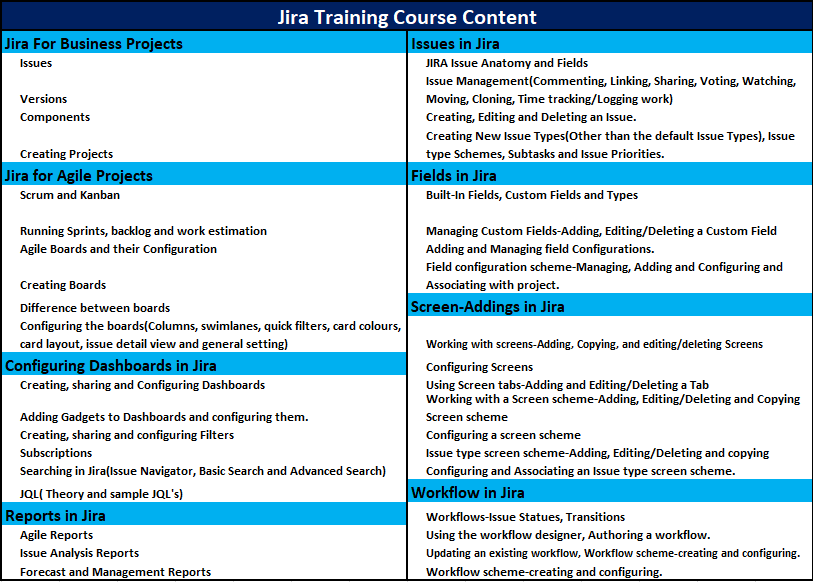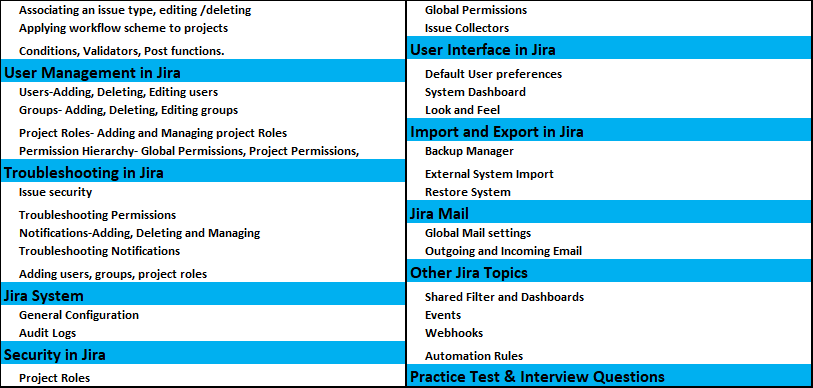 Overview of Jira Training:
JIRA is an Incident Management Tool used for Project Management, Bug Tracking, Issue Tracking and Workflow. JIRA is based on the following three concepts – Project, Issue and Workflow.
The following points explain some interesting details of JIRA.
JIRA is an incident management tool.

JIRA is developed by Atlassian Inc., an Australian Company.

JIRA is a platform independent tool; it can be used with any OS.

JIRA is multi-lingual tool − English, French, German, Japanese, Spanish, etc.

JIRA supports MySQL, Oracle, PostgreSQL and SQL server in the backend.

JIRA can be integrated with many other tools − Subversion, GIT, Clearcase, Team Foundation Software, Mercury, Concurrent Version System and many more.
Jira is software application is used for tracking issue and project management. The tool, developed by the Australian software company Atlassian, has become widely used by agile development teams to track bugs, stories, epics, and other tasks. The Jira full form is inherited from the Japanese word. The basic use of this tool is to track issue and bugs related to your software and Mobile apps.
What Types of Teams Use It Today?
As it grew in popularity and as the agile development methodology became more widely used by software companies, Atlassian expanded the Jira platform to offer services to different teams. Today, it provides several internal products, including:
Jira Core:
This is the platform's basic project-management tool, designed for non-technical teams. Departments such as HR, marketing, finance, and operations use the Core tool for change requests, workflow approvals, and general task management.
Jira Software:
This is the version designed for software development teams. Jira Software offers all of Core's features but also includes agile functionality. Software teams use this tool for bug tracking, managing basic software-development tasks, and product management. Jira Software is also designed to support development teams that use Kanban, Scrum, and other popular agile frameworks.
Jira Service Desk:
This is an add-on developed for IT teams. Call center managers, helpdesk agents, and other support professionals use Jira Service Desk for issue ticketing, incident management, and change management.
When you create a project, you can create the components so that the issues can be arranged clearly and into the smaller sub parts. Work flow usually indicates the business processes. JIRA workflow is set of transitions and statuses. JIRA workflow helps your tasks and helps you to deliver better software. JIRA is a workflow engine, lots of business processes that have nothing to do software development anything that someone has to capture the data and do something with it; you can create and manage the JIRA workflow for that also. There are two types of software available in the market. They are JIRA software server and JIRA software cloud. There is no need to install the JIRA software cloud. We have to know some engines just like JIRA. Those are Agile and scrum. First of all, what is agile? We have one important feature with agile is fast delivery. With agile, we can deliver the product customer values. Most of the software world follows the waterfall model of the development.
The projects are divided into different phases such as requirements, design, coding, unit testing, integration testing and system testing. One phase that has to get over, typically the project used to take months to years and by the time the project was deliver to customer, either the requirements would have changed or wrongly interpreted by developer. In this process the project cost may high. Now what is scrum in the software development?  Scrum is a framework that is primarily for developing the complex products and the systems. The best thing in the scrum methodology is incremental and iterative approaches. In scrum, you can write your planes and you would do more. Instead of working on a project with distinct deadlines, you can constantly deliver the functioning products with the help of scrum. You can also get continues feedback with the scrum on your projects. You can compile the budgets and the annual reports. This is the overview of the scrum. We provide not only JIRA  training but also scrum online training
Conclusion to JIRA Training:
Register for quality real time JIRA Training at Idestrainings to know more information about the course. We have various JIRA online training Consultants who are experts & highly experienced real-time professionals in the JIRA field. If you are not good at technical knowledge, it is the best way to get the knowledge on technical stuff. We are providing JIRA online training at low cost. At Idestrainings we also provide jira corporate training from our real-time experts. We also provide Jira software online training from our experienced trainers. Jira classroom training from our real-time experts in Hyderabad, Noida, Mumbai, Delhi and Bangalore.  For more training services please visit our website www.idestrainings.com