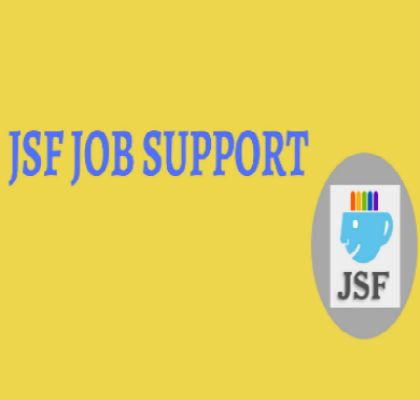 Introduction of JSF job support:
Idestrainings provides JSF job support by top most consultants, in these days, the technology is growing rapidly and to survive among this environment you need to have the knowledge of various technical stuffs. Getting a job is not a destination, but it is important that what you do once you get the job and it will be the true measure of the success. If you will not perform well in the company, then your job might be gone. To prevent this work stress, it is better to take JSF job support. Our Idestrainings has the team of consultants having more than 5 years of experience in the professional JSF job support. They are ready to solve all your technically related problems at any time. JSF job support for designing UI web applications and it will be design in easily manner compare to other.
JSF is the framework provided by JAVA process community, now a day the JSF system is available with the sun micro systems. JSF is the framework is nothing, but it is spring framework, the JSF is not a technology. The JSF is used to speed up the web applications and the JSF is a tool to develop and accelerate web development applications.
Coming to the JAVA is divided in to three they are J2SE, J2EE and J2ME.  J2SE is the standalone edition, basically it covers the all the fundamentals of the java technology. J2EE is the enterprise edition, it will cover server-side programming. J2ME is to cover micro programming in order to design mobile embedded software's. We also provides JSF with Angular js by higly skilled consultants.
These all are the technologies developed by sun micro systems. Compare to these all Struts, hibernate, spring, JSF are the frameworks means these all are the products developed by third party organizations like oracle database, windows server applications. JSF framework is for design web enterprise applications in simplified manner and it is free fabrication of software components.
Importance of JSF Job Support:
Javaserver Faces is basically a framework, it is for building web applications in JAVA. It is the standard web application framework for the java enterprise edition.  JSF is based model-view-controller design not only JSF all the biggest web app development applications are dependent on MVC design model.
JSF is the framework it will be used to design UI web applications it means that the JSF it will provide the number of user interfaces to design web development applications in simply manner.
As discussed above the JSF it will provides number of reusable UI components.

The provided UI components by JSF framework it can used to create the custom components.

JSF provides event driven programming model.

Handles the UI state across different requests, it means the JSF will provides the event components. So, we cannot lose the information even in the multiple requests.
Advantages of JSF job support:
JSF it is the standard way of building web app, use in java so for building web applications with java its part of the standard JAVAEE enterprise edition.

Javaserver Faces framework includes large number of UI components basically they provide better custom tags that allow to generate tables, HTML.

All the UI widgets are available with JSF and also the third parties teams create the components that can add in to your web development applications.

Another advantage of JSF is to help manage application state for web requests.

JSF is the processing from data so the usual insert some data submit it here perform some validation rules or convert the data to different formats based on the requirements.
Overview of JSF job support:
Idestrainings gives support services over all the global through online. Our consultants are expert in completing the projects at clients deadline with full accuracy and confidentiality. People who got job without technical skills, they face problems while handling project our consultants will help you out from that issue. We provide 24/7 support services for USA students also we provide job/project support. We are experts in giving job support for fresher's. To improve your technical skills, it is the best online platform. We are providing job support for reasonable price.
Idestrainings offers online job support for technically weak candidates. Idestrainings is more reliable and expertise consultancy for online job support. Are you facing the technical problems in your JSF projects? If yes, this is right place to get solutions for all your problems. We have a good experience in providing quick solutions to all our clients. You can get in touch with the trainer in our JSF job support