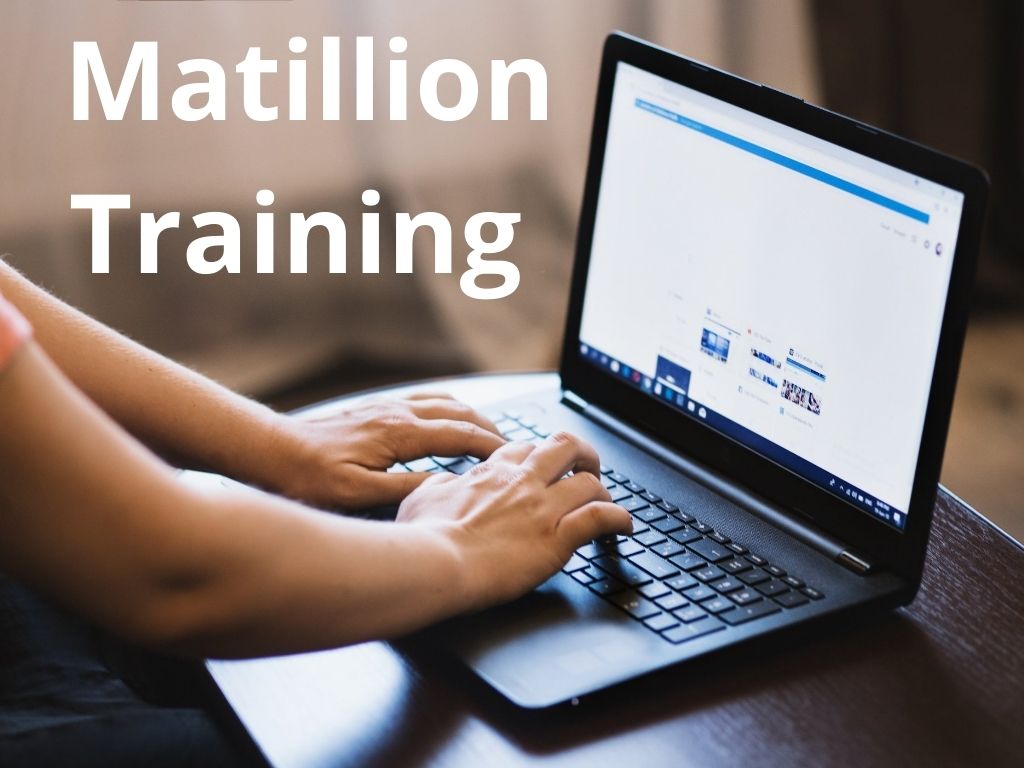 Introduction to Matillion Training:
Matillion Training at Idestrainings, Matillion is a cloud ETL software integrates with virtually any data source, ingests data into leading cloud data platforms, and transforms data so it can be used by leading analytics and BI tools and synced back to the business. … It gives us a foundation for more informative data science. IdesTrainings provides the Best Matillion Training by real-time experts.  The main motto of Matillion Training at IdesTrainings is to give practical knowledge in developing real-time Extract source system data and ingest it into your cloud data platform and load data into Snowflake from various sources using Matillion ETL through this Matillion for Snowflake Training program Our free SaaS-based data pipeline tool provides quick and easy access to your data, saving your developers time and accelerating decisions. Register Today for Matillion Training at IdesTrainings.
Prerequisites for Matillion Training:
There are no special requirements to take up this course. The one who is interested in enhancing their career in Matillion can attend the course.

However, basic understanding of the data warehousing concept is an added advantage.
Matillion Online Training Course Details:
Course Name: Matillion Training
Mode of Training: We provide Online Training and Corporate Training for Matillion Course
Duration of Course:30 Hrs (Can be customized as per the requirement)
Do you Provide Materials: Yes, If you register with IdesTrainings, the Matillion Training Materials will be provided.
Course Fee: After register with IdesTrainings, our coordinator will contact you.
Trainer Experience:15 years+ of experience
Timings: According to one's feasibility
Batch Type: We provide all types of batches like Regular, Weekends and Fast track
Backup Session: If the student misses the session, we also provide backup session
Matillion Training Course Content: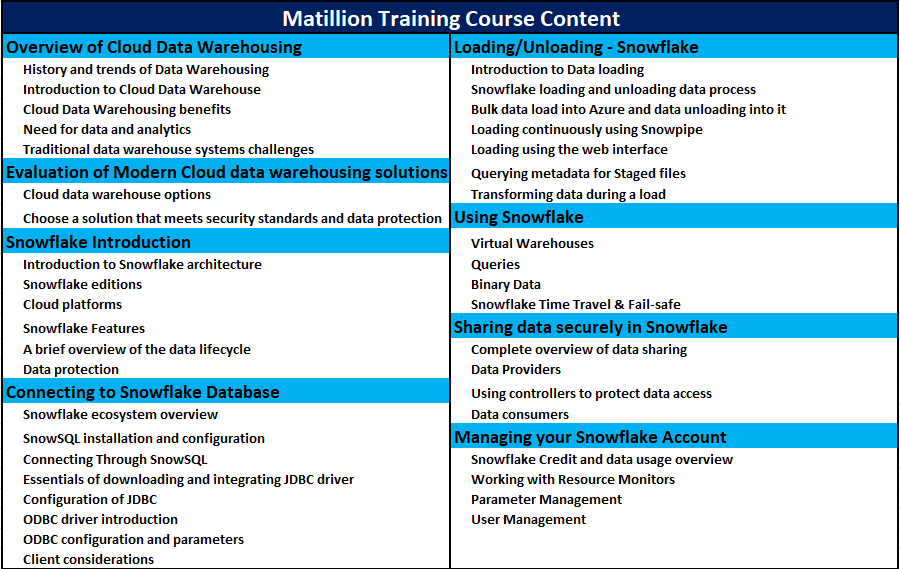 Overview of Matillion Training:
Matillion is an extract, transform, load (ETL) solution for cloud data warehouses including Amazon Redshift, Snowflake and Google BigQuery. It enables users to gather data from various sources and deliver them in structured and semi-structured frameworks using platform's data transformation capabilities. The search functionality lets enterprises find specific results across notes, jobs, and components within projects through term-based searches.
Key features of Matillion include data export/import, collaboration, audit logs, scripting, job scheduling, version control and task management. Businesses can use the automation tools to schedule multiple orchestration jobs against a project at predefined time intervals. Plus, it enables administrators to ensure data security by managing user access across Active/LDAP directories, SSL certificates and authentication to use information from the local directory.
Matillion facilitates integration with several third-party applications to aid with data management across cloud warehouses such as Facebook, MailChimp, Amazon RDS, Hubspot, Salesforce, Elasticsearch, Google Analytics, JIRA, Marketo, and more. It also comes with an application programming interface (API) query component, which allows users to integrate the platform with any JSON or XML-based API.
Learn Matillion Training By Real-Time Experts:
Build your career in an advanced cloud based ETL tool by enrolling into Idestrainings for Matillion training. Our certified Matillion trainer helps you learn the process to extract, migrate and transform data in the cloud using Matillion Software. In this Matillion ETL training you will learn the concepts such as data export/import, scripting, audit logs, collaboration, job scheduling, version control, task management and much more through real-time scenarios. You will also learn the process to use Matillion ETL tool along with the popular cloud database platforms such as Amazon Redshift, Snowflake, Google BigQuery, and Azure Synapse. During this course, you will also work with 2 live Matillion projects to gain practical exposure. Learn advanced ETL skills from the industry's top mentors by joining IdesTrainings Matillion Corporate course.
Matillion is an advanced ETL tool natively built for cloud database platforms which include Snowflake,  Azure Synapse, Amazon Redshift, and Google BigQuery. It has the power to process millions of rows in seconds and present you with real-time feedback. Matillion software comes with 20+ components to execute various tasks such as Data read, write and join. You can build powerful and simplified ETL systems and schedule ETL jobs using this advanced Matillion ETL tool.
What important skills are covered in this Matillion for Snowflake training?
In this Matillion for Snowflake Certification course, you get to learn a variety of Matillion and Snowflake concepts, such as:
ETL fundamentals and architecture

Matillion data transformation

Instant access launch

Orchestration

Data loading and transformation

Snowflake data sharing

Version control and task management

Snowflake architecture

Snowflake continuous data protection

Scaling methodologies to achieve high performance and concurrency.
Who should opt for this Matillion for Snowflake training?
Learning Matillion for Snowflake benefits business analysts, data scientists, analysts, data warehousing professionals. However, anyone who wishes to enhance their career in an advanced cloud-based ETL tool can also opt for this course.
Why should you learn Matillion for Snowflake?
Career possibilities for Snowflake Matillion experts are many right now. Many world's leading companies are relying on Matillion to transform their data. Join our course to unleash the full benefits and value of Snowflake data cloud with Matillion ETL.
What is Matillion with Snowflake?
Snowflake architecture helps you build out an entire data analytics platform that takes full advantage of the power and economics of the cloud by providing the speed, performance, and scalability required to handle the exponential growth in data. Matillion ETL for Snowflake helps you get there by making it easy to load all your data into Snowflake and transform it to make it analytics-ready in no time.
Designed for Snowflake
Integrates with Snowflake-specific functionality and best practices

Consumption-based pricing similar to Snowflake
Cloud Native
Data ingestion, integration, and transformation in the cloud

Take advantage of the speed, scale, and performance of cloud
How the Matillion ETL tool works?
Our cloud ETL software integrates with virtually any data source, ingests data into leading cloud data platforms, and transforms data so it can be used by leading analytics and BI tools and synced back to the business
Embrace the power, flexibility, and economics of the cloud:
The Matillion ETL tool is cloud native with all data jobs running in your cloud environment for maximum speed, scalability, and efficiency, optimizing both resource and economic consumption.
Power

• Extract, load, and transform data faster by running multiple ETL processes concurrently

• Achieve optimum performance without complex coding with push down integration
Flexibility

• Obtain native support for all major cloud data platforms

• Select from a variety of instance sizes and configurations
Economics

• Reduce time to value with faster deployment and ramp-up time

• Optimize resource consumption with independent scaling of compute and storage
Conclusion to Matillion Training:
IdesTrainings team is rich in providing Online training and corporate training for Matillion corporate training. Our consultants are highly skilled at project support as well. We have an excellent team from India which is designed to provide job support from Industry experts. We give end to end support in your project Matillion corporate training. If you are busy to attend the sessions at the specified timings you can go through our video tutorials as well. We also provide the class room Training of Matillion Corporate Training at client permission in Noida, Bangalore, Gurgaon, Hyderabad, Mumbai, Pune and Delhi. You can reach our consultants in case of any queries in video tutorials and they are ready to help you in resolving your technical issues.