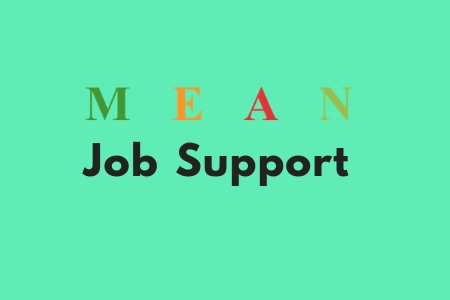 Introduction to Mean Stack Job Support:
Looking for a great expert in Mean stack Job Support? Idestrainings is the best choice for you. Mean stack Job Support at Idestrainings is specially designed for freshers as well as experienced peoples who are facing technical issues in their job. Here we will explore some basics about Mean Stack. Mean Stack is a collection of JavaScript-based technologies help us to develop web applications. In MEAN, M refers MongoDB, E refers ExpressJS, A refers AngularJS and N refers Node.js. Mean Stack has an excellent future in terms of technology, job forecasts, performance, scalability, security and, some other parameters. By using Mean stack many startups and fortune 500 companies are providing high-quality web application experiences to its loyal customers.
Learn about Mean Stack in Mean Stack Job Support?
Mean Stack is an asset of technologies where MongoDB works as a database system, Express works as a back-end web framework, Angular.js works as a front-end framework and Node.js works as a back-end runtime environment. These technologies were developed at different points of time.  Whatever the reason today they are all grouped as MEAN stack.
Why Mean Stack is so popular today?
Mean Stack is currently a popular technology and combination of MongoDB, ExpressJS, AngularJS, and Node.JS. Nowadays it has become one of the leading technology stacks to develop dynamic web applications.
Here I am going to discuss why Mean Stack is so popular.
Mean Stack helps us to use one language throughout your development journey.

MongoDB enables easy addition, modification as well as deletion of data.

From the client side to server-side database, the mean stack uses the same code.

MEAN is not limited to the development of web applications, it is also for mobile and API development. This means MEAN stock is used and accepted by various organizations. Due to this Mean Stack, developers are high in demand today.

It further eliminates the use of multiple languages to develop, which helps in the speedy development and quick loading of a web page.
Mean Stack, not only saves time as well as save the cost for the corporations but also helps in delivering quality web service to their customers. All these features clearly show that this technology becomes so popular.
This is the less information about Mean Stack. We will be covering more throughout the Mean Stack Job Support. For more info please contact Idestrainings.
Idestrainings is expertise in providing support with vast experience in MySQL related Job Services. Our team has more than 10+ years of experience to provide quality support to help you and will be available 24/7 to assist you with Best MySQL Job Support from India by senior consultants. Get ready to Join in our MySQL Online Job Support today!
Conclusion of Mean stack Job Support:
Idestrainings specializes in providing high-quality solutions for employers. We are the stepping stone for Job Support services. Today we are ready to provide online job support for almost all technologies. We provide job support for Mean Stack with real-time professionals. We have a team of certified professionals will help you to train from basics to advanced skills. If you are facing technical issues and struggling to survive your job due to lack of technical skills, Mean Stack On job support guide you in achieving the best result in your work and finish your project with no time. In this Mean Stack Remote Support you will be always in touch with a trainer and get excellent Mean Stack technical Support. Our services are reliable and affordable that meets client needs. Register for Mean Stack project support today! And secure your job.