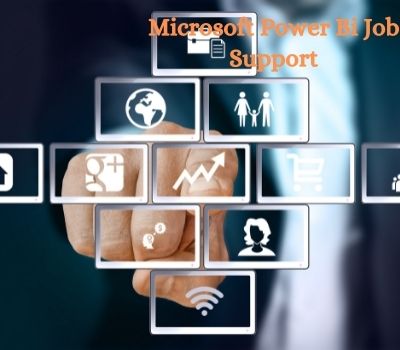 Introduction of Microsoft power BI Job Support:
Are you looking for Microsoft power BI job support? If yes OK, we choose the right decision at this right time. Here we are providing a good opportunity for Microsoft power BI online job support. Before that here I am going to explain you a brief introduction about Microsoft power BI Job Support is nothing but a business intelligence service. It enables us to aggregate the data, visualize the data, analyze the data, and share data. Microsoft Power BI is an online service and it is like connectors to third-party software as a service application.
There are some reasons why Power BI is so popular. Power BI is nothing but a data visualization tool and it enables us to write our scripts and this is very popular one when you talk about Machine learning. Microsoft Power BI will give you a great mobility. It enables us to interact with the applications in a better way. Microsoft Power BI is available for all kinds of platforms. That means you can use it on mobile or otherwise you can access the data through the cloud. Microsoft Power BI is very affordable. Microsoft Power BI contains the application protocol interface that is used for the integration. The most important thing about Microsoft Power BI is, it is user-friendly. This is all about the importance of Microsoft Power BI. We will let you know the importance of Microsoft Power BI more than this in our Microsoft Power BI on job support. Idestrainings also gives the best SSRS online job support with the best trainers.
Microsoft Power BI components:
There are some important Microsoft Power BI components. They are Power Query, Power Pivot, Power Map, Power View, Power BI services, 

Power BI 

Q&A, Data management Gateway, and Data catalog. Power Query is just like ETL.

It enables us to get the data inside the Power BI and enables us to transform, edit and load the data.

The second component is Power Pivot. This kind of component helps you in the analytics part. We can use it in memory analytics.

The third important component is Power Map. You can study the data graphically by using the Power Map in Microsoft Power BI.

The next one is Power View. It helps us in the analytics part. It is used to visualize and analyze the data.

Another important component of Power BI is Power BI service. It contains some important things such as reports, dashboards, and data sets.

Power BI Q&A is another component of Microsoft Power BI tool. If you have any queries, you can just enter on your dashboard or reports then you will get the results in minutes.

You have to make sure that the query should relate to the data. Data management gateway lets you use the components and with the help of these components, you can refresh your data time to time.

The last one is Data Catalog. It is used to record all the data that we have. This is a brief introduction of all components of Microsoft Power BI tool. You will understand it practically in our Microsoft Power BI job support.
There are several building blocks of Microsoft Power BI. They are visualizations, data sets, reports, dashboards, and tiles.

The first one is visualization. It is nothing but a graphical representation that means your data is to be in a graphical manner.

There are so many ways to visualize your data. The second one is data sets. Dataset is nothing but a collection of the data.

One single data set can be a part of many workspaces. Then we have reports. It is a collection of different visualizations at one place.

The main thing is you cannot be written and modified. Another important building block of the Microsoft Power BI is dashboards.

It enables us to visualize the data or reports or multiple reports on a single canvas. The last basic building block of Power BI is tile.

Individual visualization and published to our dashboards are called tiles. This is a brief note of the building blocks of Microsoft Power BI. We will cover all basic to advanced concepts in our Microsoft Power BI job support. Our senior consultants are always available for the 

SSIS job support 

from India. Idestrainings also provides the best SSAS job support at an affordable cost.
Key benefits of Power BI:
Let's have a look at the benefits of the power BI. Few of the key benefits listed below:
Artificial Intelligence – Clients can access picture acknowledgment and content examination in Power BI, make AI models utilizing computerized AI abilities and incorporate with Azure Machine Learning.
Hybrid deployment support -This feature provides built-in connectors that allow you to connect Power BI tools with various data sources from Microsoft, Salesforce and other vendors.
Quick Insights – This feature allows users to create subsets of data and automatically apply analytics to that information.
Common data model support -Power BI's help for the regular information model permits the utilization of an institutionalized and extensible gathering of information blueprints like entities, attributes and relationship..
Cortana integration -This feature, which is especially popular on mobile devices, enables users to query data using Microsoft's digital assistant Crotona, using natural language and accessibility results.
Customization -This feature allows developers to change the appearance of default visualization and reporting tools and import new tools into the platform.
APIs for integration -This feature provides developers with prototype code and application performance interfaces (APIs) to incorporate Power BI Dashboard into other software products.
Self-service data prep – Using Power Query, businesses analysts can collect, convert, integrate and enrich big data in the Power BI web service. The data collected can be shared across multiple Power BI models, reports and dashboards.
Modeling view- It allows users to divide complex data models into separate diagrams by subject area, select multiple objects, set common attributes, view and edit properties in the properties pane, and set display folders for simplified use of complex data models
Conclusion of Microsoft power BI Job Support:
All Organizations today are scanning for people who are specialists and energetic in their fields. We give Job Support from India to manage difficulties in the field of Microsoft power BI job support and other all Technical languages. Showing the arrangement with complex assignments may make a bad condition in the expert professional. Furthermore, taking the help of seniors and partners makes the negative effect of your aptitudes. The expert who has participated in another activity or requires help from experts, Idestrainings administrations enables you to feel better in the workplace. Our Microsoft power BI Online Job Support point is to upskill freshers in IT with the capacity to able their continuous undertaking issues. We help and render Online Job Support benefits in more than 100+ courses. In the event that you are attempting to get by in IT work because of poor specialized capacities at that point keep in touch with us. We set forward best talented IT experts, to help you in accomplishing best outcomes. We give job support to individuals who are in USA, UK, Canada, and numerous different nations.