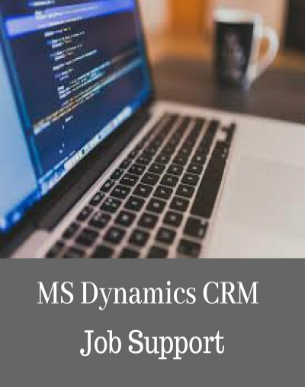 Introduction to MS Dynamics CRM Job Support:
MS Dynamics CRM Job Support is providing Idestrainings for both working professionals and beginners and for business services. In this Microsoft Dynamics CRM job support, CRM means Customer Relationship Management. We are providing prominent technical job support in MS Dynamics CRM with reasonable price. MS Dynamics CRM is very easy to implement. People who are having programming knowledge in C – sharp or VB.NET (Visual Basic .NET), they can easily implement their own programmatic skills with this MS Dynamics CRM Job Support. We will provide industrial top trainers for this job support. To customize user's performance in MS Dynamics CRM Job Support has implanted with customization modules also.
MS Dynamics CRM Job Support is for developers to maintain interactions with a companies or organization's present clients as well as future clients also. MS Dynamics CRM is generally deals with technology to coordinate, automate and to synchronize sales. MS Dynamics CRM Job Support is also helpful for you in customer service, technical support and marketing support etc. With MS Dynamics CRM job support in any platform you can reduce expenses and improve profits. To maintain client's integrity and satisfaction you can able to automate business process. In Idestrainings we have a team of senior consultants from India and they are available to give Job Support for MS Dynamics Functional also.
MS Dynamics CRM Job Support, CRM is a software platform which is developed by Microsoft. Microsoft can manage database in cloud platform. In cloud customer relationship management is to maintain some important back-end application's mechanism like servers, setup and licence approving etc. For client's usage like to monitoring, customize, integration and backup databases Microsoft is well customized Dynamics CRM services in cloud.
MS Dynamics CRM means Customer Relationship Management, which deals your business and accessing ways. MS Dynamics CRM is one platform for organizations to organize all of the information they have and what they care about. MS Dynamics CRM Job Support is one kind of data integration solution to develop your business with your clients. In this CRM solutions are much useful to get more profits in sales and marketing. CRM solutions are playing vital role to improve and to maintain relationship with customers. Without CRM solutions you won't gain credit in your business. In recent years MS Dynamics CRM is providing mobile support for customers by using CRM applications on tablets and mobiles. CRM online does not providing data backup and restore options, but it will update automatically.
The aim of MS Dynamics CRM Job Support is maintaining customer relationship in market and product sales. For effective marketing business organizations are providing social insights and many out of the box functionalities by using CRM solutions. It has the ability to track actions in individual relationship. Tracking and displaying information like mails and messages is a sign of having good customer relationship management system. MS Dynamics CRM is a modular product, it is organized in a simple way. CRM consists mainly three modules those are sales, service and marketing. Each of these module content is very relevant to each of these topics. In CRM sales person would be interested in things like competitors and sales. But in marketing department sales person would be more interested in marketing lists and campaigns. Idestrainings is also providing MS Dynamics CRM Technical Job Support, our trainers will help you in all aspects for your project.
Customer services are more interested in cases, when CRM takes into account and divided its entities accordingly. When CRM is completely customized, then you can choose to change the entities within each module or you can setup all modules together. MS Dynamics CRM is very helpful in business to wards information and efficiency, when you have the information in front of you about various parts of your business which is displayed in one place. With that ability you can drill down and see detail and context the efficiency of your operation increases. Idestrainings has skilled experts to provide Job Support on MS SQL Server at flexible times.
Advantages of MS Dynamics CRM Job Support:
MS Dynamics CRM will gives you some advantages in quite a few ways.    
Dashboard have a lot of values to provide up to six various charts or lists on one screen.

Those chart can simplify the information into visual.

Without navigating away from your dashboard you can simplify charts.

MS Dynamics CRM will show a variety of types of information and you can go through the information with a single click.

To make customers easy functioning CRM information is centralized.

It is automated mainly for marketing interactions.

Because of automation MS Dynamics CRM is providing business intelligence also.

In this customers are can have communication facilities with other entities.

Customers can track and analyse the data for responsive services.

For user interface MS Dynamics CRM has made as perceptive and simple.

One of the main advantage is Microsoft products like office 365, Power BI and many products can interconnect with each other for user interface.

Powerful built – in tools in MS Dynamics CRM can improve efficiency and its production in a business.

For business demands CRM has flexible architecture and deployment options for easy customization.

For partner support in any product MS Dynamics CRM has quality and durability.

CRM in MS Dynamics can store all kind of information in one place. There is no silo in this storage, so any person what kind of information they want they can access easily.
Features of MS DYNAMICS CRM Job Support:
The capacity to track messages from anyplace

Pre-arranged exceed expectations formats and Word layouts

Use to One Drive for the Business alternative to store and oversee private archives

View SharePoint records, effectively send out information, email connects to a page crosswise over gadgets – telephone and tablet

Get input from clients through studies

Dashboards to help organize remaining burdens in an intuitive administration centre

Track approaching Exchange email exercises.

Set up guidelines to naturally make and refresh records from any client action – email, social, portable, and so on.
Conclusion of MS DYNAMICS CRM Job Support:
If you are weak in the technical skills, you cannot get on the job that you are doing. With just theoretical knowledge, you cannot survive in today's IT field. For that, 'Idestrainings' offers online job support for technically weak candidates. 'Idestrainings' is the fastest growing online job support provider firm. 'Idestrainings' is more reliable and expertise consultancy for online job support. You can utilize the services of 'Idestrainings' to improve your skills and also to get on your first job. We are offering all online job supports at an affordable cost. Moreover, we have good experience in providing the quick solutions to our clients.
If you are really facing the technical issues in your project then the Idestrainings will be the right place to resolve all your issues. We are providing the best Microsoft Dynamics CRM Job Support with the best trainers. We have a team of senior consultants from India for Microsoft Dynamics CRM Online Job Support. You can get in touch with the trainer in our Microsoft Dynamics CRM on Job Support. Our team will help you to complete the project on time. If you still have any doubts regarding Microsoft Dynamics CRM Project Support, you can contact us and we will clarify all your doubts.