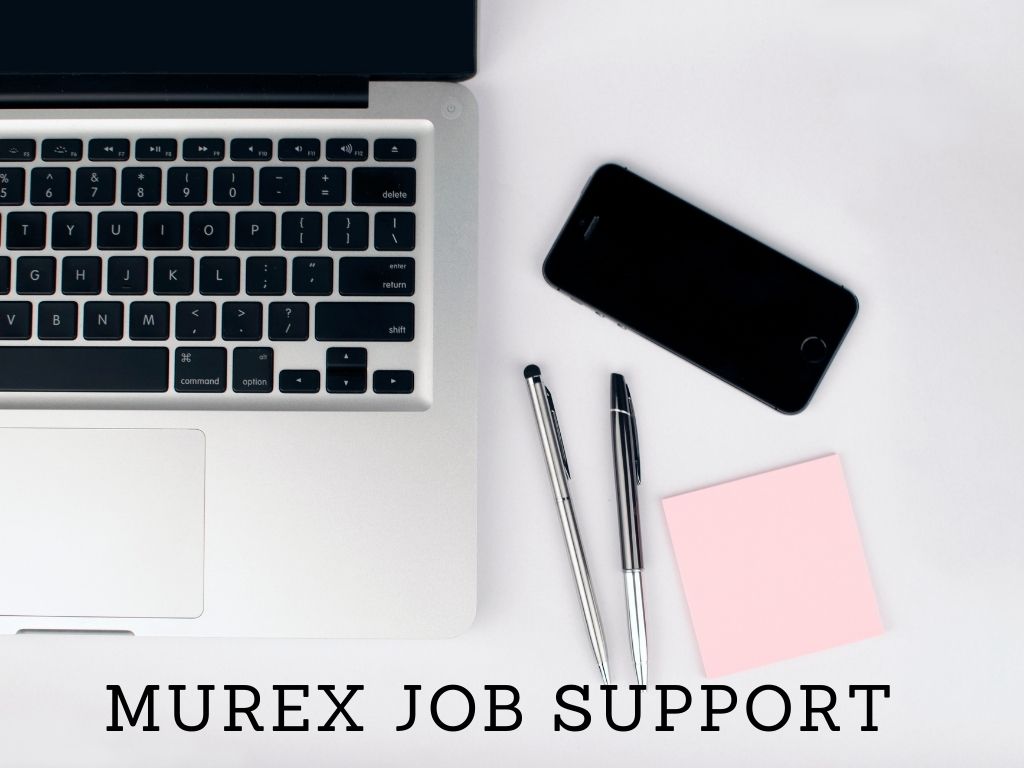 Introduction to Murex Job Support:
Idestrainings Services offer Murex Job Support from its best and well experienced consultants, for all the application deployment consultants Murex is the most successful tool so far. The developing world brings new varieties of technologies and tools', so keeping yourself upgraded technically is most important to become a successful employee and to carry your job efficiently. Our Murex Online project support or technical guidance will help to resolve the deployment errors and could guide you in all the technical concepts and scenarios one can face while using it. Our team of consultants is current working professionals who carry good knowledge on all the concepts that are related to Murex. They can help you solve your queries and can let you overcome the work pressures smoothly. Please do not hesitate to contact us. We maintain your details in confidentiality approach us and let us know the technical concerns at your workplace so that we can fix you with a prefect guide.
Overview of Murex Job Support:
The MX.3 integrated platform features:

Market-differentiating asset class coverage (listed, cash, structured products & OTC)

The advanced trading, hedging tools & risk measurement

Featuring an powerful workflow engine with a complete enterprise back office solution

Full margining and collateral management

Murex accelerate the pre-packaging of best practices of the delivery implementation methodology combines a wealth based on of business content with an accelerated process.

It is versatile enough to be the highly specialized in supporting hugely different business processes in the trading, risk management or processing.

Murex solutions are based on the huge potential for simplification to deliver the flexibility needed to adapt fast with a modern architecture designed. Murex is with its flow-based products as it is a potent in its management of securities. Enroll for Murex Job Support and see how Murex is true enterprise platform & can simply for today's capital markets due to following reasons:
PERFORMANCE:
MX.3 delivers all the business functions high performance for that is essential.
Regulations demand calculation of the complex metrics and real time trade registration.
It has the electronic distribution imposes the need to price, execute & process large volumes of trades & events in the real time.
Murex addresses to support the businesses for the long term & these performance challenges with enough headroom.
OPENNESS:
Murex services can be extended to the connect to the external applications and calculations and embed proprietary processes.
Typical the extensions include defining new types of financial products, market and static data, by defining new calculation outputs and chains, by adding custom analytics at every step of the calculation chain or. register for Murex remote support for more details
The Extensions made by the clients are life cycle functions or parallelization mechanisms ,and fully benefit from the platform generic risk & for faster time to market.
ROBUSTNESS:
Murex which provides continuous service to thousands of its users worldwide, it is a highly available, fault-tolerant enterprise platform.
Murex is audit and communication processes and its secure and aligned to market best practice.
USABILITY:
Murex invest heavily the relevant interactive experiences out-of-the-box, in user experience to bring to user base.
COST EFFICIENCY:
An inherent part of the platform throughout its life cycle, the Murex development & engineering processes are tuned to make cost efficiency. By joining for Murex online project support explore more.
This includes a high quality software factory, a homogeneous technology & clean design, an emphasis on efficient upgradeability, a specific focus on operability & optimal use of low-cost hardware infrastructure.
Advantages of Murex Job Support:
To reinvent & invent and, we need to stay on top of keep ahead of global regulations & what is happening in the financial markets – all the technology development of the while pushing boundaries. From our founders through to our interns, learning together, we work side by side, designing the software to resolve them & analyzing the industry issues. We believe you should be fulfilled in your career and well-rewarded for your effort. We want you to grow with us & we are a growing company. Our associated benefits reflect our sustained & compensation package commitment to you throughout the stages of your career. We give you the autonomy to show what you can do & the opportunity to build your experience. We uncover career path that makes the most of them & where your ambitions lie, & strengths and together we can create a. we provide the advantage of murex Online job Support with an opportunity to experience. See how one platform works for multiple solutions.

It's not just a job, it's your career: with Murex you to build your experience have the opportunity, who you want to become, & to define who you are.

Grow your skills and broaden your understanding: core to how we do things & but continuous investment in learning, development is not an employee benefit. Join for Murex job Support now. At Idestrainings we also provide SQL job Support from our experienced experts. 

It's hands on & sleeves up: to our interns is a 'doer' at Murex, everyone from our founders. We give you the right to autonomy. We believe you can deliver on our trust, Even if you are at the start of your career. 

A pioneering environment: we drive innovation, we challenge tradition & we proactively encourage change.

It enables cost and time reduction by offering proprietary tools – a report validation tool and automated testing suite
Murex related Responsibility:
1) Supporting the Pre-Core, Core, Accounting, Var, CVA and MLC batches.
2) Assist the service delivery team with design and implementation of new batches according to new requirements.
3) Configuring the processing scripts, feeders, stored procedures for various modules and debugging the issues related to it.
4) Performing/Monitoring daily/monthly housekeep jobs related to Accounting, Market Data etc.
5) Perform ad hoc operational requests such as generating of on demand reports, file transfer, housekeeping activities
6) Liaise with vendor to run diagnostics and troubleshooting for EOD issues
7) Monitor and tune performance of overall EOD
8) Perform sanity checks in MurexUI such as workflows, real time data etc
9) Work with DBA`s to troubleshoot performance issues with DB that impact the EOD batches
Conclusion to Murex job Support:
Now a day's many organizations are looking for individuals who are masters and enthusiastic in their professional fields. We give Murex Online Job Support from India to oversee challenges in the field of Murex Job Support and other any technical languages. Demonstrating the course of action with complex assignments may make the bad condition to handle the job. We also provide Murex from our experienced Consultants, taking the suggestions of seniors and accomplices makes a negative impact on your aptitudes. The specialists who have taken an interest in another action or require help from specialists, Idestrainings organizations empower you to feel better in the working environment. Our main aim of Murex Online Job Support point is to develop the skills to the fresher's in IT with the ability to capable their constant endeavor issues. We help and render Online Job Support benefits in more than 100+ courses. If you are endeavoring to get by in IT work due to poor specific limits by then stay in contact with us. We put best capable IT specialists, to help you in achieving the best results. We give job support to people who are in the USA, UK, Canada, and various countries.