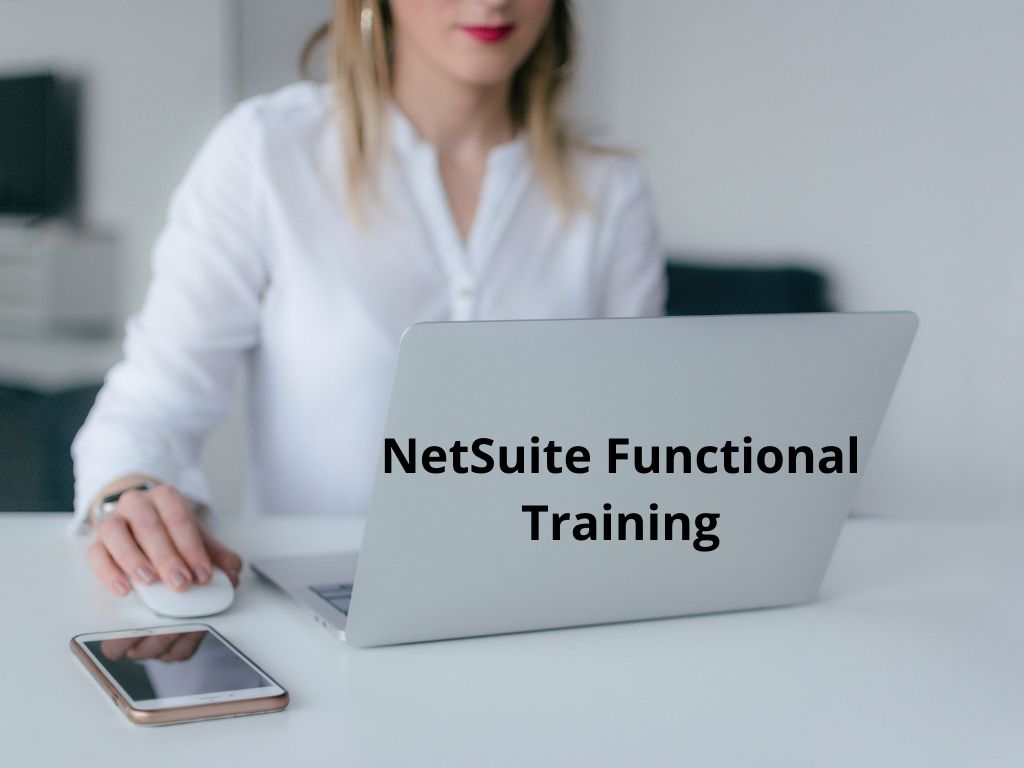 Introduction to NetSuite Functional Training:
NetSuite Functional Training at IdesTrainings- NetSuite Functional helps to improve the business visibility into all the areas with high complete key tasks. This tasks are done more efficiently and also accessed securely with data from anywhere at any time before implementing that particular suite. Most of the companies are facing the similar challenges among them one is disparate architecture with NetSuite. To manage the international taxation or statutory reporting we have to roll out very quickly. We can roll out quickly for new sales channels or to develop a new product line reporting. IdesTrainings is the best online training from India because we provide all types of trainings by our experienced trainers at a reasonable cost.
Prerequisites for NetSuite Functional Training:
To learn NetSuite Functional Online Training at our IdesTrainings the candidate should have a basic knowledge on   
Standard ERP

Business Analytics

CRM Business Processes
NetSuite Functional Training Course Outline:
Program Name: NetSuite Functional Online Training / NetSuite Functional Corporate Training / NetSuite Functional Online virtual classes.
Course Duration: 35 Hours (Can be customized as per the requirement)
Mode: Online virtual classes and also Corporate.
Timings: According to one's feasibility.
Trainer Experience: 10+ years of experience
Batch Type: We provide all batches like Regular, weekends and fast track
Materials: Trainees will get the soft copy material

Sessions will be conducted through WEBEX, GoTo Meeting or SKYPE

Basic Requirements: Good Internet Speed and proper Headset
Backup Sessions: If any student misses the session than we also provide backup sessions according to the student flexibility.
Overview of NetSuite Functional Training:
What is NetSuite Functional Training?
The NetSuite Functional deals with three products. They are ERP, CRM and Financial Management. The CRM will increase the customer database to create the marketing campaigns or sales campaigns to increase the complete cycle of customer sales is known as CRM Process.
Customer:
Make sure that you are understanding the customer and satisfying their feelings. By satisfying the customer needs is the simple way to grow the business.
Prospect Customer:
A prospect is a probable customer he/ she needed is desire or interest to buy and that customer is capable to fit positive in the most of the cases like products.
Lead Generation:
It's a process of attracting people how need a particular product throughout the buying process to help convince them about your offering and convert them a paying customer.
Customer life cycle:
It describes the different stages of prospective customer or present customer progresses in company marketing. Have to satisfy the customer throughout the customer lifecycle.
What are the features of NetSuite Functional Training?
The NetSuite have some of the key features of:
It's a Based System ERP Model & Extremely Light Weight.

The NetSuite Functional helps in reducing the customer cost.

Approximately 40,000 organizations uses by NetSuite Functional Training.

Several Data centers in several global locations.

Enhances the customer experience.

How we can access the application from NetSuite
Related to NetSuite Salesforce, Sage Intact, Workday, InFor:
How Salesforce NetSuite will help the CRM in NetSuite Functional Training?
Salesforce NetSuite for popular finance and marking Customer Relation Management (CRM) back-office operations you finance you need a way to connect those two systems easily and effectively before that Industry term we have successfully implemented hundreds of customers on this connector. Salesforce NetSuite connector you need to buy an integration platform and build it yourself it's a not fully fleshed out its really a starter template just a capability.
We could do better and started find better research on deep domain expertise to build a brand new connector from the ground up that pushes But that pushes the boundaries of turnkey, self implementable natively performant and secure covered all the base other claimed to have a Salesforce enterprise-level work as pre-built product easily self installed in minutes and highly configurable through.
Workday:
NetSuite it's true all in one enterprise-level ERP system with an included HR tool and one thing that difference is that because aims to be one platform connects  a true SAS product yet highly configurable and customized the pioneers in the integration space.
The enter email integration is possible with extension i.e. chrome extension that was a great way to really build kind of next generation CRM and copper user and be more thrilled I admin helped sometimes capture records enter data from companies presentations forward email. That we could try keep track of these things all workflow has been eliminated copper is definitely time efficient it.
Sage intacct:
Design of E-commerce site in NetSuite specifically for the finance department and is a best of breed approach for your accounting functionality because in fact is a true could-based ERP solution there's software that needs to functionality because in facts is a true cloud base breed approach for your accounting functionality because in fact is a true cloud based ERP solution there's Software that needs to be installed server that need to be maintained and IT staff that need to be retained to manage it. Intacct is a very scalable product for companies that are fit for them. Because it allows you to do multi entity and you can add entities as many as you will need for your organization.
Sage intacct is a modules based self smaller opportunities and Learning settings more entity roles users and posting journal entries accounts try to account be including the books again this is the first of the series. This will be more of the individual modules likes caches AR, multi entity, accounting project, account time expenses, order entering. a lot of the other functionality level basis intended to be informational at the time of multi entity environment configure about basic ID.
Infor:
Today's Best Infor ERP for manufacturing is at the hearts of the networked business and Infor ERP makes converged Commerce a reality by connecting suppliers, Manufacturers, distributors, buyers. Really excited about the order to delivery program By design, source, making, moving, market, sell and service. The Customers first with personalized Omani-channel experiences that boost conversion rates, increase revenue per order and build loyalty. We will be able to thank the commit of any customer are going to absolutely.
We are going to be able to give them progressive update for us to able to do that and all of our countries internationally that's incredibly powerful real-time visibility to inventory and information across network you can reduce out of stocks, shorten delivery times and increase sales. To reduce out of stocks, shorten delivery times and increase sales. We have actually reduced our inventories by 50% we do not want to leverage that elasticity of cloud and we can't extent that holes of a connected network with machine learning.
NetSuite CRM and ERP is the base suite that conveys an ongoing perspective on your client and gives a consistent progression of data over the whole client lifecycle from lead through to circumstance, deals request, satisfaction, up-sell, strategically pitch, support, invoicing, stock administration and full bookkeeping. With far reaching money related administration capacities required to grow a changing, complex business, NetSuite takes your business past conventional bookkeeping programming by streamlining tasks over your whole association and furnishing you with the ongoing perceivability you have to improve, quicker choices.
In the NetSuite: Financial Management course, you figure out how to utilize NetSuite's ERP highlights and abilities to control costs, quicken your money related close and guarantee total constant perceivability into the budgetary exhibition of your business. This two-day course presents key day-today, month to month, quarterly and yearly exercises for performing money and bookkeeping errands in NetSuite.
The course starts by inspecting various leveled auxiliary structures and utilizing arrangements to compose your information for detailing purposes. Next, you will analyze exchanges related with selling and buying merchandise and enterprises, how those exchanges move through your business forms and eventually into your money related reports.

At that point, you will investigate General Ledger highlights, for example, working with diary passages, planning and cost allotments. The course finishes up by shutting the books for period/quarter/yearend and showing you how to tailor your Home Dashboard to rapidly get to business insight and oversee exercises.

All through the course, you will be given accepted procedures and methods to guaranteeing ideal utilization of NetSuite. Shows and hands-on activities will be led in a NetSuite One World record with Advanced Financials empowered.
NetSuite gives canny command over stock renewal, guaranteeing that adequate stock is close by to dispatch foreseen orders, while downplaying overabundance stock. NetSuite Advanced Inventory empowers you to:
Enthusiastically oversee thing reorder focuses and favoured stock levels dependent by and large lead time, authentic or occasional based deals request and number of days' inventory to stock.

Reduce slack time with constant cautions at whatever point stock tumbles to predefined limits.

Avoid "stock-outs" to look after progression. Stock Control NetSuite upgrades stock perceivability with following and control abilities to deal with each phase of the lifecycle and control costs. NetSuite Advanced Inventory gives:

Matrix thing the board to stock and sell comparative items in different hues, sizes and style blends and rearrange SKU creation and estimating. Landed cost portion as indicated by weight, worth or amount. Serialized stock to follow buys and deals by relegating a sequential number to everything.

Lot the executives to follow the buy, stock and closeout of a gathering of things by doling out a particular number to the gathering. Bin the board to sort out and track the accurate area of things in stock in your warehouse.
NetSuite streamlines centre:
NetSuite streamlines center procedures utilizing computerized work process and rearranging complex errands by requiring less time and exertion. NetSuite Advanced Inventory advances activities with Return stock approval where guarantee cases can be checked to discount, fix or supplant item abandons. Pick, pack and ship the board for high volume request handling situations.
On the off chance that you use NetSuite One World, you can relegate an essential auxiliary and a boundless number of optional auxiliaries to a seller record. This is helpful with various auxiliaries utilizing a similar seller. When seeing a common merchant record, the seller's complete extraordinary equalization and all out unbilled balance (entirety of the entirety of the allotted backups' adjusts) is accessible in the essential auxiliary's cash.
NetSuite keeps a running equalization for every merchant dependent on charges entered and installments made. With worked in reports, it is anything but difficult to see a full image of a business' merchants, what amount is owed to them, what bills should be paid, and what buy orders are extraordinary and finished.
Net Suite's remarkable thing arrangement abilities is easy to set up and takes into account organizations to follow the perfect measure of data paying little respect to the kind of thing or administration being bought. On the thing record, it is anything but difficult to distinguish affirmed merchants, evaluating, price tag history, cost and use by area, and the favoured units of measure available to be purchased and stock.
Innovative Financial Management NetSuite monetary administration gives thorough bookkeeping usefulness that quickens your money related close, gives solid invoicing and cost the board, streamlines request and income the executives, and conveys total ongoing perceivability and answering to deal with the financials of the business.
Provides in excess of standard reports, including pay proclamations, asset reports, united reports, difference reports and one next to the other examinations or effectively make and characterize monetary reports as per the necessities of your business.

Flexible general record money due and creditor liabilities; underpins a boundless number of general record accounts, sub-records and fragments. Computerized distributions, cash the board instruments and period locking streamline the period end close procedure.

Always-on review trail gives absolute foundation into each exchange, for example, the creator and time of every section. Fixed resource the executives empower upkeep and control of the total resource lifecycle crosswise over deteriorating or non-devaluing resources, from creation to devaluation, revaluation and transfer.

Accommodates diverse bookkeeping and strategic approaches crosswise over nations and supports nearby announcing and tax assessment prerequisites. Full multi-money bookkeeping support for workplaces in different nations, or when directing business with remote organizations.
Along with NetSuite Functional Training learn NetSuite:
NetSuite helps to known the comprehensive services for business sales. NetSuite is related to cloud based applications for the development of the business. There are three systems. They are ERP, CRM and Ecommerce.
Advantages of NetSuite Training:
The advantages of NetSuite Training are as follows.
It also helps in reducing the cost of the company.

With the help of NetSuite there is no need to maintain the applications, no need to maintain the applications.

NetSuite is designed in different industries for the development of the organization.
These are just the basics of NetSuite Training. You can get the detail knowledge on NetSuite Training along with NetSuite Functional Training.
Learn NetSuite Technical Training along with NetSuite Functional Training:
NetSuite Technical Training is related to Cloud Based Architecture. The main advantage of NetSuite Technical is that we can access from anywhere from any device without using the software and database. NetSuite is programming it's a biggest supplier of cloud ERP and business the executives arrangements conveying the intensity of conventional Application that gives you online help utilizing biggest organizations yet a small amount of the expense and unpredictability. NetSuite is programming it's a biggest supplier of cloud ERP and business the executives arrangements conveying the intensity of conventional Application that gives you online help utilizing biggest organizations yet a small amount of the expense and unpredictability.
You can learn in depth about NetSuite Technical Training along with NetSuite Functional Training.
Conclusion to NetSuite Functional Training:
NetSuite Functional Training is one of the most demanding courses in the present market. Many companies are looking for the candidates who are having good communication skills with practical knowledge and they are ready to pay huge salaries for the wright candidates. This is the correct time for the candidates who want to grow their career in the field of NetSuite. IdesTrainings is one of the best Online Training as well as Corporate Training from India. If you have any doubts regarding the training always feel free to contact us (or) you can also register with us so that one of our coordinator will contact you as soon as possible.