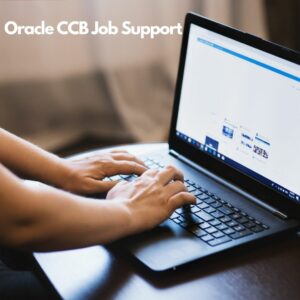 Introduction of Oracle CCB Job Support:
Oracle CCB Job Support is about customer management and product configuration provided by top online job support cloud Idestrainings. for this job support we are having years of experienced consultants to guide employees who are achieved job from India with lack of knowledge working in foreign countries and facing struggles in Oracle CCB work. For them our online consultants will understand their necessaries and provide job support and explain each and every aspect required to complete your project. We will explain complete Oracle CC&B architecture in Idestrainings. With our Oracle CCB Job Support you will become as professional in your work.
Oracle CCB is a released in market on customer base to fit best. The complete form of CCB or CC&B is Customer Care & Billing. Oracle is provided the support for CC&B and the key is the invisibility with this change to the customers as much as possible. In CCB concept from Oracle the control central screen is usually the default screen when user logs on to CC&B then the user can search almost any objects within CC&B. Our senior consultants are always available for Oracle PL/SQL Job Support also from India.
In Oracle Customer Care and Billing one can search by using a single or multiple parameters including wildcards and you will learn new features and will become familiar with the control central. In Oracle CCB the control central window is divided into three important sections those are search criteria screen, result pane and the dashboard. With the help of our Oracle CCB Job Support you will handle complete life cycle of customer care application.
Importance of Oracle CCB:
Oracle CCB is using for certified implementation specialist. Oracle Customer Care and Billing user interface. Using the Oracle utilities application you can do framework configuration and manage campaigns packages and orders. This Oracle CC&B also deals with the ability to manage field activities, field orders, and maintain service cycles, routes and field activity upload. Oracle service CCB basic boot camp offers the basic functionality of Oracle CC&B (Customer Care and Billing). Idestrainings provides the Best Oracle ADF Job Support from India with all required aspects and along with live project.
The Oracle CCB will manage all aspect of service from customer data, service network, billing and more when operating the combine functions like billing and management. The product enhanced with business requirements, reducing costs and liability. It provides service in any market accelerate the revenue, make cost yield and answer to market change. It starts from a few hundred and thousands to many millions of consumers. From this result, Oracle serve's Customer Care and Billing (CC&B)  to consumers accurately to meet market windows and administrative limits while having a less amount of total cost of ownership and a good return on investment.
Advantages of Oracle CCB Job Support:
 Oracle CCB Job Support is an advanced technology and came with plenty of advantages. Some of those advantages are,
Oracle CCB is customized and constructed to reach different requirements and it is used to reducing customizations.

You can promote Oracle Customer Care and Billing easily and rapidly with low risk and overall charge of ownership.

The consumers range will starts from less numbers and grows to millions members.

For call centre employees, Oracle Customer Care and Billing will deliver exceptional client service.

It will develop performance and controls operational costs.

It will implement quickly with high compositions of features and activities to exclude the necessity of heavy customization and spread implementation.

Idestrainings gives best online Oracle CRM Job Support with all the aspects at reasonable price.
Overview of Oracle CCB Job Support:
Oracle CCB Job Support is one of the most popular robust software tools and it is a latest CIS (Customer Information System) that is built to reach the requirements of all services in future. It is an out and out Customer Care and Billing (CCB) application that to maintain each and every element of customer life cycle from the service connection to payments processing and everything in between. Oracle Customer Care and Billing is an advanced technology emerged to meet client's prediction and the dynamic regulations are constantly remodeling the utility industry.
Oracle CCB is improved to address customer queries and modifying regulation faster and steadily reshaping the service in industry. The service which required CIS (Customer Information System) that not only to reach their requirements now, but also locating them for future resilience as their needs evolve. Idestrainings has professional experts to guide you on OBIEE Job Support at your flexible timings.
Conclusion of Oracle CCB Job Support:
Idestrainings is providing Oracle CCB Job Support and it is the most advanced Oracle cloud software tool to maintain customer's data. We have a core team of experienced technical consultants from India and they have many years of experience in various aspects of Oracle Customer Care and Billing. Beginners and working employees from India and doing job in abroad countries such as USA and UK etc. with less knowledge on their profession, facing struggles and looking for guidance in their job, for them our senior consultants will understand your requirements and will resolve with full of accuracy. With the help of our consultants so many employees are peacefully leading their professional life. For further details regarding Oracle CCB Job Support and for contact details go through our website Idestrainings.com.