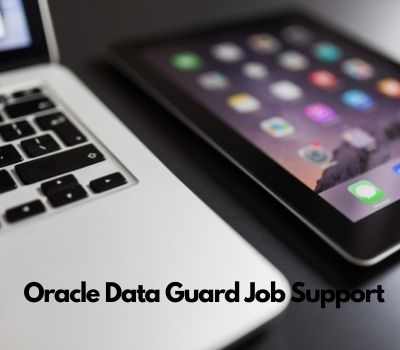 Introduction of Oracle Data Guard Job Support:
Oracle Data Guard Job Support is provided by Idestrainings for integrating Oracle Data Base with high availability. We are having years of experience consultants for employees who are doing job in abroad but unable to work on given projects because of lack of knowledge on Oracle Data Guard. For them our online consultants will understand your necessaries and they will provide Oracle Data Guard Job Support and explain each and every aspect which is required to complete your project in your mother tongue or in understandable simple English language. With our Oracle Data Guard Job Support you will learn complete Oracle Data Guard Architecture, Oracle Data Guard 11g and Oracle Data Guard 12c etc.
What is Oracle Data Guard?
Oracle Data Guard is a essential component of combined Oracle data base HA (High Availability) solutions. The Data Guard supports both physical standby sites as well as logical standby sites. The Oracle corporation will makes Data Guard available only as a bundle features which includes within its enterprise edition of Oracle RDBMA (Rational Data Base Management System). It supports heterogeneous configuration in which the primary and standby systems may have various kinds of engineering that they could have different operation systems and binaries. Idestrainings is rich in providing the best Oracle DBA Job Support by senior consultants.
In Oracle Data Guard Job Support with the help of appropriately set up of data guard operations DBA (Data Base Administration) can facilitate fill over or switch covers two alternatives hosts in the same locations or in the alternative locations. For the purpose of data guard each Oracle Data Base functions either in a primary data base role or in a standby data base role. In Oracle Data Guard, the data bases could be transitioned from one role to the other. Data Guard will provide HA (High Availability)for a data base system. It can also reduce the human interference, when it required to switch between data bases at disaster recovery and maintenance time.
Oracle Data Guard to monitoring and managing for data base. For example let us take a bank, the bank into which you have to maintain your account. Obviously it would have a data base in which all the transactions are maintained. In such a data base, if it is running on Oracle Data Base. Then some one would be ensure that monitoring their data base, from time to time take backups in case of any failure it will ring it back in terms of restoring and recovering. When you consider a bank the financial transaction base data base, we can ensure that we do not have any data loss and we can also ensure that it has up and available most of the time. Idestrainings also provides Oracle Exadata Job Support by the best trainers at affordable cost.
               In Oracle Data Guard, if the network link connected primary and standby is over subscribed then the redecorate logs are not shipped in chronological order. This can result in large gaps appearing in the available redecorate at the standby such a condition results in the standby being behind the primary. The same release of Oracle DataBase enterprise edition must be installed on the primary database and all standby databases. Oracle Data Guard is available as a feature of Oracle DataBase enterprise edition.
Advantages of Oracle Data Guard Job Support:
The implementation of data base technology in Oracle Data Guard Job Support have quite a few advantages mainly for disaster recovery. The following are some of those advantages,
For a new application functionality or for a existing application functionality testing is very easy.

If any data is crushed from any primary data base server, on that time you can perform on failover activity and you can continue the transaction activity on your standby data base.

For any disk corruption is there on primary data base server, then you can work with your standby database.

If you havestandby systems then you can use read only standby data base for reporting purpose.

For your business you can protect and recover you data incase if you are loosing.

If you have configuring the data broken, on that time you can manage all standby database.

Our senior consultants are always available for Oracle Data Integrator ODI Job Support from India.
Overview of Oracle Data Guard Job Support:
Oracle Data Guard Job Support is providing all elements such as management, monitoring and automation etc. Oracle Data Guard will transmits the redesigned data from the primary to one or more standbys using ARCH or LGWR. The data guard will automatically detects missing, corrupted and archived redesign log files on the standby and brings it back replacement archived redesign log file from the primary or any other standby database. It ensures that there is no data loss and if there is any primary database fails then the data guard will cover. In Oracle Data Guard Job Support redesign is needed to recover each transaction which is written in both the local remodel log and to the standby remodel log on at least one standby database before committing for the transactions. Idestrainings gives best online Oracle GoldenGate Job Support with all the aspects at reasonable price.
Conclusion of Oracle Data Guard Job Support:
Oracle Data Guard Job Support is one of the important Oracle physical and logical database Job Support from Idestrainings. It is a leading and reputed online job supporting firm and providing job support for job holders who find job in abroad countries but not having proper knowledge about their course and job. For those kinds of people Idestrainings is providing online job support from India for a reasonable cost. We have top most experienced industrial experts to guide you thoroughly about your work and working project such as disaster data recovery and data protection against corruptions etc. For more information visit our website Idestrainings.com.