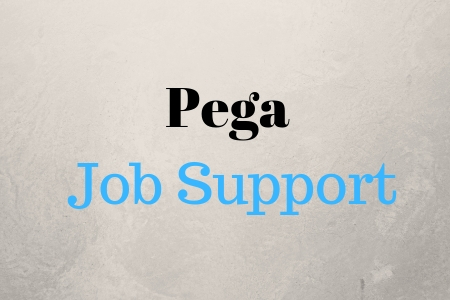 Introduction to Pega Job Support:
Our Pega Job support helps the employees who are facing the difficulties in their pega projects.  Our team always ready to solve the issues regarding your projects and we help you to complete your pega projects on time. This job support is not only
helpful for newly joined employees but also for the experienced employees. Pega stands for Programs in Extra-Galactic Astronomy. PEGA is software and it is related to Customer Relationship Management (CRM) and Business Process Management (BPM). This is a Java based application and it is used for BPM and CRM applications. For Pega, programming or coding is not required. This Pega tool is also called as a Pega PRPC BPM tool and these are the products of Pega systems.
Overview of Pega Job Support:
What is Pega?
Pega is not a language or not a database and it is also not an operating system it is software. With this software we can build business process applications. This helps the Pega Rules Processor Commander (PRPC) server developers to build and design the applications.
Learn how to run the PRPC Server in Pega on job support:
To run the PRPC server easily we use operating system, java application server, data base, java jdk. Like other conventional programming we have to design User Interface (UI), business logic and we have to create physical, logical mode of data base. The gadgets and processes are also available for building and developing the UI, data access logics, validation rules etc. for this process there is no need to modify the system.
In Pega just we have to design the business process and we have to decide how it must function and the rest of it is carried out by Pega. Pega is a user friendly for defining the applications of the business. When compared to other BPM Tools Pega is very simple. For handling the modeling processes there are technical syntax in Pega. With the help of Pega we can create and maintain the web based applications. The main benefit in Pega is that we can use easily because of its software configuration and management system. When we want to create an application it is easy to create in Pega when compared with Java. Pega 7.2 helps to build and modify the enterprise fastly. Pega helps to full fill the gap between front end and back office operations.  We can also build the enterprise app to meet the needs of multi business units, channels, products, geographies and customer segments.
These are just the basics of Pega job support and you can learn in detail in our IDESTRAININGS. We provide pega online job support for all the modules of Pega.
Learn how to create the business applications in Pega online job support:
In Pega, we can enable the offline access and push notifications directly. With the help of Business Process Management (BPM) and Case management we can create the business applications fastly and there is a unique data management capability to create the virtualized application data layer. Intelligent robotic automation functions independently. Cloud architecture software is built on unified pega platform. Users can easily deploy and extend the applications
Conclusion to Pega Job Support:
IDESTRAININGS is very famous in providing online job support. We are the best Pega Job Support from India. We have various Pega consultants with highly practical experienced at real-time professionals from IDESTRAININGS. We provide the best Pega online job support, corporate, remote system with reasonable price. If you are facing any technical difficulties in your given project we always ready to guide you. We always ready to solve your issues regarding Pega at any time and feel free to contact us.