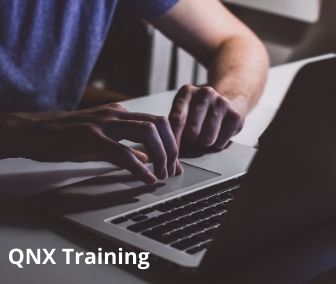 Introduction to QNX Training:
QNX Training is provided by 'IdesTraining' which is one of the best corporate training providers in India. Idestrainings take our unrivaled classroom experience straight to your computer with real time classes. QNX Training available anywhere you are from home or office. IdesTrainings providing the best QNX training at a reasonable price. Before going to the details of QNX training, let's have a look at the basics of QNX. Let's see what exactly QNX is. QNX training courses are hands-on, instructor led using real-world examples to give your development team the grounding they need in QNX best practices so that you get the most out of your investment. QNX Classroom Training to gather up profound trainers for all the possible latest technologies at Hyderabad, Bangalore, Pune, Gurgaon and other such IT hubs.
Prerequisites for QNX training:
You must have a good working knowledge of C and a general knowledge of operating systems. Familiarity with embedded systems or real-time concepts is an asset.
QNX Corporate Training Course Outline:
Course Name: QNX Training

Duration of the Course: 40 Hours (It can also be optimized as per required period).

Mode of Training: Classroom and Corporate Training

Timings: According to one's Feasibility

Materials: Yes, We are providing Materials for Blackberry QNX Corporate Training (We will get the soft copy material)

Sessions will be conducted through WEBEX, GOTOMETTING or SKYPE

Basic Requirements: Good Internet Speed, Headset.

Trainer Experience: 10+Years

Course Fee: Please register in our website, so that one of our agents will assist you
Overview of QNX Corporate Training:
The programs that run under the QNX Neutrino realtime operating system (RTOS), the first thing you need is the QNX Software Development Platform (SDP). This includes the QNX Momentics Tool Suite, which contains everything you need to develop programs that run under the QNX Neutrino RTOS: compiler, linker, libraries and other QNX Neutrino components, precompiled for all CPU architectures that QNX Neutrino supports. On Microsoft Windows and Linux, the tool suite features an extensive Integrated Development Environment (IDE).
You have several choices for the target system that will run the QNX Neutrino RTOS:
PC target: You can install the QNX Neutrino-hosted version of the development platform on a normal PC that has a free partition of about 3.0 GB. (The procnto microkernel itself requires only about 700 KB; by selectively adding components to it, you can create everything from tiny embedded systems to a full desktop runtime system that requires only about 300 MB.) Installing QNX Neutrino won't damage any existing partitions. You can also boot QNX Neutrino directly from the DVD or CD, in case you don't have enough room on your hard disk.
Other hardware: You can run QNX Neutrino on a reference platform, a reference design made by a CPU vendor (with a PPC, ARM, MIPS, or SH CPU). You'll need a QNX Board Support Package for your platform. The documentation that comes with each BSP explains how to install QNX Neutrino on that target system.
Virtual machine: You can install and run QNX Neutrino as a virtual machine in a VMware session.
Architectural Overview of QNX Corporate Training:
Reference Applications: These are sample applications that you can run on the reference images. We provide the binaries for these sample applications on the proviced reference images. We also provide the sample code for most of the applications, which you use as an example, build, and deploy on your target.
Sensor Framework: QNX-provided middleware that provides camera and sensor drivers, sensor data management, libraries (accessible via public APIs), and a Sensor service.
Networking: Included with the QNX Platform for ADAS product are networking capabilities that allow you to use FastRTPS, SOME/IP, and DDS. These networking components are useful for communicating with other modules connected via a network connection (e.g., Ethernet).
Open source modules: Included with the QNX Platform for ADAS are various open source components that are used by our product and examples. Open source modules provide libraries and frameworks to help make it easier to develop ADAS applications.
Third-party software development kits (SDKs): Included with the QNX Platform for ADAS are third-party codecs and SDKs to interface to accelerators. Depending on the hardware platform you want to use, you may need to contact the hardware vendor to get the codecs or SDKs.
The Software Development Platform 7.0:This block represents the underlying QNX Neutrino RTOS, microkernel, libraries, utilities, graphics, and tools that are used with QNX Platform for ADAS.
If your intent is to build a certified (e.g., to ISO 26262) product or equipment, be aware that the QNX Platform for ADAS and QNX Software Development Platform 7.0 haven't been certified, but have been developed in accordance with a certified quality management system (QM). The QNX Platform for ADAS is compatible with the QNX OS for Safety 2.0 product, which is certified to ASIL D according to ISO 26262. To assist you with getting certification for your product or equipment, consider using the QNX OS for Safety 2.0 with the QNX Platform for ADAS. For more information about developing a certified product, see the documentation for the QNX OS for Safety 2.0 on the QNX website. To see the documentation, you must have purchased the product.
Board Support Packages for Automotive Platforms: The board support packages (BSP) that you use for your target board. There are packages provided by QNX Software Systems that you can adapt to meet your needs and customize as required. These BSPs are required to rebuild reference images for your targets.
Ecosystem: In the reference images and some of the reference applications, the QNX Platform for ADAS uses components and software from various partners that are part of the ecosystem for this product. This includes RTI DDS Connext (Pro), Matlab integration, and vision algorithms.
Conclusion to QNX Training:
Idestrainings team provides a successful combination of large customer service knowledge and depth product experience information to help you deliver differentiated customer knowledge. From a planned performance to always-on service, we build sure you get the most excellent worth out of QNX. IdesTrainings is the best for QNX training. We are the best in corporate training providers; we just don't teach you the technologies rather we make you understand with live examples, the sessions we conduct are interactive and informative. Our course of QNX corporate training and also QNX Classroom Training has been most happening training programs at IdesTrainings, many young enthusiastic job seekers are able to make a good job deal form our guiding classes .Get started with corporate and classroom trainings from India at Hyderabad, Pune, Bangalore also in states Register with us for the best training program for your company or you can dial our helpline mobile number or send details in our website contact us page or simply drop a message down below , soon our assisting managements will contact you to fix a right trainer and can schedule the classes as per your timings.