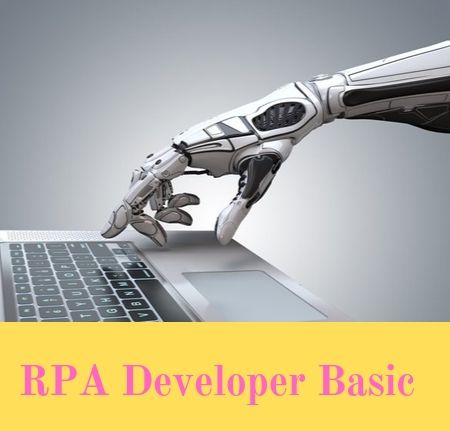 Introduction to RPA Developer Basic Training:
RPA developer Basic Training works with business operations and business analysts to create and optimize workflow processes and it is used as the specific skills and best practices like documentation and planning. This is used to design and manage the workflow projects. UIPath RPA developer Basic Online is required to automate the business process, create workflow diagrams and strategically document the process before executing. Idestrainings provide the training on the RPA Developer Basic Training by the real-time experienced trainers and we will cover the full advanced concepts of the RPA Developer Basic Online Training. We provide Best RPA Developer Basic Training videos and the material also.
Prerequisites of RPA Developer Basic Course:
The RPA Consists of 30+ tools and out of them Automation Anywhere, UIpath, Workfusion and Blue Prism are the popular tools.
Workfusion requires a skilled java code and selenium.

Automation Anywhwere & UiPath require many programming languages.
RPA Developer Basic Online Training outline:
Program Name: RPA Developer Basic Training
Duration of Course:30 Hours (It can also be optimized as per required period).
Mode of training:Online, Classroom, and corporate training.
Timings:According to one's feasibility.
Batch Type: Regular, weekends and fast track.
Materials:Yes, we are providing materials for RPA Developer Basic Online Training. (We will get the soft copy material)

Sessions will be conducted through WEBEX, GoToMeeting OR SKYPE.

Basic Requirements: Good Internet Speed, Headset.
Trainer Experience:10+ years.
Course Fee: please register on our website, so that one of our agents will assist you
RPA DEVELOPER BASIC ONLINE TRAINING COURSE CONTENT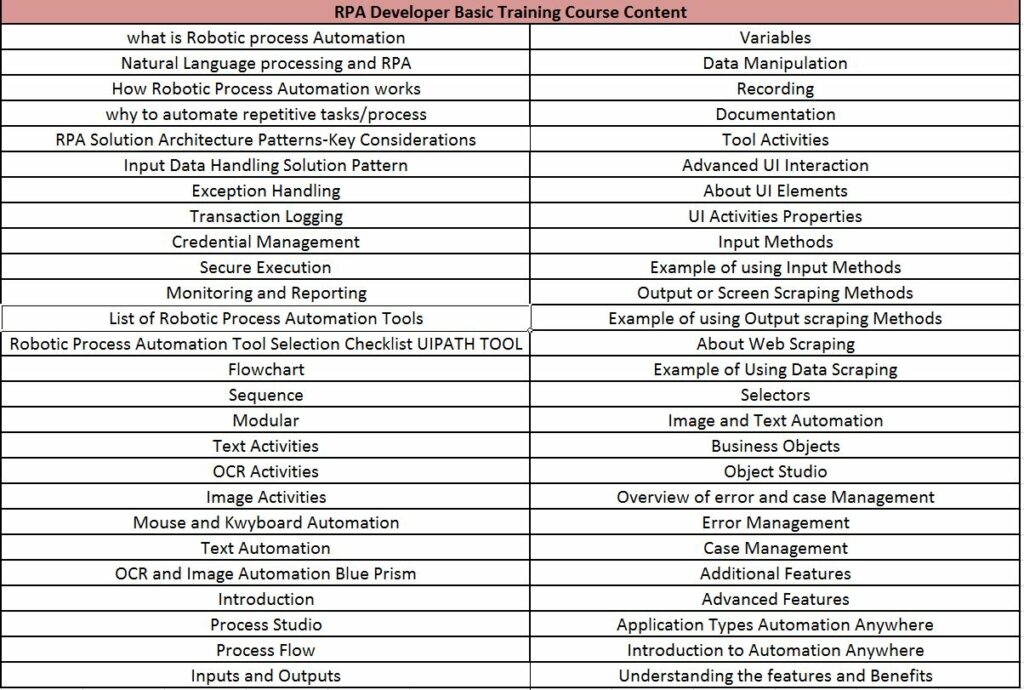 Overview of RPA Developer Basic online Training:
Robotics process automation enables organizations to automate work in applications and systems in the same way that a human does.

The main purpose of the robotics process automation process is to replace the repetitive and boring clerical work that humans do with the virtual workforce.

The average productivity of human is 60% with few errors as compared to Robot's productivity which is 100% without any errors.

One should consider business impact before opting for RPA process

There are the multiple overlaps between a Test Automation Tool and RPA tool. Though they are still different

RPA implementation has 4 phases 1) Planning 2) Development 3) Testing 4) Support & Maintenance

RPA is used in wide range of industries like Healthcare, Insurance, Banking, IT etc.,
What is RPA Developer Basic?
Robotics is considered to be very effective for career development in the field of process automation. Also, given the future scope of the sector, one can easily expect that the sector will have a major share of employment opportunities in the world. Also, the pay packages of highly skilled professionals on all aspects of work in this field are very high compared to other sectors.
What are the objectives and learning outcomes of RPA Developer Basic Training?
This RPA Developer Basic course is the systematic development of a new product to enhance their business operations. This helps to automate the rule-based process, simplify work, collect data and achieve continuous improvement to enhance enterprise revenues.
UI Automation

Desktop Automation

Design Applications
What you'll learn in this UIPath Training?
Design, develop and deploy state-of-the-art RPA robots.

Automate 7 real-world business processes from scratch.

Master the UiPath Framework and learn RPA best practices.

Analyse and identify processes that are best fit for RPA.

Confidently tackle the UiPath activities that are most commonly used in enterprise solutions.
Beginners to UiPath curious about Robotic Process Automation (RPA).

Anyone who wants to land a high-paying RPA developer / architect / analyst job in the near future.

White-collar employees wanting to save time, reduce errors, and improve efficiency by automating common business tasks.

Business leaders who want to automate business processes.

End Users

Software Developers

IT Professionals

Analysts
RPA Developers responsibilities and tasks:
Provide guidance with process design

Design, develop, test automation workflows

Deployment of RPA components: bots, robots, development tools

Support the implementation of RPA solutions

Create process documentation

Assure the quality of the automation (QA processes)
General Use of UIPath RPA Developer Basic Online Training
Emulates Human Action:Emulates human execution of the repetitive process using various application and systems.
Conduct high-volume repeated tasks:Robotics process automation can easily simulate rekeying of data from one system to another. It performs tasks like data entry, copying, and pasting.
Perform Multiple Tasks:Operates multiple and complex tasks across multiple systems. This helps to process transactions, manipulate data and send reports.
'Virtual' system integration:This automation system can transfer data between disparate and legacy systems by connecting them at the user interface level instead of developing new data infrastructure.
Automated report generation:Automates the extraction of data to comes up with accurate, effective and timely reports.
Information validation and auditing:Resolves and cross-verify data between different systems to validate and check information to provide compliance and auditing outputs.
Technical debt management:Helps to reduce technical debt by reducing the gap between systems, preventing the introduction of custom implementations.
Product management:It helps to bridge the gap between IT systems and related product management platforms by automated updating of both systems.
Quality Assurance:It can be beneficial to QA processes which cover regression testing and automating customer use case scenarios.
Data migration:Allows automated data migration through systems which is not possible using traditional mediums, like document, spreadsheets or other source data files.
Gap solutions:Robotic automatic fills the gaps with process deficiencies. It includes may simple tasks as password resets, the system resets, etc.
Revenue forecasting:Automatically updating financial statements to predict revenue forecasting.
Robotic Process Automation tools:
Selection of RPA Tool should be based on following 4 parameters:
Data: Easy of reading and writing business data into multiple systems
Type of Tasks mainly performed: Ease of configuring rules-based or knowledge-based processes.
Interoperability: Tools should work across multiple applications
AI: Built-in AI support to mimic human users
Benefits of RPA Developer Basic Training:
Some benefits that RPA can provide to your organization:
Large numbers of the process can easily have automated.

Cost is reduced significantly as the RPA takes care of repetitive task and saves precious time and resources.

Programming skills are not needed to configure a software robot. Thus, any non-technical staff can set up a bot or even record their steps to automate the process.

Robotic process automation support and allows all regular compliance process, with error-free auditing.

The robotic software can rapidly model and deploy the automation process.

The defects are tracked for each test case story and the sprint.

Effective, seamless Build & Release Management

Real time visibility into bug/defect discovery

There is no human business which means there is no need for time for the requirement of training.

Software robots do not get tired. It increases which helps to increase the scalability.
RPA automation is a business process automation technology based on the combination of its predecessors. It relies heavily on screen scraping and workflow automation and is built on Artificial Intelligence. RPA Training is the type of software that is used for automating basic tasks in software applications. The workflow / process for the software robot can be educated with different steps & applications, for example, taking received forms, sending a receipt message, checking forms for completeness, documenting the form in a folder, and updating the spreadsheet with the form name, date, and so on. RPA programming is intended to minimize the workload of monotonous, straightforward tasks / workers.
RPA Business Analyst Training:
A  RPA Business Analyst Training is a key role because they need to perform a complete discovery phase in which they identify and document the end-to-end process and workflow. The discovery phase is important to determine if the existing process is broken. Complexity also plays a major role in the process of prioritization, for example determining how many entry and exit points to a process to determine complexity. After identifying the different processes in terms of complexity, the business team works closely with the high ROI to prioritize the implementation of the different processes and the time to execution is minimal.
Conclusion to RPA Developer Basic Training:
RPA developers Basic Training are responsible for the creation, design, development and implementation of RPA systems. RPA developers Basic online Training need to research, analyze, and set up automated processes to increase efficiency for the business model. This is done with the help of RPA technologies and tools.
IdesTrainings gives the best online training, corporate training and job support for RPA Developer Basic Training. We have best mentors to manage you through this UiPath RPA Developer Basic online course and numerous different courses; in our Idestrainings and just as, for both individual and for corporate bunches too. Our trainers will be available 24/7 online support. IdesTrainings gives training to all RPA Tools at a sensible cost and at trainee's adaptable hours? We likewise give classroom training at customer premises Noida Bangalore, Gurgaon, Hyderabad, Mumbai, Delhi, Pune.