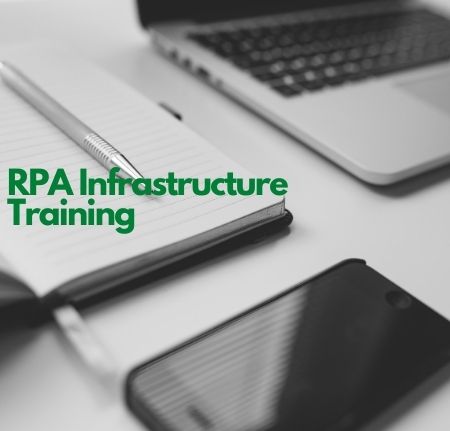 Introduction to RPA Infrastructure Training:
RPA Infrastructure Training implementation should be considered as other software development. You need to set up environments with different environment names, server workstation names, and access control. RPA Infrastructure UIPath Online Training is to create a list of tool and capabilities, work with vendors for suggested step in different environments. RPA environment setup should be based on organization's processes and policies. Idestrainings provide the training on the RPA Infrastructure Training by the real-time experienced trainers and we will cover the full advanced concepts of the RPA Infrastructure UIPath Online Training.  At IdesTrainings we also provide RPA Infrastructure Classroom Training in Hyderabad, Noida, Mumbai, Chennai, Delhi and Bangalore. We provide Best RPA Infrastructure Training videos and the material also.
Prerequisites of RPA Infrastructure Course:
The People who are willing to take this RPA Infrastructure online Training should have basic knowledge on the:
RPA Developed Foundation

RPA Orchestrator
RPA Infrastructure Online Training outline:
Program Name: RPA Infrastructure Training

Duration of Course:30 Hours (It can also be optimized as per required period).

Mode of training:Online, Classroom, and corporate training.

Timings:According to one's feasibility.

Batch Type: Regular, weekends and fast track.

Materials:Yes, we are providing materials for RPA Infrastructure Online Training. (We will get the soft copy material)

Sessions will be conducted through WEBEX, GoToMeeting OR SKYPE.

Basic Requirements: Good Internet Speed, Headset.

Trainer Experience:10+ years.

Course Fee: please register on our website, so that one of our agents will assist you
RPA INFRASTRUCTURE ONLINE TRAINING COURSE CONTENT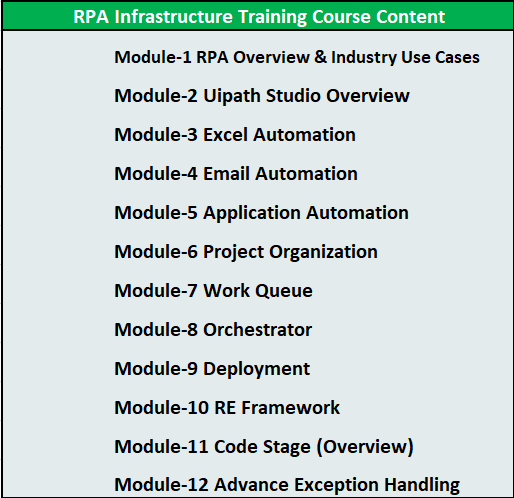 Overview of RPA Infrastructure Training:
Robotic Process Automation (RPA) implementation is as good as its technical foundation. Making the right choices about systems and infrastructure sets the stage for rapid growth and brings problems down the road. To start a successful implementation, you need to allocate some technical resources, tools and processes.
Building a foundation for performance

Strategies for connectivity and integration

Configuring bot and workflow templates for governance and scale

Technical best practices, including multiple environments, security and governance, capacity planning, and analytics
What is RPA Infrastructure?
The RPA Infrastructure is the service providers deploying robotic process automation highlighted that, in many cases, they are sub-optimizing this technology by building our capability that is largely aligned to a specific client contract or process.
What you will learn in this RPA Infrastructure Training?
High-level Architecture and Deployment options

Administration features in Orchestrator's web interface

Elasticsearch and Kibana

config explained

Security considerations

Installations and Update

Robot Setup

Database maintenance

Hardware requirements
UiPath Customers & Partners

Solution Architects

Nfrastructure

Orchestrator and Database Admins

RPA Developers
RPA Infrastructure Features:
Licensing of RPA tool– Does organization has licenses for tool to step in multiple environments. Licensing terms are different for each tool vendor so this needs to be discussed and appropriate licenses should be acquired for Dev and Test
RPA tool support for Virtual Environment– Infrastructure setup depends on organization processes and procedures. Most of the organizations are moving towards Virtual machines or cloud. RPA tools needs to be evaluated for VM and Cloud setup and support.
Application access on servers– If the setup is done on VM server, application capabilities should be tested. Some applications are not compatible with server and sometimes servers have additional restriction which create issues down the line.
Security Policy– desktop and VM may have different security policies. VM security policies should be looked at and make sure that it will not interfere in application and RPA tool functionality.
Software update policies– Software update policies needs to be discussed. Infrastructure team should consider RPA team as stakeholder. Software update may create issues for RPA automation. These updates should be tested in lower level environments before putting in production.
Access restrictions on higher level environments– As the access management best practice, access restriction should be in place for higher level environments. Access should be granted based on business needs and it should be based on organization policies
Access for supporting tools– Most of the RPA implementations have some support tools like OCR, Microsoft Office, emails etc. These supporting tools should follow the infrastructure setup as RPA.
Supporting application server versions – Some applications may have different version of desktop and server. If infrastructure is setup on VM servers, this point also should be kept in mind.
AD groups– If possible, access request should be based on AD groups. Groups should be created for different user' groups and appropriate access should be granted to each group. This is also a onetime activity but helps a lot in managing.
Best practices of the RPA Infrastructure:
Start early– Infrastructure setup should not be an afterthought. It should start while working on POC. This should start early in the lifecycle. Generally, infrastructure setup SLAs are longer and multiple levels of approval are needed. Early start on setup and design will help the project a lot.
Distinct Environments– These should be 3 or more swim lanes of environments. Environment setup is onetime activity and needs to be carefully planned and implemented. Once infrastructure setup is done properly it helps to speed up deployment of new functionality and processes. It seems complex or time-consuming activity, but it pays in long run. It also reduces risk of cross connection and shields production environment from inadvertent change or access.
Runtime Resource setup– Every environment should have at least 1 runtime resource. Runtime resource setup should match production setup in terms of types of workstation (Server/VDI), version of software, screen resolution etc. This helps in testing and reduces getting errors in higher environments.
Code Promotion– Code packages should be promoted from Dev to test and prod. No code changes should be allowed in test and prod environments. This helps keeping code in sync in all environments.
Monitoring and infrastructure maintenance – Production environment should be monitored and maintained on a regular basis. Proper downtime schedule should be place and activities check list should be in place during downtime like restart of runtime resources, clearing log files, check space etc.
RPA Training is software that creates software robots. Reflecting the future of process automation in enterprises and outsourcing entities, the world is increasingly moving toward automating the things that computers do better, and creativity, judgment, and personal interaction. Successful implementation of robotic process automation enables a complete and comprehensive process. Although the RPA offers the opportunity to accelerate the business strategy, implementing it requires consideration of all aspects of the business.
RPA Business Analyst Training:
RPA Business Analysts Training and prepares them to play a key role in assessing and qualifying the automation of their businesses. Center or excellence is very important in the successful implementation of the RPA program. CoE also helps in the process of designing resumes, managing future RPA demand, and communicating with stakeholders.
Conclusion to RPA Infrastructure Training:
RPA Infrastructure Training is a software-based technology utilizing software robots to emulate human execution of a business process. This means that it performs the task on a computer, uses the same interface a human worker would, clicks, types, opens applications, and uses keyboard shortcuts.
IdesTrainings gives the best online training, corporate training and job support for RPA Infrastructure Training. We have best mentors to manage you through this UiPath RPA Infrastructure UIPath Training online course and numerous different courses; in our Idestrainings and just as, for both individual and for corporate bunches too. Our trainers will be available 24/7 online support. IdesTrainings gives training to all RPA Tools at a sensible cost and at trainee's adaptable hours? We likewise give classroom training at customer premises Noida Bangalore, Gurgaon, Hyderabad, Mumbai, Delhi, Pune.