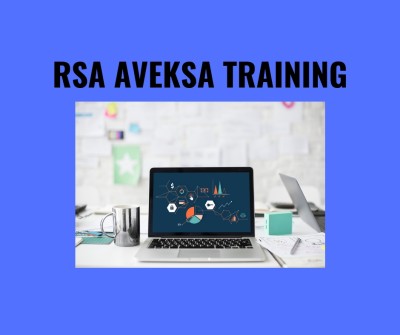 Introduction to RSA Aveksa Training:
RSA Aveksa training is provided by IdesTrainings. IdesTrainings is one of the best online training providers in India. The RSA Aveksa corporate training provided by IdesTrainings covers exactly how to gain practical knowledge in the cheapest, fastest, and easiest way possible. There are highly qualified experts to teach students. Our training system is designed in such a way that students are able to learn their interested technology from anywhere in the globe at their convenient time. We have trainers who have more than 10 years of experience in their respective field. Classes are available for both individual as well as corporate batches on demand. All our trainees are very satisfied with our online training.
RSA Aveksa Online Training Outline Details:
Mode of Training: We provide online mode of training and also corporate, virtual web training.
Duration of Program: 30 Hours (Can Be Customized as Per Requirement).
Materials: Yes, we are providing materials for RSA Aveksa Online Training.
Course Fee: Please register in website, so that one of our agents will assist you.
Trainer Experience: 10+ years.
Overview of RSA Aveksa Training:
Learn about provisioning concept in our RSA Aveksa Training:
There is a business driven approach to provision in RSA Aveksa. It actually enables the business to define rules and policies that are captured in the single repository. In olden days, provisioning systems came into the market as tools to help the IT industry. It was primarily used to de-provision and provision the group memberships and user accounts in the directories. These provisioning systems provide IT with a UI to administer different accounts. It also provides the synchronization and password management. It was very costly and also often failed to meet goals. Traditional provisioning integration problems are eliminated by Aveksa. Aveksa Access Fulfillment Express basically leverages the intelligence as well as business logic in the access governance layer. This is just an introduction to provisioning concept. We will be covering more about this in our RSA Aveksa Corporate training.
Learn about RSA Aveksa AFX:
Now, let's have a look at some of the interesting points about RSA Aveksa AFX. RSA Aveksa Access Fulfillment Express is nothing but a simple way to access the change automation.

We have already discussed that Aveksa's AFX basically leverages the intelligence and business logic in the Access Governance Layer.

It separates the business logic from the integration logic. Business logic contains the business policies, business processes, roles, analytics, workflows, and approvals.

It is very low cost when compared to traditional provisioning and also very easy to use. This platform contains very good interaction patterns and also contains the open message format.

By using this Access Fulfillment Express, The Aveksa clients can actually perform some activities like access change fulfillment in an automated manner.

Aveksa customers also drive process, business logic, and policies from access government layer. This is all about the introduction of RSA Aveksa AFX. We will be covering all these topics in our RSA Aveksa online course.
Learn how to solve identity challenges with RSA securID Suite in our RSA Aveksa Online training:
With the new difficulties displayed by mobile or on-premise or cloud or web and the present digital assault crusades, we have endeavored to determine personality utilizing arrangements that don't discuss or coordinate abandoning us with these islands of identities and gaps in visibility and control. RSA identity access assurance solutions, RSA SecurID suite provides you actionable insights for protecting enterprise and minimizes the friction that users are facing. This empowers the business to get more done. RSA SecurID suite combines the capabilities that matter the most. It is an identity solution that combines the separate disciplines of access with governance lifecycle management and risk analytics. These all work together in harmony to give you the actionable visibility among identities and control. Our RSA identity governance and lifecycle training helps you to understand all these topics clearly and effectively. This is all about introduction of RSA SecurID suite. We will be covering all these topics in our RSA Aveksa Corporate training.
Conclusion of RSA Aveksa Training:
IdesTrainings is the best for RSA Aveksa platform training. We are the best online training providers; we just don't teach you the technologies rather we make you understand with live examples, the sessions we conduct are interactive and informative. If the candidates miss any of the sessions due to some unavailability, we will give assurance for backup sessions. IdesTrainings Team will be in switch on mode for 24/7 and will solve any issues regarding the training, timings, trainer or server. There is a huge demand for RSA Aveksa professionals. There is a good salary for RSA Aveksa professionals. We are providing the best RSA Aveksa online training at a reasonable price. We have core team of experts for this RSA Aveksa corporate course. As it is an online training, the training timings will be the candidate feasibility. We are ready to solve any issues within no time. For more details of this online course, feel free to contact the Idestrainings team.