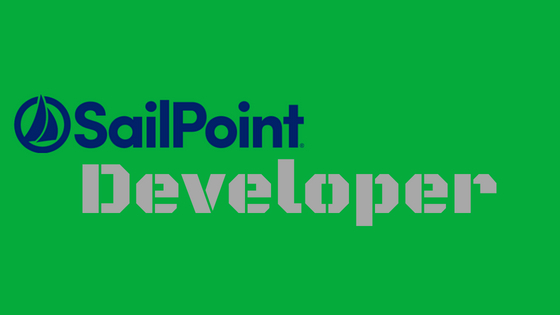 Introduction of Sailpoint Developer Job Support:
The SailPoint Developer course is an governance-based Identity & Access Management (IAM) software solution that delivers an unified approach for the visibility into  who has access to what  in your critical business data. IDESTRAININGS Provides Sailpoint Developer job support from India. Our consultants are highly skilled with the Sailpoint module. If you are an Employee facing any Technical difficulties in the completing the given project or tasks in your job, we will help you to resolve and make you to exposure in the specific domain.
Overview of Sailpoint Developer Job Support:
It can help the data (Password / acess Management) for applications running on both the in-house or from the cloud.  The Sailpoint developer helps large organizations with complex IAM processes to tailor their solution to align with its unique business needs. The Sailpoint developer is an web based alternative that uses an web or the database & the application to host as the systems.
The Best Sailpoint Developer online Job Support has a unique combination of strengths tbear the every aspect of the new challenges of identity management.  It is an industry-proven technology, a strong heritage in the identity & access management, and an laser-like focus on the identity governance, The Sailpoint Support is best equipped to help any organization run a successful identity management program with the following industry innovations:
The Best SailPoint Job Support offers 360° visibility into identity and access data & applies a risk model that makes it easy to promptly identify specific business risks before they pose a threat to security.
The sailpoint identityiq documentation is the only identity provider that has solution from the ground up to deliver all capabilities that the organizations require to address today's the risk, compliance & lifecycle management needs, more you will learn as a part of Sailpoint Support. IdentityIQ integrates easily with whatever identity technologies, tools & process are preferred. With The SailPoint, the customer decides how changes are fulfilled to resources all across the organization.
Conclusion of Sailpoint Developer Job Support
Nowadays it is a very bad situation nobody can have continuous guidance from seniors or colleagues. Most of the people are facing more issues regarding technical doubts they are not able to survive themselves. So here we are providing technical job support named as IDESTRAININGS. IDESTRAININGS provides online job support from India for web services. Here we are providing job support by 15+ years of real-time industry experts. IDESTRAININGS mentors are representatives on the innovation and empower them to prevail for going ahead. We give the best Sailpoint Developer job support with Flexible Timings our mastery work inside you're predefined of time frame. IDESTRAININGS additionally gives job support for all technical languages like Sailpoint Developer job support by the best trainers. For more subtleties contact to IDESTRAININGS help work area.
In the professional life there is always challenge that we have to face and solve it, but sometimes they are very tedious and hectic, we need really someone to help to get out of it.
Why can`t you get help from your colleague's? But they are very busy with their own work, then what you have to do? Do not worry We  at IDESTRAININGS have our IT Trainers & IT Professionals will provide Job Support at your jobs and also we will provide Resume Building service to make an effective resume to submit for the Job Interview.
We are IT Service provider who is most friendly, expertise and reliable to provide services such as Technical Job Support, Online IT Training and Resume Support. We have been serving for many employees and consulting companies in USA, Canada, Singapore, UK and also many other countries from the last one year.
Project/on Job Support Services:
More than 30 plus IT professionals signing up on a monthly basis for a period of 1 month to 12 months Launching Shared Support Services in various technologies in ERP, JAVA , Cyber Security , IDM Tools and etc.
Here are some of the courses:
AWS Job Support

Devops Online Job Support

Docker Technical Job Support

ReactJs Project Support

AngularJs Remote Support

Java Job Support

DotNet Online Job Support

Mulesoft Technical Job Support

Dell Bhoomi Project Support

Uipath Remote Support

ServiceNow Job Support

Salesforce Online Job Support

Selenium Technical Job Support

Power Bi Project Support

Tableau Remote Support

Jmeter, Load Runner Performance Testing Job Support

Spark Online Job Support

Splunk Project Support

Data Science Remote Support

Python Technical Job Support

Java Script Job Support

Jboss Online Job Support

API Testing Job Support

Groovy and Grails Online Job Support

SQL Support

Scala Technical Job Support

Etc.,