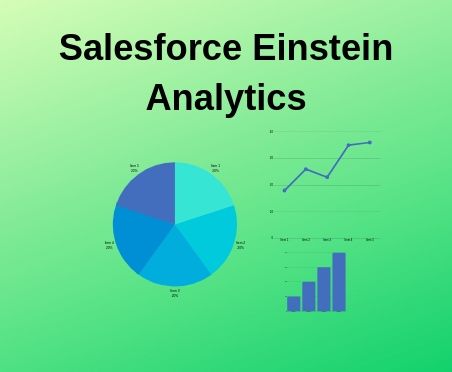 Introduction to Salesforce Einstein Analytics Training:
Einstein analytics is nothing but an ETLT approach. In other words, Einstein analytics processes the data with the help of ETLT approach. Salesforce Einstein analytics is also known as wave analytics. You will get to know more about Salesforce Einstein analytics in our Salesforce Einstein analytics online training program. This course is very helpful for both beginners and experienced professionals to gain skills and knowledge. Our Salesforce Einstein analytics training helps trainees to gain practical knowledge on Einstein analytics. What are you waiting for? Call today and join in our Salesforce Einstein wave analytics training.
Prerequisites of Salesforce Einstein Analytics Training:
Anyone who wants to build a career in Salesforce Einstein Analytics can learn this course. Having basic knowledge in Salesforce technology is required. 
Salesforce Einstein Analytics Training course outline:
Course Name: Salesforce Einstein Analytics Training
Mode of Training: We provide Online, Corporate and Classroom Training. We provide Virtual Job Support as well.
Duration of Course: 30Hours (Can be customized as per the requirement)
Do you provide materials: Yes, if you register with Ides Trainings, the Salesforce Einstein Analytics training materials will be provided.
Course Fee: After registering with Ides Trainings, our coordinator will contact you.
Trainer Experience: 15+ years of experience
Timings: According to one's feasibility
Batch Type: We provide training for all type of batches like Regular, Weekends and Fasttrack.
Backup Session: If the student misses the session, we will provide backup session.
Basic Requirement: Good internet speed, Headset
Salesforce Einstein Analytics Training Course Content
Module 1 – Discovery & Planning
1.1 Discovery Meeting
1.2 Getting Logged In
1.3 Planning the Development
Module 2 – Setting UP Users & Apps
2.1 Overview of Wave Analytics Editions, Licenses, and Permissions
2.2 Creating Wave Analytics Permission Sets
2.3 Assigning Permission Set Licenses and Permission Sets
2.4 Creating and Sharing Wave Analytics Apps
Module 3 – Connecting Data
3.1 Overview of Connecting Data
3.2 Data Mapping
3.3 Overview of the Dataflow Process
3.4 Designing a Dataflow
3.5 Loading External CSV Data into a Dataset
Module 4 – Building and Running a Dataflow
4.1 Combining Multiple Datasets in a Dataflow Using Transformations
4.2 Running, Monitoring, and Scheduling a Dataflow.
Module 5 – Security- Controlling Access to Data
5.1 Overview of Security in Wave Analytics
5.2 Determining Security Requirements
5.3 Overview of Using Predicate Filters with Salesforce Data
5.4 Implementing Ownership-Based Row-Level Security
5.5 Implementing Role-Based Row-Level Security
5.6 Implementing Team-Based Row-Level Security
5.7 Implementing Row-Level Security with External Data
5.8 Overriding Security for Implementation and Testing.
Module 6 – Building Dashboards with Templates and Mobile Layouts
6.1 Overview of JSON for Dashboards
6.2 Updating the Dashboard JSON File from the lens. Apex Page
6.3 How the Widgets Section of Dashboard JSON Works?
6.4 Building a Dashboard Using an Existing Layout
6.5 Wave Analytics Dashboard Templates
6.6 Translating Browser Dashboards to a Mobile Device
6.7 Creating Mobile Dashboard Layouts in the Dashboard JSON.
Module 7 – Filtering & Binding in Dashboards
7.1 Limitations of Filters in Lenses and Dashboard in the UI
7.2 Creating a Dynamic Top-N Filter
7.3 Creating a Multi-Dataset Dashboard with Selection Binding
7.4 Creating a Dynamic Filter with Results Binding.
Module 8 – Modifying Queries in Dashboards
8.1 Overview of Modifying Queries in a Dashboard
8.2 SAQL Overview
8.3 Adding a SAQL Tester Bookmarklet
8.4 Creating a YoY Growth Dashboard
8.5 Part 1: Creating a Container Dashboard
8.6 Part 2: Capturing a SAQL Query and Testing it in the Bookmarklet
8.7 Part 3: Updating the Query with a Custom Calculation and Adding the Query to a Step's Dashboard JSON
8.8 Part 4: Updating the Compact Form with the Custom Measure
8.9 Part 5: Enabling Faceting with Selections Bindings.
Module 9 – Modifying Metadata in Lenses and Dashboards
9.1 Overview of Extended Metadata (XMD)
9.2 Backing Up and Uploading a Dataset's XMD File
9.3 Adding Quick Action Menus for Records in Wave
Overview of Salesforce Einstein analytics training:
Salesforce Einstein Analytics has been rebranded and is now called Tableau CRM. This is directly in response to a salesforce, trying to integrate more great tableau features and functionality into our analytics platform. Tableau is a very powerful analytics product. It is app in the app launcher still called analytics studio.
Learn about analytics types in our Salesforce Einstein analytics training:
There are three types of analytics. They are traditional BI, visualization, and intelligent experience. Traditional BI is a system-centric approach. It builds the data model and pushes the subscription reports way back. After the traditional BI model, there was a revolution of visualization tools which brought the data visuals effectively. Now we are in an age where it's all about the intelligent experience.  It gives great insights and helps to grow your business. You can get to know more about this topic in our best Salesforce Einstein analytics online training.
Data set
Data set is basically our data that contains information about our opportunity, our account and our user object. We are bringing data from standard salesforce or even from salesforce into Einstein analytics. In order to do that we are using the data flow.
Lens
Once we have this data set we can start exploring it in a single exploration and that's called a lens. So, this would be similar to your report so you have one grouping, one measure, a chart type as well that will be your lens.
Dashboard
The dashboard is a collection of different explorations. There is nothing different in this. There are only a few add-ons which we have in Einstein Analytics dashboard.
App
We save all this with an app. In Einstein Analytics, it is similar to same as a folder in salesforce because this is actually what is controlling your permissions, access rights to and anything related to this app or folder.
What is Salesforce Analytics?
Salesforce Einstein Analytics are also known as WAVE analytics. The analytic cloud is a new age cloud business intelligence tool build on the web platform. The analytic cloud is the Salesforce product much like the sales and service cloud.
What can you do with Salesforce Einstein Analytics or Tableau CRM?
It is a way for you to get really great insights from your salesforce data. Here are some ways that you can leverage Salesforce Einstein Analytics:
1.Find and solve problems faster
2.Identify hidden opportunities in your data
3.Get a 360-degree view of your constituents
4.Collaborate with your team or across departments/business units
How wave analytic cloud built?
By using Wave analytics, we can quickly generate reports and share the dashboards with the clients and the users.
Salesforce analytics is the cloud based platform connecting data from multiple sources, creating interactive views of the data and sharing those views in the dashboards.
It is a better way to distribute inside information to business users, so they can understand and take action on changing information.
It works on search based technology using WAVE analytics. The partner App companies will be able to built their own application using WAVE analytics platform.
Learn about Key Concepts of Analytics Cloud
There are 4 key concepts. They are:
Explore: By using Explore analytics cloud, the users can ask questions across CRM, ERP or from any kind of external data.
Collaborate: By using Collaboration, we can discuss and get answers at one place.
Cloud: With Cloud, we can quickly set up and run any application without any installation required.
Mobile: With Mobile cloud, we can access anything on mobile devices.
What is Einstein analytics or Wave analytics?
Einstein analytics is a cloud-based ETLT platform. You might have heard about ETL but this is just one step ahead. ETLT means extraction, transformation, loading and transformation in analytics. Extraction means extracting the data from different data sources such as Informatica, Excel sheet, and Salesforce, etc. The main aim of this product is to connect the data from different sources and create an interactive view of the data.
Learn some key concepts of Einstein analytics in our Salesforce wave analytics training:
With the help of the wave analytics, you can easily explore which means asking questions across ERP, CRM or any other external data. Salesforce wave analytics is very collaborative. The good thing is that it is a cloud platform which means you don't need to run and install any software. You can view all the reports on mobile. In other words, Einstein analytics is user friendly. Inside of Einstein analytics, there is prebuilt insights intelligence. With the help of that, you can connect to sales or any other team. 
How Salesforce Einstein analytics is helpful for financial services?
Salesforce Einstein analytics has built a new product especially for financial services. It really helps financial advisors to understand their accounts and grow their business. It also helps managers to evaluate, rank business and drives performance of the teams with the help of intelligent data. Salesforce Einstein analytics provides greater insights across client goals, customer satisfaction, leads, and sales execution. Analytics is integrated into Salesforce so you can analyze all your business performances easily. It has a good client interaction dashboard. You can see where leads come from and also find the best references easily. We can follow up the leads with a high potential value who did not respond a few months ago.
Learn about Einstein discovery in our Salesforce wave analytics training:
Einstein discovery is nothing but a citizen data scientist friendly tool. You are able to run different iterations quickly and you can add or remove fields until you get the desired and trusted output. You can create stories from the datasets and after that, you can also deploy the story to the object of Salesforce. There is an ultimate insight experience, we can try to get all the information and data in the hands of end users.
The conclusion to Salesforce Einstein/Wave analytics training:
Salesforce Einstein analytics training is provided by Ides Trainings which is a leading online training provider in India. Our Salesforce Einstein wave analytics course is really helpful for trainees to understand the Salesforce AI concepts. Our trainers will walk you through different concepts of Einstein analytics in an effective way.  We have a team of certified experts to design the course content according to the industry requirements. Salesforce Einstein is nothing but a combination of AI tools to customize the customer's experience. The future scope of Salesforce Einstein Analytics is highly in demand. Ides Trainings is the best place to explore the knowledge and skills. We have a good academic background in providing training for Salesforce Einstein analytics courses and we also provide classroom training at client premises (Noida, Bangalore, Gurgaon, Hyderabad, Mumbai, Delhi, and Pune).
Frequently Asked Questions (FAQs)
1. What language does Salesforce Einstein Analytics use?
Use SAQL to access Salesforce Einstein Analytics datasets. Salesforce Einstein Analytics uses SAQL behind the scenes in lenses, dashboards and explorer to gather for visualization.
2. How many lenses can be created for a single dataset?
A single dataset can be viewed by a single lens. In a single dashboard there can be one or more lenses.
3. Where is Einstein Analytics stored?
Salesforce Einstein Analytics is a cloud-based analytics tool offered by salesforce. The data is stored on its own platform, but being a salesforce product, it is integrated will with the main salesforce platform.
4. Is Einstein Analytics free?
The Einstein Analytics trial experience gives you a chance to explore features and more, free for 30 days.
5. Is salesforce CRM cloud based?
Salesforce is the leader in cloud computing, offering applications for all aspects of your business, including CRM, sales, ERP, customer service, marketing automation, business analytics, mobile application building and much more.