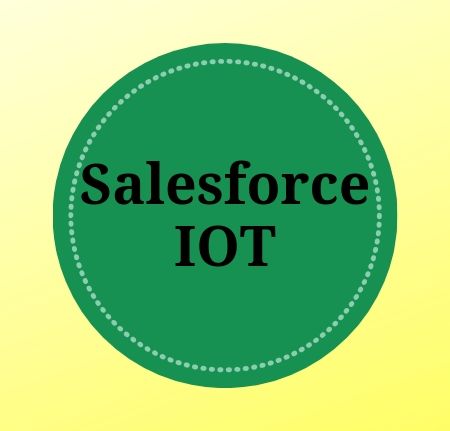 Introduction to Salesforce IoT Training:
Salesforce IOT Training is, as everyone knows, to obtain effective customer relationship management solutions for companies of various sizes. However, the company is expanding its services and providing IoT services through Salesforce IoT Cloud, Salesforce IoT Explorer and Salesforce Einstein Services. Salesforce helps customers through its IoT platform Salesforce IoT Cloud. Salesforce IoT Cloud training helps to capture, filter, and respond to events that occur in real time.The some open source tools that perform various functions, such as data streaming, real time processing, data filtering, database management and data analytics. Idestrainings provide the course on the Salesforce IoT Online Training and the training will be given by experts of the trainer and we will cover the full advanced concepts of the Salesforce IoT Cloud Training. We provide Best Salesforce IoT corporate Training material also.
Prerequisites of Salesforce IoT Course:
There are no prerequisites for taking up this Salesforce IoT training course.
Salesforce IoT cloud online Course Outline:
Course Name: Salesforce IoT Training
Mode of training:Online Training and Corporate Training (Classroom training at client location)
Duration of course:30 hrs
Do you provide materials:Yes, If you register with IdesTrainings, the materials will be provided.
Course fee: After register with IdesTrainings, our coordinator will contact you.
Trainer experience: 10 years+
Timings:According to one's feasibility
Batch Type:Regular, weekends and fast track
SALESFORCE IOT ONLINE TRAINING COURSE CONTENT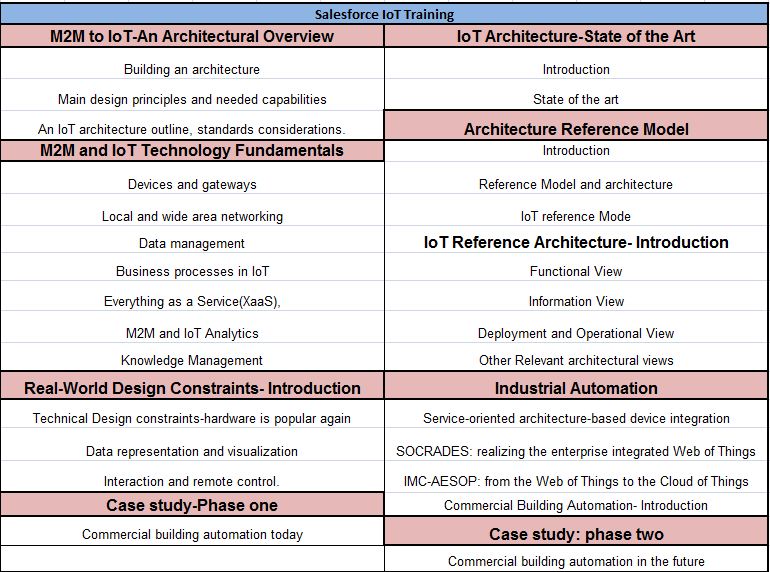 Overview of Salesforce IoT Training:
Salesforce IoT Cloud is a platform for storing and processing IoT data. It uses the Thunder Engine for scalable, real-time event processing. A collection of app development components called Lightning power its applications. It collects data from devices, websites, applications, customers and partners to enable actions for real-time responses. Salesforce, a CRM leader, decided to enter the area as it was supposed to be competitive in the coming era. IoT Cloud adds depth to its Salesforce by expanding its reach and reach. Salesforce combined with IoT provides dramatically improved customer service with rigorous integration and responses to real-time events; For example, adjustments in wind turbines trigger the automatic re-booking of delayed / canceled connecting flights before the passenger landing.
Salesforce IoT Cloud helps sales, service, marketing and other teams work on it by routing them directly into Salesforce from devices that help businesses connect to their investments in IoT. It gives businesses the ability to add meaningful business value to every device connected with Salesforce IoT. This latest offering of Salesforce gives you a way to understand your customers with a whole new level of detail. Specifically, it allows you to improve everything from your product design to your marketing strategies by collecting, analyzing and sending real-time IoT data about product usage and customer behavior directly to your CRM system. The Internet of Things is not new: equipment is possible: it also enables new industries. Ride-sharing, home automation, electric cars, medical monitoring, manufacturing robots are also high-profile examples.
Who should take up this Salesforce IoT training course?
Software Developers

Engineers, Data Analysts

Big Data Professionals

Anybody who wants to make a career in the field of Internet of Things

Fresher's holding a B.Tech, BE or MCA.

Professionals with more than 6 months of experience in Java, C# or web technologies like HTML, JavaScript, and CSS.

Professionals with experience in technologies like Mainframes, AS400 or coming from a testing background.
What skills will you learn with our Salesforce IoT Certification Training?
In a way, the Salesforce IoT training enables organizations to monetize their interest In IoT by steering information created from associated gadgets straightforwardly into Salesforce, where deals, administration, advertising, and different groups can follow up on it. Organizations presently can increase the value of each associated gadget with Salesforce IoT.
Benefits of Salesforce IoT Course:
See the customer behind each device: Salesforce IoT is not just about connecting devices, it's about connecting you to your customers on every connected device. Salesforce builds deeper relationships by providing reliable performance, active support and helpful new services.
Get more business value from your connected devices:Identify real business opportunities based on actual customers and usage. Link IoT device data with customer context to create more engaging experiences across all of your connected products.
More ways to monetize the Internet of Things:Giving you real-time insights into customer behavior through IoT devices connected to your Salesforce applications, you can help improve every aspect of the Salesforce IoT customer experience.
Better Profiles:It's best to serve your customers and understand product behavior by creating device profiles based on customer context data and streaming data from connected devices in CRM.
Streaming Data:Make more sense with the context of how the device is used to transmit data transmitted by each IoT-enabled device.
Context Data:Get a complete picture of what's happening by combining everything you already know about your customer with IoT device data.
Input data from everywhere:Import data from any source using Salesforce IoT Cloud's RESTful API – everything from mobile applications to complex device networks managed by Amazon Web Services (AWS). Easily capture device functionality, performance, location, user interactions, and more.
Data tools:Quickly aggregate and prep data with the app's easy-to-use tools. Filter, merge, and append data, or change its format entirely. Perform any transformation with JSON, CSV, and TSV data formats.
Partner Connectors:Avoid data indigestion hassles thanks to the platform's partnerships with other major IoT innovators like Amazon Web Services (AWS), Cisco Systems, and other companies.
Easily create IoT engagement rules with clicks, not code: orchestration Rules:Quickly create and manage orchestration rules for any device state without needing a CS degree. Visually build out logic for any event or condition to trigger meaningful actions based on customer knowledge and real-time events.
Make IoT accessible to anyone:Test business ideas without being a programmer. Rapidly build, test, and iterate using clicks, not code.
Traffic View: Visualise all your IoT devices in one place: See how your customers and devices are interacting in real time. Monitor the status of your orchestrations with Traffic View, a visual dashboard that shows the state of IoT devices in relation to your customer experience.
Advantages of Salesforce IoT:
These are the following advantages of Salesforce IoT, let's discuss them one by one:

Easily create enterprise regulations to trigger actions that correspond with specific device activities.

Output facts directly for your Salesforce packages and cause movements across any utility or create custom outputs for your very own merchandise.

Path information to the AWS service of your preference for storage and analysis.

Contextualize tool activities in actual-time with commercial enterprise good judgment.

Aggregate tool information to unique patron profiles, so you can build income, carrier, and advertising triggers at a private level.

Construct a complete 360° view of your customers, with insights on product utilization, buying patterns, possibilities, and greater.

Benefit mutual authentication and encryption at all points of connection, so that information never exchanges between gadgets and AWS IoT without an established identity.

Scale to billions of devices and trillions of messages.

Leverage the AWS worldwide footprint to reliably guide deployments around the world.

Automate smart moves to promptly serve and connect with customers.

Add customer context to your tool records.

Comfy your IoT deployments at certainly any scale.
Salesforce Training is a cloud computing service, a software (SaaS) company specializing in Software Relationship Management (CRM). Salesforce services allow businesses to use cloud technology to better connect with customers, partners and potential customers. Software is the number one priority for customer success and enables businesses to track customer activity, market to customers and more.
Salesforce Training is the primary organizational offering on the Salesforce platform. It provides companies with an interface for case management and task management, and a system for automatically routing and maximizing important events. The Salesforce Customer Portal provides customers with the ability to track their own cases, a social networking plug-in that enables the user to socialize with their company on social networking websites, analytics tools and other services, including email alert, Google search. , And consumer eligibility and access to contracts.
Salesforce Developer Training:
Salesforce developer can consult development using declarative or programmatic options. Below is an image that gives you details on the declarative and programmatic procedures available at each user interface, business logic and data model layer. To create your user-interface, you can use a declarative approach that uses page layouts and records types, or a programmatic approach, such as Visual force pages and components. Generally, you should only use the programmatic approach when you cannot achieve the required user interface using the declarative method. You can use Salesforce developer training declarative options of workflow, validation rules and approval processes to develop the business logic layer of your application, or use a programmatic approach such as triggers, controllers and classes. To access the data model, you can use the declarative method using objects, fields, and relationships. You can also access the data model programmatic ally using the Metadata API, REST API and Bulk API.
Salesforce Business Analyst Training:
Salesforce Business Analysts are responsible for improving the Salesforce example and its management. This role requires greater concentration on identifying, setting up, coding, and realizing the headlines and capabilities for Salesforce that are based on the needs of the organization's clients. This Salesforce Business Analyst Training will be responsible for the administration and progress of Salesforce, ensuring full use and alignment of the platform by harnessing sophisticated methods and systems to match and support business objectives. The job requires surveying and breaking down business policies, administrations and data requirements with the ultimate goal of actualizing change management activities to improve client experience and incremental efficiency. Training a customer of Salesforce and becoming a Salesforce Champion is a key part of the job
Conclusion to Salesforce IOT Training:
Salesforce IoT Training gives some of the particular functions that consist of connecting to other native Salesforce.com systems similar to the use of artificial intelligence. Salesforce Einstein streams IoT Cloud facts from linked products, recommends policies, and predicts the exceptional moves to make clients happier. It's additionally built into Salesforce, so integrating IoT and AI is easy.
IdesTrainings is a leading online training firm and it is also providing Salesforce IoT corporate Training. We are providing online training with the most experienced industry experts and they have complete knowledge of all aspects of Salesforce IoT cloud Training. In this training, you will understand the complete knowledge in Salesforce with many new features. For more details and contact information goes through our official website Idestrainings.com thank you.