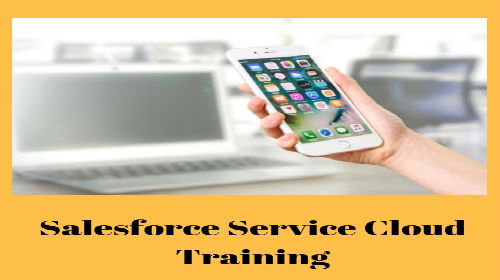 Introduction to Salesforce Service Cloud Training:
Salesforce Service Cloud Training is a customer relationship management platform for customer service and support. Service cloud module tracks any cases that are opened by your customers on the product you sell. The cases usually resolve and revolve around something that is not working as it is supposed to within your product. Idestrainings is best in providing Service Cloud online Training by real time experts at flexible timings.
Preview of Salesforce Service Cloud Training:
With Salesforce Service Cloud platform businesses can focus on doing what they do best which is connecting with your customers rather than managing complex hardware and software infrastructures.
Learn Standard view of Salesforce Service Cloud in our Service Cloud online Training:
The standard view is what you used to if you are using Salesforce sales cloud and console view is available for sales cloud as well. However, the console view is a lot more user-friendly when it comes to sales cloud in Salesforce Service Cloud training.

You are able to open multiple tabs within the tab itself and you are able to see lot more information within itself. The core object of Salesforce adminstration training is cases. If you remember from our sales module there were account contacts leads and opportunity but cases we still use our talents opportunities and contacts.

We don't use these because a prospect is not going to really have a case for your product. So cases represent any issue your client is calling you about and it helps track issues about a product or about an account that happens often. If you are passionate about learning this course, Idestrainings provide Salesforce Service Cloud training with live projects. Please don't miss this excellent opportunity. Hurry Up!!

This way we see if a product needs an upgrade or if you need to discontinue your product or if account maybe needs a implementation manager or an expert to kind of go in and help. So there might be some opportunities as well.
What are Knowledge Articles & Communities? (Salesforce Service Cloud Training)
Salesforce Service Cloud training at Idestrainings – Knowledge articles come to on the first help solutions so what hat is pretty much when you first call up on a case. When your tier1 agent is able to tackle these cases on the first track. Especially when the issue that you are calling about is very repetitive, the knowledge article will have a solution for repetitive cases. If you want to learn more about this course, we provide Salesforce Service Cloud Salesforce Service Cloud corporate training with real time use cases.

So things that are easy to fix and that are often being called about. So someone that doesn't have reset a password, someone that doesn't know how to create a brand, new user these kinds of articles are available for Tier1 agents. So that they are able to give a first of time solutions saving time and saving customer calling back and trying to escalate cases in Salesforce Service Cloud training.

Communities are very similar, we are customers that can actually help each other, they can also track their own cases and see how the cases are doing and any other comments that are in there. So if we actually go to our browser, you should be able to open up Salesforce success community. We also provide Salesforce commerce cloud training by real time experts at flexible timings.
Learn Features of Salesforce Service cloud in our Service Cloud online Training:
Case assignment rules are simply assigning case to either a queue or an ancient based on criteria. So think of it as you lead assignment rule. So you can either have round robin or you can have criteria based assignment. What the case allows your customers who actually create a case from your website. So you can actually have a website where for support, where they are actually can create a case saying who they are? What their email address is and simply creating a case for the problem. Are you interested to learn more about this course? We provide Salesforce Service Cloud training with real time scenarios.

Salesforce Service Cloud training at Idestrainings – An Email-to-case is when a customer can email you the information about the issue that they are having and it directly creates a case record and news like we talked about is a feature that you can have in your Salesforce community where you can talk about your releases or may be if a product is down at the moment those are all information. So that your customers are not calling in to find out what's going on rather than go to their website and find out that at this moment this feature is not working because it's under maintenance so you don't have thousands of customers calling you.

Do I have your attention? The cases are usually routed to a support agent who calls and help the customer fix those issues. Service cloud includes the case object which is a main core of Salesforce. We will also be looking at the different views that are available. We will also be taking a look at the community where customers can collaborate with each other and help each other resolves similar issues. If you want to learn advance topics on this course, we are best in providing Salesforce Service Cloud training by professionals.
Overview of Salesforce Service cloud training:
You might be wondering, an advanced AI powered platform that better empowers managers, to better empower agents, to better connect with customers, anytime, anywhere, through any device. Finding solutions faster, even before the customer knows there's an issue. Using the advanced algorithm of productivity plus efficiency, times infinity.

Where the solution equals more, more productive agents, more efficient cost, more satisfied customers. A platform that unlocks legacy customer, data, aligning service, sales and marketing with a 360 degree view of each customer. So everyone is in the know, knowing more about the customer than the customer may actually know which for customer success is good to know in Salesforce Service Cloud training.

A platform that scales with you, providing customers with a consistent, convenient, Omni channel experience across every channel. Social, web, text, email, calls, products, self-service portals and communities, that new, new thing we are told to do is right now. Because like your customers, you are able to quickly adapt to change, keeping your business agile to your customer service needs.

Plus, it connects your entire mobile workforce in Salesforce Service Cloud training. So, field agents are in the loop even when they are driving the loop. You can also integrate with any backend system and customize any service process with low code tools like Lightening and Process Builder. And you can quickly plug-in thousands of trusted free-build service apps on the Salesforce App Exchange.

All while receiving the latest tools and innovations three times a year built on the trusted and secure Salesforce platform to help keep your agents and customers happier at every step.
Learn Importance of Salesforce Service Cloud in our Service Cloud online Training:

What's the bottom line? With Service cloud customers can overcome all of these competing priorities and deliver connected personalized intelligent and empowered customer service. Service cloud enables our customers to place a new trail to service transformation. You will be able to provide connected service to your customers and have the service be personalized. With service cloud you have the ability to deliver intelligent service at scale with actionable analytics and your service will be empowered with a complete view of your customer because you have given your agents powerful productivity tools and that's really where service cloud comes in.

Service cloud is the most complete service platform and with service cloud you can transform your customer service because it's powered also by the most complete platform as well. With things like customer community you can deliver completely connected self-service experiences with our digital engagement products you can service seamless across all channels in Salesforce Service Cloud training.

We are also bringing the next generation of support with scale with AI and Intelligence and with analytics supervisors and managers are empowered to make informed decisions with deep actionable analytics and reporting which is always really great for all these reasons and more. Are you passionate in doing certifications? Idestrainings provide Salesforce Service Cloud certification training.
Learn components of Salesforce Service Cloud Training:
Service cloud has been recognized as the world's number one support platform and it's really our customers and your successes that have really separated us apart from the rest of thing. Now with features such as the lightening, service console, case management, collaboration, Omni cannel routing, knowledge macros, third-party data integrations and more.

Customers report on average a 31% increase in faster case resolution and I think that's something that all businesses would really love to see next with custom community. It's really easy for any company to build a completely connected self-service experience by creating communities and portals that are built right on Salesforce. Custom community uses artificial intelligence to do things like automatically answer questions in your support forums recommends relevant content for customers.

Custom community enables you to build your community or portal quickly with our out-of-the-box templates and community builder. Our customers who are on service cloud have experienced some huge benefits such as a decrease in support costs increased customer retention, faster case resolution, increase agent productivity and perhaps one of the greatest benefits is the increase in customer satisfaction.
Conclusion of Salesforce Service cloud training:
Service cloud is just one application that's built on the Salesforce platform marketing commerce communities. Sales collaboration and industries are the other applications that are built on the built on the salesforce platform. So when the business is ready the tools that you need will also be ready for you. Now the Salesforce platform is what brings everything together and what really sets us apart you can customize and extend your service offering with no code, low code or simply you can code and whatever is your comfort level we have tools and resources to help you along the way. So what are you waiting for? Join today in Idestrainings for best Salesforce Service Cloud Training. For more information please do contact our help desk.