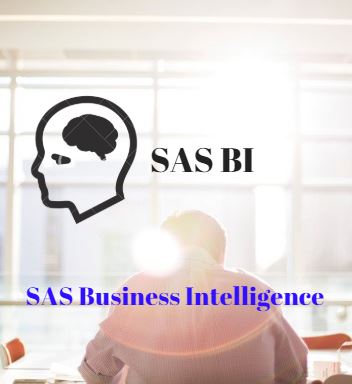 Introduction of SAS BI Training:
SAS BI Training platform is a suite of software administrations. That exploits the systematic and introduction intensity of the SAS System. SAS Business Intelligence training is an introductory module, which tells you the SAS knowledge platform and who are the data consumers. Here we give a closer look at SAS OLAP Cube Studio through a screen display. It is a full analysis of this SAS Business Intelligence customer. Using a star pattern design in SAS is helpful in the OLAP cube fabricates process and getting to the information data directly using a relational data map.
Idestrainings provide best SAS Business Intelligence Online Training with online and corporate training from India by real-time expert trainers. We provide classroom training at client premises Noida Bangalore, Gurgaon, Hyderabad, Mumbai, Delhi, and Pune.
Pre-requisites for SAS BI Training:
Anyone can learn SAS with no essentials. On the off chance that you know about the basics of SQL, at that point it is an additional bit of leeway.
SAS BI Training Course Details:
Course Name: SAS BI Training
Mode of training: Online Training and Corporate Training
Duration of course: 30 hrs
Do you provide materials: Yes, If you register with IdesTrainings, the materials will be provided.
course fee:  After register with IdesTrainings, our coordinator will contact you.
Trainer experience: 10 years+
Timings: According to one's feasibility
Batch Type: Regular, weekends and fast track
SAS BUSINESS INTELLIGENCE ONLINE TRAINING COURSE CONTENT: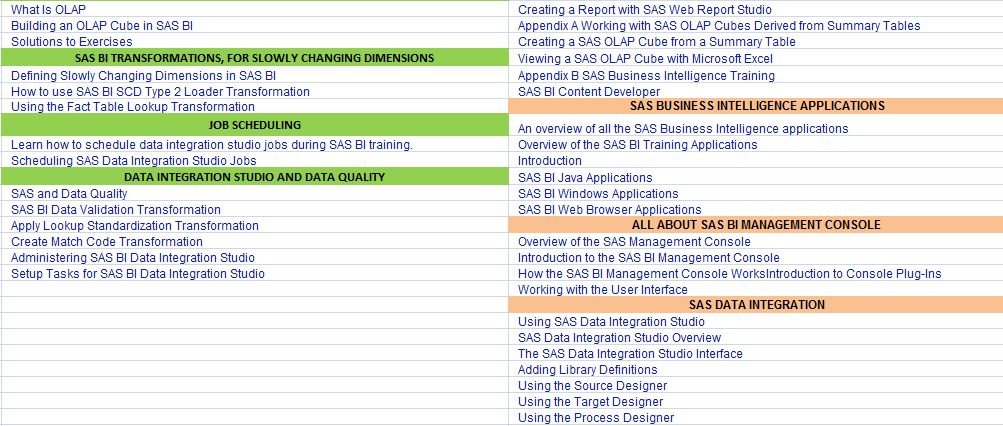 Overview of SAS BI Training:
SAS stands for Statistical Analysis System. SAS Training is an integrated system of software products used in Business Intelligence. These products are owned and maintained by companies. So, here are the different areas where SAS could be used by the
Data Management Report Writing and Graphics.

Statistical Analysis Econometric.

Programmers' Information Retrieval

Business Planning Forecasting and Decision Support

Data Mining

Operations Research

Quality Improvement

Project Management

Applications Development

Data Warehousing ETL (Process, Extract and Transform)
SAS programming can process millions of rows and thousands of columns are pretty scalable. It has built-in statistical and random number of functions. It has comprehensive data and time handling functions. It has comprehensive functions for handling, characters, and numeric manipulations it can interact with the database and operating system-level features. And it could produce outputs in various formats including comma separated values PDF and XML'S.
Our aspiration is to form an area where ever professionals will gain data and may get ideas to improve career and better learning experiences all the time. Idestrainings is an online training center with experienced trainers around the world.
Business Areas – SAS BI Training:
So, based on says large-scale software solutions have been produced and they are used in different business areas including
IT Management

Business Intelligence

Financial Management

Human Resource Management

Customer Relationship Management and so on
What is Business Intelligence?
Business Intelligence is Software or is it a process. The term BI is mainly used for an approach and that could be a technological approach or business process approach. Business Intelligence helps you analyze the past and come up with strategies to improve the future. Business Intelligence is also known as BI Tools. BI Tools companies perform their day-to-day operations either using IT systems like ERP (Enterprise Resource Planning software) or some other applications.
Data gets generated let's call this raw data. Most of this data is residing in databases some of this data could be outside IT systems as well.

This raw data needs to be analyzed and we need to extract meaningful information from this data.

BI Objective is the company would make more profit and company could be more stable in future.

Making future decisions directly based on raw data is nearly impossible this has to be converted into meaningful information.
SAS BI Training raw data converts into the meaningful information so who looks at meaningful information are generated by the Business Intelligence. It is the management of the company who looks at this information. BI actions are a set of actions also you can call the strategy would result in a better future. So, we understand the role Business Intelligence is playing to health company analyze past and make actions will result in a better future.
Who should take up this SAS BI training?
The following are the suitable persons to take this SAS BI Training.
IT and Software Developers, Architects, Business Intelligence, Data Warehousing, ETL, Big Data and Analytical Professionals and Project Managers
Why should you learn SAS BI Course?
Currently, there are various openings for work accessible for SAS BI designers around the globe.

There is a high market interest for Certified SAS BI Developers and they are being offered with significant compensation bundles.

On normal, a Certified SAS BI engineer wins 106,095 USD per annum.
Dashboard in SAS BI Training:
SAS BI Training Dashboard 4.x as many of may be aware a stored process is nothing more than a SAS program. But that SAS program can do just about anything you want it. To including half SAS graph code within it and that graph, the code can then be associated with custom graph indicator. We provide best SAS Business Intelligence Online Training and corporate training with latest industry updates by expert trainers.
One creating a custom graph indicator – SAS BI Training:
You need to first associate it with a stored process and at that start, a process has a big build. One of the easiest ways is to use the wizard that is in Enterprise Guide.
SAS BI Training is similar to covered in several courses including creating BI Dashboards using SAS 9.2 as well as our creating business intelligence for your organization the one essential course.  
Just go up to file new and say start process.

The first thing that will ask you is its name.

You have to specify where the metadata for the stored process will be and that's being in Ryan star marketing department and dashboards folders.

You have to do is find some code for this stored process to deal with already have a program on the computer and it is code.

That is actually going to create a bar line graph.

So, next going to open up their code and some you want to point out when associating the stored process with a custom graph indicator a couple.

Finally, you're going to be streaming your output to a special file rev of underscore web app you'll notice it. IdesTrainings provide best online and corporate training for SAS BI course with the reasonable price.
SAS BI training empowers you to realize your dreams and helps you to lead a bright future.
Data Storytelling in SAS BI Training:
Data Storytelling goal is to gain agreement and get the executives to move forward with your recommendations. Then through the use of story is create a connection point with your audience. It enables teaching moments and removes complexity. SAS Business Intelligence Online Training also inserts a human factor providing facts on their own stories. Just can't do whether you realize it or not for all natural born storytellers but when it comes to data storytelling.
In order to be effective, you need a plan, a process, and a storyboard of sorts. And it comes to the data it needs to be evidence-based. So, a story in four parts that was designed using a storyboard technique and included statistics meant to support but not to detract from the story itself.
Setup – SAS BI Training:
SAS BI Training is best stories connect us on an emotional level it doesn't always need to be a choice between something tragic or comedic. It could be a matter of stirring your emotions through curiosity, empathy or frustration.  
Context – SAS BI Training:
It is where you're painting the picture of the current situation and begin to fill in those gaps. That you open during your setup make sure you inject visual cues. We filled in the gaps with the understanding that unbanked happening due to life changes. Finally, frustration is over concerns with trust privacy and lack of good customer service.
Options – SAS BI Training:
You have heard don't just bring me problems bring solutions. This is exactly what options address. Your story is meant to move. Your option solves a problem is a better choice or makes tomorrow better than yesterday. Overstory inserts the option of how tweaks to the mobile app could help pass customers like mark. It's value in doing business again.
Action – SAS BI Training:
An action is typically seen as something you've asked the audience to do in our case. We are simply posing a question for banks to consider. That's the great thing about a call to action. So, something you're mere ly asking for feedback in order to tell a bigger story.
What are the Objectives of SAS BI courses?
After the fruitful finish of SAS BI Training, the member will have the option to
Design and build up a Data Mart in SAS BI.

Build a SAS BI Dashboard application.

Build an OLAP Cube in SAS BI.

Get an outline of SAS BI the executives reassure and SAS information coordination.

Gain information on Business User announcing applications, Advanced revealing procedures, and jobs.

Utilize multidimensional (OLAP) information sources.
The Conclusion of SAS Business Intelligence Online Training:
SAS is an amazing Business Analytics device that is utilized by undertakings to improve their business execution. This SAS Online Training gives all of you the correct aptitudes to work with spreadsheets, gigantic measured databases, and systems for investigating. In this way, with the SAS Programming confirmation, you can go after positions in high-development organizations that are looking for SAS experts for improving the speed of their basic leadership.
We are providing SAS BI online Training for different countries students USA, UK and other countries students at their preferable timings. Strains can attain the demo and classes added preferable timings. We are trading the trainings through these websites www.Idestrainings.com training. Before you are going to register the demo, the student can attend one free demo session with a trainer. For more information please contact us.