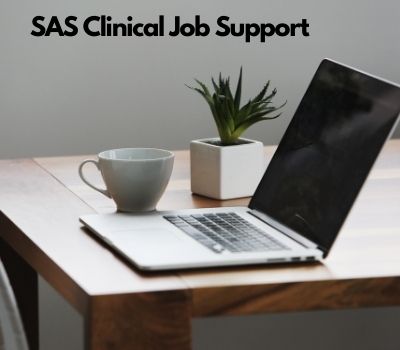 Introduction of SAS Clinical Job Support:
SAS Clinical Job Support helps to understand the expressions of statistical analysis system. Idestrainings provides support service for SAS Clinical Job Support which will explain the concept of analytical software system. Our job support service will be helpful for all the employees who joined the company as a fresher or experienced and having difficulties to complete the given project work. SAS Clinical is a statistical software used in the field of clinical process for analyzing the patient's activities such as getting entry, cured, side effects  and so on.
Why SAS Clinical Job Support:
Idestrainings will explain that why the SAS Clinical Job Support is so important and why do you need the knowledge of SAS analysis in this growing clinical environment. In the current market, the pharmaceutical company wants to release a drug into the market, but they are not able to release the drug directly into the market. Idestrainings has best trainers for SAS BI Job Support for your project.
The food and drug administration has some rules and regulations means they are not giving the permission for regulating or releasing any drug in the market.

As per rule, the drug needs to go through the process of clinical trial and if it succeeded then only it FDA will give permission to release the drug in the market. This is the reason why the companies started to do clinical trials.

The clinical trials come with two types of procedures which are pre-clinical trials and clinical trials.

SAS is a powerful reporting tool and most demanding software of today's market and in the area of clinical, financial, banking, customer relation management etc.

The FDA approved that if there is a need to generate any clinical report then the SAS software will be the great choice.

In a clinical trial with SAS Clinical Job Support, a study conducted on a new drug before releasing that into a market. The protocol must be approved to perform clinical trial because a protocol is a outline of the clinical trial.

After the trial the FDA will check whether all the things are perfect in the report or not and if everything will be right then the drug will get approved by the FDA.

Once the report is approved then only the companies will release the drug in to the market.
How SAS Clinical Job Support is useful:
SAS Clinical Job Support will let you know that how it will be useful for your current project requirements and our Job Support team of experts will help you for your project regarding SAS Clinical.  SAS Clinical software is mainly used for analyzing the clinical data for getting and calculating some descriptive statistics as well as functionalities which will be helpful for making better decisions. Our trainers trained you on SAS Developer Job Support at reasonable price.
SAS Clinical is used to generate different kinds of report such as tables, listings, graphs and figures in SAS Clinical Job Support.

It also used to generate output in various formats like csv, xls or pdf to increase the reliability.

It is also able to process any number of rows and columns because it has many built-in functions to perform analysis and it contains various numerical as well as character method features which can be used for the process of manipulating the data.

The integration facility allows it to establish a communication with different operating systems and databases. In clinical sector SAS is used in clinical trials to perform data analysis.

The analysis could be calculating descriptive statistics like mean, standard deviation, median values etc.

For example in clinical trials there are so many subjects are involved and for each subject several visits will be scheduled to take their values.

So as there are many visits finally they willtake one value either that is an average or the minimum or maximum value depending on their requirements. So it is easy to deal with the larger data by using SAS.
Importance of SAS Clinical Job Support:
Idestrainings has a team of experts who will let you know the importance of using SAS Clinical that how it is more useful for your future business growth. In SAS Clinical Job Support, SAS is stands for Statistical Analysis System or Software which is mainly developed for fulfilling the requirements of agricultural needs. It also used in various areas such as advanced analysis, data management, business intelligence and predictive exploration.
As it is becoming very popular again it was developed with some new features such as new statistical processes and some clinical components along with the introduction of JMP which is a tool used for visual data analysis.

There are variety of software tools and packages available across the globe but among them SAS can be classified as a data management tool as well as a statistical tool.

We also provide Support services of SAS predictive analysis Job Support for USA students along with SAS Clinical Job Support.

In terms of data management, SAS is used for generating reports and supports the ETL processes that comprises of Extract, Transform and Load operations.

There are some other tools such as Cognos and Tableau for reporting but they are not able to perform ETL operations and statistical analysis. Similarly there are some tools such as Datastage and Informatica which can majorly perform ETL process but neither reporting nor statistical.

Similarly there are many other statistical packages are available like SPSS, quantum etc. which can perform only statistical analysis but they cannot be used for reporting or ETL tasks with SAS Clinical Job Support.

SAS provides a platform which supports all these features reporting, ETL and statistical analysis. These are the factors which makes the SAS to outstanding analytical software across the industries.

SAS is basically enables the programmer to perform actions on data warehousing systems and delete the data records if there is any duplicate records in the database. This helps to improve the performance and efficiency for providing better quality.
Overview of SAS Clinical Job Support:
The SAS Clinical Job Support is carefully planned and designed so that it helps individuals in acquiring success in the professional spheres. We are a team of bright & dedicated techno analysts and we have a passion for empowering & indicatively deliver the SAS Clinical Job Support On job support through online. We are sure that we provide a platform to the fresher as well as the working professionals to a great extent to resolve their current technical problems phasing in their job.