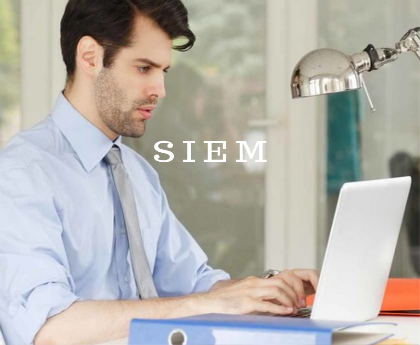 SIEM Training Course Introduction:
SIEM Training is very important technology for the cyber security and compliance. SIEM means Security Information and Event Management. That means the basic function of the SIEM is nothing but to centralize all the security notifications from various technologies. Your Intrusion Detection System and Intrusion Prevention Systems, firewalls, wireless access points, antivirus console and Active directory servers all generate lots of security alerts daily. We can combine all of these in one single place with single report sets and one centralized system to generate notifications. SIEM Training is offered by IdesTrainings by our experienced trainers. Join Today!
Prerequisites for SIEM Training:
A person to get trained in SIEM Training, he/she should have a basic knowledge on
ESM

malware analysis

McAfee

Soc

Q radar

Logger

Information Security, Reports.
SIEM Training Course Details:
Mode of Training: We provide online mode of training and also corporate, virtual web training.
Duration Of Program: 30 Hours (Can Be Customized As Per Requirement).
Materials: Yes, we are providing materials for SIEM Online Training.
Course Fee: Please Register in Website, So that one of our Agents will assist you.
Trainer Experience: 12+ years.
Batches: We provide all types of batches.
SIEM TRAINING COURSE CONTENT

Overview of SIEM Training:
What are the functions of SIEM?
The main function of SIEM is to provide the logging as well as reporting for the purpose of compliance.

For the regulation of the compliance, here are some requirements for track system changes, log user access, monitoring adherence to corporate policies. It is sometimes defined as the set of technologies for aggregation, retention, normalization, log data collection, and analysis &workflow.

The most important function of the Security Information and Event Management (SIEM) is we can do automated cross-correlation and also analysis of all the raw event logs. Here SIEM solutions generally understand the details of the server, applications, also configuration details.

Intelligence concept in SIEM almost prevents the false positives.

SIEM is going to gather the complete configuration, running applications or other information for adding critical context to the notifications and events. This actually allows SIEM to find out changes to critical devices such as firewalls and routers generating changes if the unauthorized changes occur. SIEM is more than log aggregation tool.
There are so many log management challenges that enterprise face. Not all the data is suitable for the purpose of security. Analyzing logs for relevant security intelligence is the greatest challenge for the IT administrators face. Another challenging task is, centralizing the log collection. Collecting the logs from various resources at the centralized place is a very difficult task for IT administrators.
"Am sure that you will get a practical knowledge on SIEM at IdesTrainings"
What are the challenges that SIEM Training can solve?
There are also some challenges such as tracking the suspicious behavior of a user, making data in logs more meaningful, and conducting root cause analysis. The one and only solution for all of these problems is SIEM tool.
What are the importance of SIEM in SIEM Training?
SIEM plays a very important role in today's market.  Some of the most important roles of SIEM are
First and foremost reason IT security. In the IT security, it is mainly used to prevent some persistent attacks and also to control the data leakage and inside threat. Another reason is to satisfy the regulatory compliance.

Data aggregation is another main feature of the SIEM. Data aggregation means SIEM has the ability to gather the data from different resources in the enterprise.

Correlation can be done in Security Information and Event Management. In the SIEM, we are having an alerting option. This plays a vital role in SIEM tool.

Dashboards are very popular in today's IT market. We have interactive dashboards in SIEM.

SIEM is very special for the compliance reporting and it has the ability to satisfy the auditor and take care of closed-loop processes.

It has the ability to keep logs for a long period of time. This is called retention. It is one of the key features of the SIEM. SIEM has the ability to efficiently retain the logs.

High-speed log collection and processing is possible in the SIEM tool. We can manage the increasing volume of logs from multiple sources.

It will mitigate sophisticated cyber-attack.

SIEM has the ability to meet stringent compliance requirements.
Learn Log Management in SIEM Training:
What is Log Management in SIEM Training?

Security Information and Event Management (SIEM) is also called as Log Management.
Stages in Log Management:
There are mainly four stages involved in the log management. They are
Log Collection

Log Processing

Log Analysis

Log Archival.
Log Collection: The first stage is log collection. Log collection is a SIEM solution to collect the logs from the various resources. It is also capable of parsing logs and consolidating them in the centralized location. This stage is going to be the start of an essential cycle to follow.
Log Processing: The second stage is Log processing. This is the heart of the log management because; in log processing stage the data gets transformed into meaningful information. When processing is effective, we will be able to analyze the data that you collected from the logs.
Log Analysis: The third stage is Log analysis. This log analysis helps to mitigate the threats and to detect anomalies in the network. This also helps to protect the data within the organization. We can also assess the vulnerabilities.
Log Archival: The last stage is Log archival. This is not just about storing the logs for later use. The main thing is, the archival system should focus on the storage capacity. This must be encoded so that the information is protected.
SIEM tool should be able to do all this. This is all about the stages involved in the log management.
"IdesTrainings provide the quality education with experienced trainers for SIEM Training."
While Choosing SIEM solution, what are the important things we should know in SIEM Training?
There are some most important things, we should know before choosing a SIEM solutions are as follows.
Log Collection: The first and foremost thing that we should know is Log Collection. We have to choose the SIEM that has the universal log collection. This is very useful and this allows us to collect the logs from different sources. We should choose the SIEM that has log collection method. EPS is nothing but Events per Second. It is the rate at which your IT infrastructure usually sends events. SIEM should contain this feature.
User Activity Monitoring: The second important thing that we must know about choosing the right SIEM solution is User activity monitoring. We have to choose the SIEM that has the real-time user activity monitoring feature and should have the PUMA (Privileged User Monitoring and Audit) reporting capability. We should make sure that whether the SIEM solution gives the complete audit trail or not. The audit trail should tell us which person performed the task, what was the result of that task, details of user workstation and many more.
Real-Time Event Correlation: The third important factor to choose SIEM solution is real-time event correlation. This is all about dealing with some threats. Actually, it increases the security features of a network by processing tons of events simultaneously for detecting anomalous events on the network. All of the correlation duty is to give high security. This correlation can be based on rules, alerts and log search. Custom alerts and rules builder are very important for SIEM solution. We have to make sure that the process of correlation events is easy or not.
Log Retention: The fourth factor that you should know to choose SIEM solution is log retention. To meet different compliance regulatory requirements, log retention is a very useful feature for that. SIEM solution should contain log retention capability. We should choose a SIEM solution that contains the feature of automatically archive all logs data from applications and devices to a centralized repository. Ensure that the SIEM solution has the tamper-proof capability which timestamps and encrypts the log data for the compliance purposes. SIEM solution should contain ease of retrieving and analyzing archived log data.
"Register now and join today at IdesTrainings for SIEM Training"
IT complaints Reports: The fifth important factor to choose the right SIEM solution is IT complaints reports.  It is a core of the every SIEM solutions. SIEM solutions are incomplete without IT compliance reporting features. The SIEM solution should contain the ability to build new compliance reports and also to customize the reports to comply with future regulatory acts.
File Integrity Monitoring: The sixth important factor to choose right SIEM solution is File integrity monitoring. This is very useful for security professionals in monitoring business-critical folders and files. SIEM solution should report and tracks on the changes happening like if files and folders are created, deleted, viewed, modified and much more. We have to make sure that SIEM solution should also send real-time alerts. This file integrity monitoring plays a vital role in SIEM solution.
Log Forensics: The seventh important thing that we should know about choosing a SIEM solution is log forensics. SIEM solution must have the ability to allow users to track down an event activity using log search feature. The capability of the log search should be very user-friendly as well as intuitive, allowing IT admin to search via raw log data quality.
Dashboards: The last very important factor to choose the ideal SIEM solution is dashboards. It generally used to drive the SIEM solution and also helps IT admin take actions and also make right decisions during the anomalies. With the help of dashboards, we can make very intuitive and user-friendly security data.
These dashboards should be customized so that people can easily configure the security information. To choose the right SIEM solution, we need to have the interactive dashboard feature. These are the very important factors to choose the right Security Information and Event Management (SIEM).
"Change your future by joining with us"
What are the benefits of SIEM solutions in SIEM Training?
There are so many business benefits of the SIEM solutions. They are
Real-time monitoring.

It is very cost saving for business organizations.

SIEM provides compliance reports.

Generating security reports without centralized reporting tool would be a difficult task.

SIEM has the ability to store the log data in the centralized place.

Another benefit of the SIEM solution in business is rapid ROI. It provides the log management such as analyzing, reporting, and alerting and many more.
Along with SIEM Training learn about QRadar:
QRadar is very useful product for the business. QRadar is nothing but a security intelligence platform. QRadar is going to provide the unified architecture for event management as well as security information. The total cost of ownership is very low. It is single tier architecture environment. It is used to analyze the flows, logs, user & asset data, and vulnerabilities. Detection of anomalies, management of logs, forensics, vulnerability, and management of configuration can also be provided by QRadar.
QRadar provides visibility into our user activity as well as network applications. To identify the high-risk threats, it provides correlation and detection of anomalies. QRadar contains high priority incident detection among several data points. It has the unique capability such as reporting and correlation capabilities. QRadar can actually allow you to retrace the step-by-step actions in an effective way. It combines with IBM Security QRadar SIEM for providing flow analysis and applications visibility. It allows us to discover the application security vulnerabilities as well as network devices. These are the benefits of the QRadar in the business environments.
There is so much difference in first-generation SIEM solution and next-generation SIEM solution. We have got event sources such as switches, routers, firewalls and databases and many more in the first generation SIEM solution. The next generation SIEM solution that is QRadar we have so many features more than that first generation. We are going to able to see both forensic incidents in real-time with the help of QRadar. The QRadar Training helps you to know what workstations and what servers are actually vulnerable to the particular threat. This is the main feature of the QRadar. Incident forensic is the power analysis in QRadar. We will discuss QRadar basic usage in our SIEM training. We are also provide Arcsight Training.
Learn Arcsight ESM along with SIEM Training:
Arcsight ESM stands for Enterprise Security Manager. This is useful for organization security policies.
ArcSight ESM plays a very important role in protecting the business. Because it protects the business in different ways.
ArcSight can collect the data from any type of log source.

The response time is reduced by ArcSight ESM

It also reduces the damage.

ArcSight ESM helps to maintain high-performance system.
These are just the basics of ArcSight ESM and you will get the knowledge along with SIEM Training at IdesTrainings.
Conclusion of SIEM training:
Security Information and Event Management (SIEM) plays a very important role because every business needs security. Now a day's Cyber crime is increasing day by day so to protect the data or information leakage all business are using SIEM.  Security analysts protect security solutions for their companies. Many of the companies are hiring employees on SIEM. So this is a great opportunity to get SIEM Training and gain a job easily with good package. SIEM solutions have become a part of so many organizations. IdesTrainings provide the best SIEM Training by highly skilled trainers. Here you can get the detailed knowledge on SIEM Training. If any of the students miss any session we will also provide backup sessions. SIEM Training is provided according to student feasibility. We are ready to solve any issue regarding the  SIEM Training at any time. Feel free to contact us our team is available around the clock.