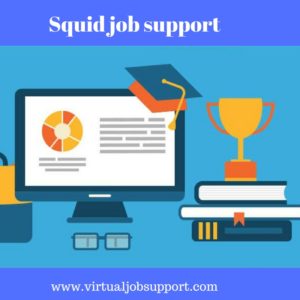 IDESTRAININGS provide squid job support in online. we have to what is snort. In the computer networking, proxy is a server that acts on behalf of another device. Proxy lies between the client and server and often performs a service both on the request and the response. Proxy server is a server on your network that the other computers on your network connect to go out to the internet.  Proxy servers were very important in the back 1990's. If you wanted to connect all the computers with internet, they all had to go through a proxy server. NAT is network address translation. In the back when it was 13 years ago, NAT started to put into all routers. This means individual computers and devices on the network can directly connect to the internet, but without network address translation that is not possible. This is why; we used to use these proxy servers. Proxy server is what routed all the web traffic.
About Squid proxy server:
Squid proxy server is an open source function of proxy servers that can be install on linux platform. Squid can be very functional in the modern world.  We remember the proxy servers from the way old days and we found that in the modern world proxy servers can actually be very useful and since basically you can install squid proxy onto a linux, you can get a free squid server that can do a lot of functional things for you. Squid or proxy servers are important in today's network environment. so, it is better to take squid job support.
To caching and forwarding web proxy, squid is very useful software. Squid has many varieties of uses by caching repeated requests, to caching DNS and other group sharing resources, to aid security. Squid was developed at the university of colorado boulder. Further the program was completed in the University of California. Web browsers can be configured to it as proxy servers, if you install the squid web proxy server. We know that all the web traffic goes to the proxy server and out to the router. Proxy server can give you a couple of nifty neat features and the main feature it can give you is cache. Now what is cache? Cache is phenomenal for the proxy server. In your network, if one computer wants to download a file from the internet and another two or more computers wants the same file to download on the internet, it would take a lot of time to download that file. With the squid proxy server we can configure a cache, so first computer will be downloaded to their computer but it will also be stored in the cache on the proxy server. Proxy server has its own hard drive and you can configure the size of the cache. When the first computer downloaded the file from the internet, it will take some time. But when it comes to the other computers on network, it won't take that much time because the squid proxy server stored that file on the cache and that file converted as local file. This is the main feature of the squid web proxy server.
Overview of Squid Job Support:
IDESTRAININGS provides an excellent online platform for squid job support.  our trainers/consultants are highly experienced persons in squid job support. IDESTRAININGS is a premier job support provider firm. We also provide support services for PfSense, Iptables, CentOS and many more. To find more details please visit IDESTRAININGS We are providing 24/7 squid job support from India.