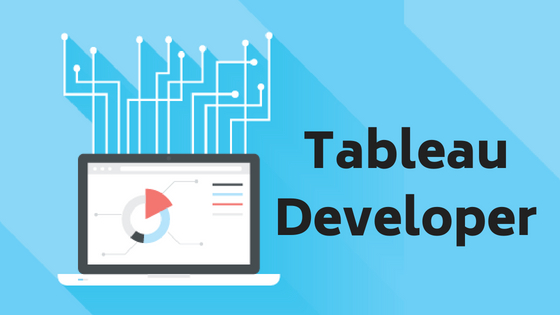 Introduction of Tableau Developer Job Support:
Tableau Developer Job Support provided by IDESTRAININGS will explain all the aspects which are come under the concept of relational database management system. IDESTRAININGS will provide project support for all the employees whether they are newly joined or they are having experiences. Our Job support team will be available always to solve any issue comes under Tableau developer terminology. Tableau Developer is platform which helps to produce reports by collecting data from various sources.
Overview of Tableau Developer Job Support:
A Tableau Developer serves as a technical resource for specific departments or functional areas. Developers work within their respective areas to develop and modify reports and dashboards, provide connections to new and existing data sources, prepare data for use in Tableau, develop extracts, publish data sources and workbooks, develop custom scripts, coordinate releases of data and workbooks, as well as perform complex technical tasks such as integration with R.
The Developer is the department or group's point of contact for IT for coordination, approvals, migration of data and workbooks between environments, as well as sign-offs prior to migration of objects to the production environment. In some cases, the Developer may also assume Interactor role responsibilities. We also provide Tableau Job Support from our real-time experts.
The role of a Tableau Developer in the SSA Program is to Design, Develop, Publish, Test and Troubleshoot Dashboards and Data Sources. Developer also acts as the primary point of contact from their department to communicate and co-ordinate with different stakeholders including Functional Users, Tableau Admin Team, Database Administrators, and Data Governance Team etc.,
Tableau Developer Roles and Responsibilities
Here are the major roles and responsibilities of a Tableau Developer:
Creating visualizations for the data extracted with the help of Tableau

Identifying patterns and meaningful insights from data by analyzing it

Designing dashboards

Managing Tableau Server

Managing big data

Twisting SQL queries for improving performances

Examining glitches in business processes and resolving them

Finding the key areas of automation to make the business processes smooth

Developing reference documents or reports for the finalized project
Why Tableau Developer Job Support:
Tableau Developer Job Support helps to build a drill down dashboard which will help you figure out the root cause of a problem. It also helps to build a solution which can be used by multiple users and there will be an appropriate user-level security, nice visualization and that visualization can be accessed through mobile devices.
Tableau does not go slow and can handle any large amount of data. If you are working on big data sets then tableau will help you about that.

The projects will be executed in faster manner because it is very easy and you will get immediate feedback for the work by getting information about the issues you are trying to find.

It comes with the abilities of slicing and dicing means it allow to apply visual filters, can connect all the charts together and figure out the source of the problem.

As BI software, it allows anyone to connect to databases very easily because it has a lot of data connections. After that it will be easy to analyze the data just by dragging and dropping.

It also allows creating interactive as well as shareable dashboard where different visualization can interact with each other.

From a company perspective, it helps to fulfill all types of requirement related to business intelligence and provides them better visual reports for further processes.
Conclusion to Tableau Developer Job Support:
IDESTRAININGS is the best and quality IT service provider for fresher and also working professionals. We will always be here to support the employees by providing online support for resolving technical issues in their working projects. Our Job Support team will provide support and assistance regarding Tableau Developer Job Support for every working employee who has a difficulty in new job environment and often need a support to perform different tasks given by them.
In the professional life there is always challenge that we have to face and solve it, but sometimes they are very tedious and hectic, we need really someone to help to get out of it.
Why can`t you get help from your colleague's? But they are very busy with their own work, then what you have to do? Do not worry We  at IDESTRAININGS have our IT Trainers & IT Professionals will provide Job Support at your jobs and also we will provide Resume Building service to make an effective resume to submit for the Job Interview.
We are IT Service provider who is most friendly, expertise and reliable to provide services such as Technical Job Support, Online IT Training and Resume Support. We have been serving for many employees and consulting companies in USA, Canada, Singapore, UK and also many other countries from the last one year.
Project/on Job Support Services:
More than 30 plus IT professionals signing up on a monthly basis for a period of 1 month to 12 months Launching Shared Support Services in various technologies in ERP, JAVA , Cyber Security , IDM Tools and etc.
Here are some of the courses:
AWS Job Support

Devops Online Job Support

Docker Technical Job Support

ReactJs Project Support

AngularJs Remote Support

Java Job Support

DotNet Online Job Support

Mulesoft Technical Job Support

Dell Bhoomi Project Support

Uipath Remote Support

ServiceNow Job Support

Salesforce Online Job Support

Selenium Technical Job Support

Power Bi Project Support

Tableau Remote Support

Jmeter, Load Runner Performance Testing Job Support

Spark Online Job Support

Splunk Project Support

Data Science Remote Support

Python Technical Job Support

Java Script Job Support

Jboss Online Job Support

API Testing Job Support

Groovy and Grails Online Job Support

SQL Support

Scala Technical Job Support

Etc.,