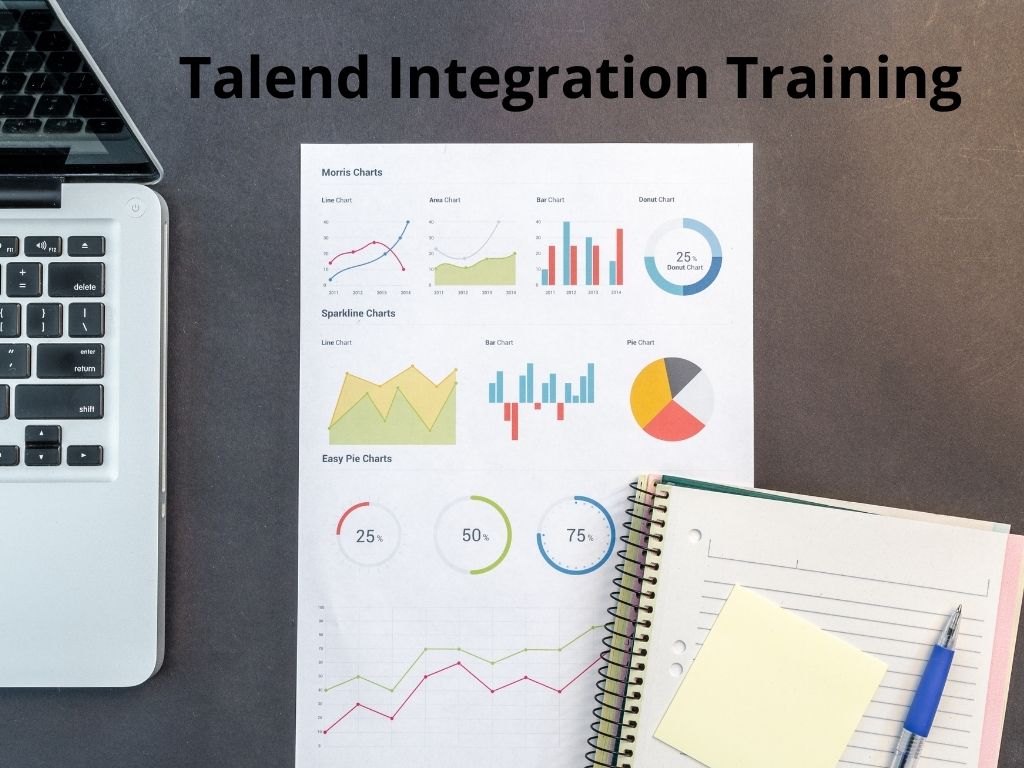 Introduction to Talend Integration Training:
Talend Integration Training at IdesTrainings- Talend is an open source data integration platform. It provides various software and services for data integration, data management, enterprise application integration, data quality, cloud storage and Big Data. It helps companies in taking real-time decisions and become more data-driven. For more information register with us or dial our helpline to find best training guides for Talend Integration Corporate Training and Talend Integration Classroom Training and become a better executive. IdesTrainings is one of the best IT Training delivering Partners, we can gather up profound trainers for all the possible latest technologies at Hyderabad, Bangalore, Pune, Gurgaon and other such IT hubs. 
Prerequisites for Talend Integration training:
Should have the basic knowledge on:
Java

Databases, How RDBMS DB's work

SQL syntax
Talend Integration Corporate Training Course Outline:
Course Name: Talend Integration Training
Duration of the Course:

 40 Hours (It can also be optimized as per required period).

Mode of Training

: Classroom and Corporate Training

Timings:

 According to one's Feasibility

Materials

: Yes, We are providing Materials for

Talend Integration Corporate Training

 (We will get the soft copy material)

Sessions will be conducted through WEBEX, GOTOMETTING or SKYPE

Basic Requirements:

 Good Internet Speed, Headset.

Trainer Experience:

 10+Years

Course Fee:

 Please register in our website, so that one of our agents will assist you.
Overview of Talend Integration Corporate Training:
There are several ways to integrate data that depend on the size of the business, the need being fulfilled, and the resources available:
Manual data integration

 is simply the process by which an individual user manually collects necessary data from various sources by accessing interfaces directly, then cleans it up as needed, and combines it into one warehouse. This is highly inefficient and inconsistent, and makes little sense for all but the smallest of organizations with minimal data resources.

Middleware data integration

 is an integration approach where a middleware application acts as a mediator, helping to normalize data and bring it into the master data pool. (Think about adapters for old electronic equipment with outdated connection points). Legacy applications often don't play well with others. Middleware comes into play when a data integration system is unable to access data from one of these applications on its own.

Application-based integration

 is an approach to integration wherein software applications locate, retrieve, and integrate data. During integration, the software must make data from different systems compatible with one another so they can be transmitted from one source to another.

Uniform access integration

 is a type of data integration that focuses on creating a front end that makes data appear consistent when accessed from different sources. The data, however, is left within the original source. Using this method, object-oriented database management systems can be used to create the appearance of uniformity between unlike databases.

Common storage integration

is the most frequently used approach to storage within data integration. A copy of data from the original source is kept in the integrated system and processed for a unified view. This is opposed to uniform access, which leaves data in the source. The common storage approach is the underlying principle behind the traditional data warehousing solution. At IdesTrainings we also provide corporate and classroom training for Talend Admin Training.
What is Talend Integration?
Talend data integration software tool has an open, scalable architecture. It allows faster response to business requests. The tool offers to develop and deploy data integration jobs faster than hand coding.
It allows you to easily integrate all your data with other data warehouses or synchronize data between systems. Data integration involves combining data stored in different sources and providing users with a unified view of these data. It helps you to manage various ETL jobs, and empower users with simple, self-service data preparation.
Benefits of Talend in Data Integration Training:
Agile Integration: Respond faster to business requests without writing code using over 1000 out-of-the-box connectors, Eclipse-based graphical tools, and an optimized-for-performance code generator.
Team Productivity: Collaborate using powerful versioning, impact analysis, testing and debugging, and metadata management.
Easy management: The tool offers advanced scheduling and monitoring features. It provides real-time data integration with dashboards and centralized control for fast deployment across multiple nodes.
Stay ahead in the competition: If you use this tool, you will not have to wait for using the latest and coolest data integration features.
Pay the lowest price for ownership: Talend offers subscription-based pricing model. You need to pay for the number of developers using Talend Studio thereby saving you money compared to flat licensing.
Develop and deploy 10 times faster: The Eclipse based Studio provides easy drag-and-drop, point-and-click job design with no need for hand coding. 
We at IdesTrainings provide corporate Training for Talend Training and also provide the classroom training for Talend Integration Training in Hyderabad, Mumbai, Delhi, Noida, Chennai etc.,
Learn about the tools used in Talend Integration Training :
Data integration tools have the potential to simplify this process a great deal. The features you should look for in a data integration tool are:
A lot of connectors-

 There are many systems and applications in the world; the more pre-built connectors your Data Integration tool has, the more time your team will save.

Open source-

 Open source architectures typically provide more flexibility while helping to avoid vendor lock-in.

Portability-

 It's important, as companies increasingly move to hybrid cloud models, to be able to build your data integrations once and run them anywhere.

Ease of use-

 Data integration tools should be easy to learn and easy to use with a GUI interface to make visualizing your data pipelines simpler.

A transparent price model-

 Your data integration tool provider should not ding you for increasing the number of connectors or data volumes.

Cloud compatibility-

 Your data integration tool should work natively in a single cloud, multi-cloud, or hybrid cloud environment.
What Talend Open Studio for Data Integration Offers
Talend Open Studio for Data Integration is the leading open source solution for data integration. Its capabilities include:  
Connectors to packaged applications (ERP, CRM, etc.), databases, mainframes, files, Web Services, and so on to address the growing disparity of sources. 

Writing to data warehouses, data marts, OLAP applications – for analysis, reporting, dash boarding, score carding, and more.  

Built-in advanced components for ETL, including string manipulations, Slowly Changing Dimensions, automated lookup handling, bulk loads support, etc. 
Conclusion to Talend Integration Training:
Our course of Talend Integration Corporate training and also Talend Integration Classroom Training has been most happening training programs at IdesTrainings, many young enthusiastic job seekers are able to make a good job deal form our guiding classes .Get started with corporate and classroom trainings from India at Hyderabad, Mumbai, Noida, Delhi, Pune, Bangalore also in states Register with us for the best Talend Integration training program for your company or you can dial our helpline mobile number or send details in our website contact us page or simply drop a message down below , soon our assisting managements will contact you to fix a right trainer and can schedule the classes as per your timings.