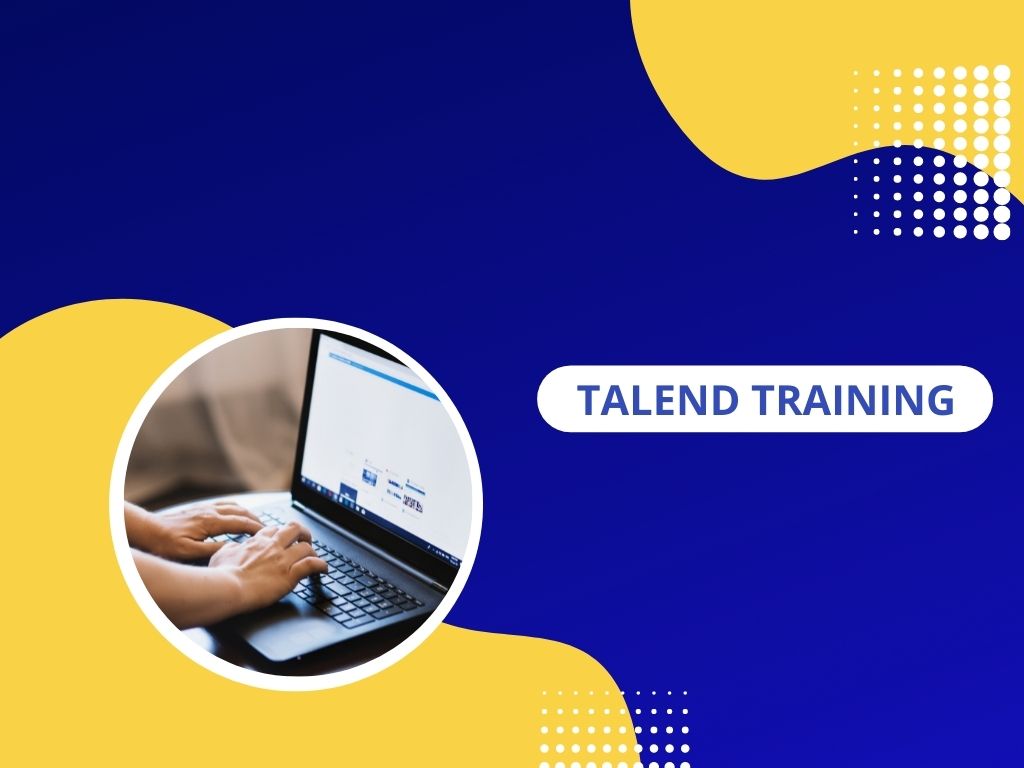 Introduction to Talend Training:
Idestrainings provides best Talend training which is leading top online training firm. Talend is a software vendor which is specialized in big data integration. Talend training will be in online mode by expert trainers. They will clearly explain about this not only this they will skilled you on Talend Etl,  Sql training also with the real time examples. Our trainers are experts in this Talend training. Talend is the next generation of the big data. Talend provides  software services to some areas of cloud, big data, data quality and the application integration etc.  IdesTrainings offer the best Talend training by professionals, and also we can provide classes for Talend Administration and Talend online training together if needed, for more information please register in our website contact page or simply drop a message below:
Prerequisites of Talend Training:
Before going further in this tutorial, we must have the basic knowledge of following so that we can understand the concept of Talend more clearly:
ETL (extract, transform, loading)

SQL Language

Data warehousing concepts
Talend Online Training Details Outline:​
Course Name: Talend Training
Mode of Training: We provide Online Training and Corporate Training for Talend Course
Duration of Course:30 Hrs (Can be customized as per the requirement)
Do you Provide Materials: Yes, If you register with IdesTrainings, the Talend Training Materials will be provided.
Course Fee: After register with IdesTrainings, our coordinator will contact you.
Trainer Experience:15 years+ of experience
Timings: According to one's feasibility
Batch Type: We provide all types of batches like Regular, Weekends and Fast track
Backup Session: If the student misses the session, we also provide backup session
Talend Training Course Content: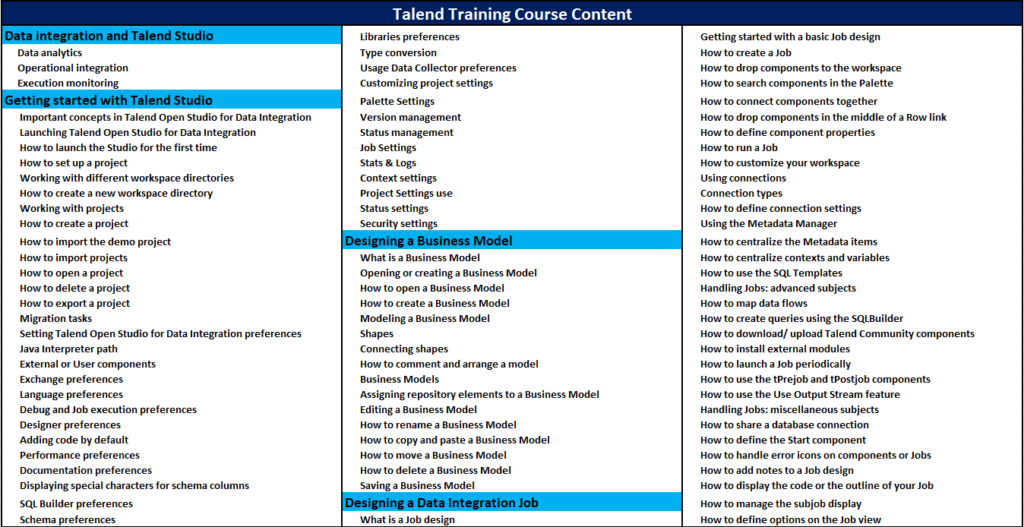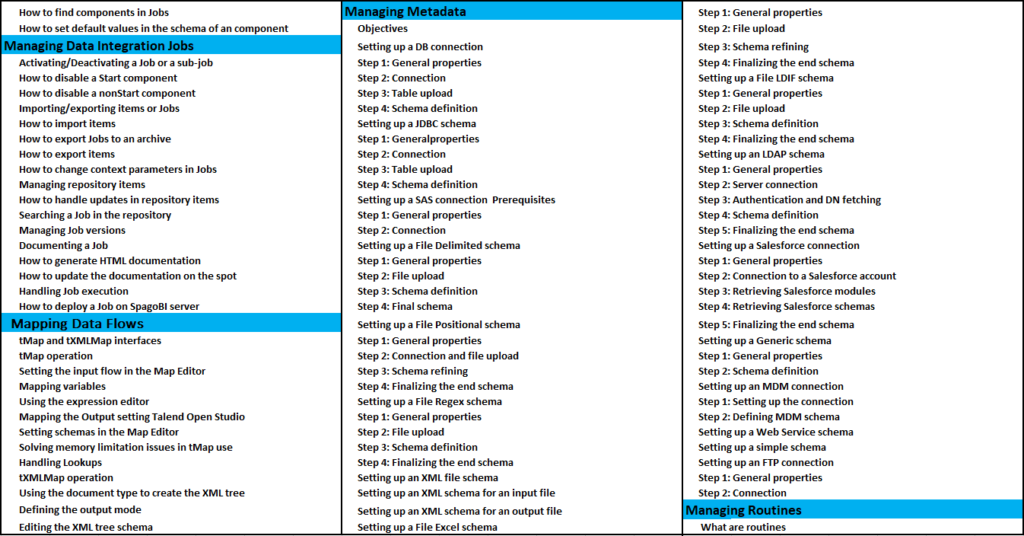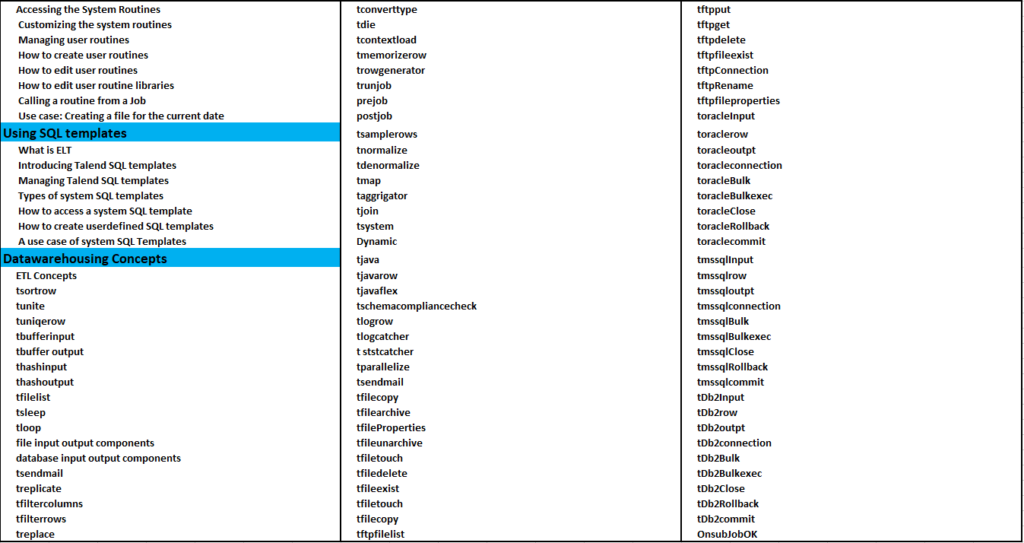 Overview of Talend Training:
Talend is an ETL tool that contains the different products like data quality, application integration, data management, data integration, data preparation, and big data. These products are used for software solutions.
The most popular product of Talend Studio is data integration and big data.
The Talend is an open-source software integration platform that allows various solutions like data integration, data management solutions, big data, data quality, and data preparation.

Talend introduced to the market in 2005, as the first commercial open source software vendor of data integration software.

Talend is a tool that makes the ETL process easy and profitable.

Talend is one of the most powerful data integration ETL tools, cloud computing, and big data integration tools available in the market.

It is specialized in Big Data because it has all the plugins to integrate with big data efficiently.

Talend is used to unify the repository for storing and reusing the metadata.

Talend is available in both open source and premium versions.

Talend's data integration had an ability which combines the data from the various sources on to a single view that is highly advanced and of a great utility.

The very first product of Talend is Talend Open Studio, which is launched in 2006.
Nowadays, it is known as Talend open Studio for Data Integration.

As from then, it released a wide range of products, which are used commonly in the market.

In real-time, Talend helps the organization to make decisions and become more data-driven.

Talend recognized as the next generation leader in the cloud and big data integration software because after using Talend, data becomes more accessible, its quality enhances, and it can be moved quickly to the target systems.

Talend offers faster development and deployment to automate a task.

Talend is less expensive because it is open-source, which can be downloaded free of cost.

Talend provides a unified platform that meets all of our needs under a common foundation.

Talend backup up by a vast community, because it is an open-source tool and the preferred location for all the Talend users and community members where they can share their doubts, queries, experiences, etc.
Idestrainings will explain the Talend training with the real time example. Our consultants will explain detailed about this Talend Training with the live project also. In Idestrainings there is senior most consultants for Talend Developer Training from India.
Talend is the free open source and it will automate and maintain the tasks which the tasks are to be completed. Talend provide some services and software in the areas of big data, cloud data in integration. Talend is an critical infrastructure for data driven now a days.

Why talend Training is need, every business are using the talend because it provides the data integration platform natively for the big data and also cloud data.

Talend is the one for the storing and reusing the metadata. The main purpose of using this talend now a day's is data is growing large volume and variety. It's very important to be known and it's placed on the top of the big data. Idestrainings has best trainers for Talend  MDM training, they will trained on your project/subject also.

It is first commercial open source of data integration software. Using of this talend there is no need of write the code for the data processing.
Importance of Talend Training:
Talend  is important to be known because it is data integration software. Talend provides the data integration and it is important for the designing the interfaces. 700+ components are there in the TALEND with this we can easily drag and drop the job design. We solve your doubts in your training. Our consultants also skilled on Talend Open studio training.

Talend has one important field is Business modeler and it can have good interface where we can make business design or design the documents which can make high level overview of job. Idestrainings provides the best Talend online training with all required skills like Talend etl, administration, developer and mdm.

Talend is essentially an ETL TOOLS and this tool is used for the extract transformation by massive amount of data and the data will be stored in the data warehouse and the data will be coming from the different files.

To this data want to transfer first because the data will be stored in different way of the files that to be placed in one file, for this purpose we can use some ETL Tools.

Idestrainings provides training for Talend not only for training also for project support. If you have any doubts in ETL Tool our Idestrainings consultants will explain clearly about that problem.
Benefits of Talend Training:
Our experts will explain about the Talend benefits for your work/project. Idestrainings provides Best talend training by experts from India. Talend is open source software anyone can download this software no need to pay. We can modify the sources code in talend once we admittance the code.

Studio is a great efficiency it is an easy to learn and quick to develop with it. Studio is a free built components and it will hold the common and not so common also. Talend maintain hadoop, Hive and other admired frameworks. Idestrainings provide Talend ETL Training at reasonable price.

Talend Metadata is refers to the reusable form which describe the data and its attributes. Idestrainings has best trainers for Talend training, they will trained on your project/subject also in flexible hours.
How Talend Training uses:
Talend provides the extensibility of performing ETL and Analytics with no need of encoding. It is easy to learn the talend and it's very helpful for you by just dragging and dropping the components which are already coded to make a specific Job. Talend is one of the best tool available in the market majorly used for Data Integration.

Talend is the process that involves combine data from several different sources which are stored used in various technology mostly ETL Tools and provide the unified data. Our trainers explain ETL tool their importance, how to use also. For technical job holders in Talend, Idestrainings is good reliable and expertise platform. We also give Corporate/online training for Talend Admin training in online mode

Important complex components for the ETL including slowly changing dimensions, immensity load support, and so on. Talend for the big data integration it provides the unified progress and management tools which allows us to integrate process all of our data. ETL Tool which are used for the big data for storing of the data.

Idestrainings

will give the more information about this TALEND ETL TOOLS training and you will be trained by the trainers who has experienced in this online/Corporate training.
Conclusion to Talend Training:
Idestrainings skilled these people on the technology and enable them to succeed for going forward. We provide the best Talend training with Flexible Timings our expertise work within your specific of time frame. We offer our technical support services to help you out. We provide well documented solutions along with an soft copies. Consultants in our Idestrainings have 10+ years experience in IT industry online training mode. We provide training for USA students also. We offer our technical support services to help you out. Now a day's people are facing many problems regarding their online/corporate training our Idestrainings is the best for your technical problems, trainers in Idestrainings will solve your technical problems. For more details you can visit our website about this Talend job/project support.