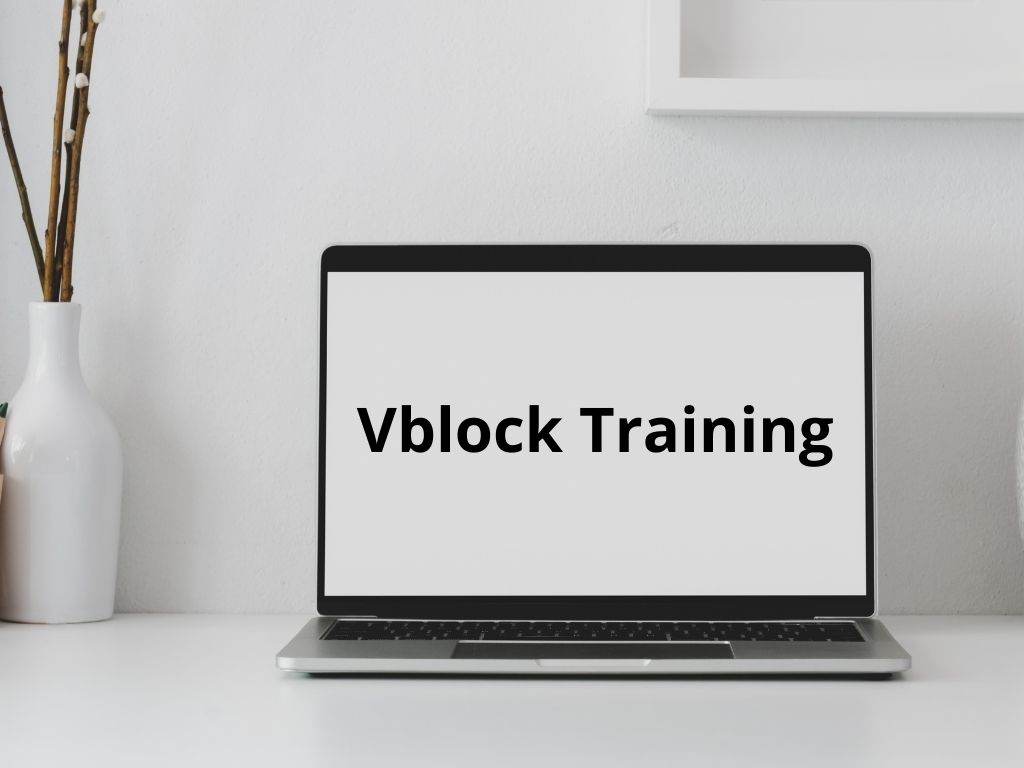 Introduction to Vblock Training:
Vblock Training is VCE's Hyper-Converged Infrastructure product family. Vblock systems are provided in a range of pre-configured rack-based data center machines. VCE supplies clients with balanced power, cooling, and geometry to simplify data center planning for virtual desktop infrastructure, VxBlock is a proven leader in convertible infrastructure, providing companies across the globe with the amazing simplicity of the turnkey engineering system experience, enabling them to focus on innovation rather than spending time on maintenance. Idestrainings provide the training on the Vblock Training by the real-time experienced trainers and we will cover the full advanced concepts of the Vblock EMC Vxblock Online Training. We provide Best Vblock Training videos and the material also.
Prerequisites of Vblock Training:
The student must have basic Vblock System Administration experience including:
Administering Vblock systems using both GUI and CLI management tools including: VCE Vision, VMware vCenter, UCS Manager, Cisco NX-OS, and EMC Unisphere for VNX or VMAX

Configuring additional storage on an EMC VNX, XtremIO or VMAX system made visible to a Vblock hosted ESX Server

Installing and configuring a new ESX Server using UCS service profiles/templates

Setting up and utilizing Vblock System logs for problem determination

Setting up alerting and monitoring on Vblock components
The student must also have a basic understanding of:
Microsoft Windows and UNIX/Linux administration and operation

Concept of server, storage, and access path virtualization

Knowledge of Fibre Channel SAN zoning and virtualization
Vblock online Training Outline:
Program Name: Vblock Training course.
Duration of Course: 30 Hours (It can also be optimized as per required period).
Mode of training: Online, Classroom, and corporate training.
Timings: According to one's feasibility.
Batch Type:  Regular, weekends and fast track.
Materials: Yes, we are providing materials for Vmware Vblock Online Course. (We will get the soft copy material)

Sessions will be conducted through WEBEX, GoToMeeting OR SKYPE.

Basic Requirements: Good Internet Speed, Headset.
Trainer Experience: 10+ years.
Course Fee: please register on our website, so that one of our agents will assist you
Overview of Vblock Training:
VCE's portfolio of Vblock Systems and VxBlock Systems offers a variety of solutions to meet your needs, performance and scalability in the data center. Vblock Systems and VxBlock Systems are both industry-leading technology, with VxBlock Systems offering increased flexibility in network virtualization solutions with the option between Cisco ACI and VMware NSX.
Flexibility and Simplicity for Growing Businesses– The Vblock and VxBlock System 200 Series deliver a fully converged infrastructure and remote workspace for mid-sized businesses. Ideally suited for combined workload and general-purpose customer applications, these systems include next-generation computing, networking, storage and virtualization, and are an entry-level private-cloud solution suitable for businesses seeking the availability and performance benefits of enterprise-class.
Enterprise-Class Performance for Virtualization and Cloud Computing– The Vblock and VxBlock Systems 300 Series is an agile and highly scalable converged infrastructure designed for rapid roll-out or deployment of a virtualized data center, cloud environment or service provider solution. These systems can easily be designed to meet specific workloads or SLA requirements, such as VDI, Microsoft Exchange, Oracle, and SAP, while reducing risk and costs. Powering the EMC Unity Storage Platform, the Vblock and VxBlock 300 Series Flash are optimized, providing unparalleled performance.
Industry's First All-Flash-Based Converged Infrastructure- Vblock and VxBlock System 500 Series All-Flash-Based Converged Infrastructure Systems for Combined, High-Performance Workload and emerging third-platform applications. EMC XtremIO leverages all flash media storage and the Cisco Unified Computing System and is an application-centric infrastructure (ACI) ready network that provides scaled-out performance at ultra-low latency. The ideal platform for this is big data analytics and milling is the end-user computing.
What is Vblock and vxblock?
Vblock FastPath Desktop Virtualization Platform is a converged infrastructure solution that combines compute, network, storage, and virtualization, Vblock FastPath Desktop Virtualization Platform is the easy way for organizations to deploy a virtual desktop infrastructure.
VxBlock converged infrastructure is specifically designed to help you deliver cloud operations faster, consolidate and protect your high-value workloads, and simplify life cycle management. 
Automate key processes and move to a VMware training based private or hybrid cloud model.

Mix and match different storage arrays, a range of data protection options, blade and rack servers, and SAN management training

Gain a trusted single source of support and ongoing validation for all technologies across the stack.
Who can go for this Vblock course?
This course is intended for anyone charged with understanding and/or performing administrative and maintenance tasks using the Vblock system.
What are the learning outcomes of VCE Vblock course?
Understand the main elements of Administration and Management

Develop a working understanding of the Vblock system as it pertains to:

Validation

Monitoring

Administration

Management

Security

Perform resource isolation for simulated multi-tenant environments

Explain the steps for configuring monitoring and alert setup including thresholding

Build a Vblock System Run Book by walking through each of the component management interfaces.

Inventory current Vblock system configuration

Enact role based security

Understand and explore VCE Vision
Why you have to choose Vblock Training?
First and main reason is that it is Single product.

It reduced the complexity and risk like it cut wiring from different devices.

This product is pre-engineered as per you requirement.
The Advantages of Vblock online Course:
Vblock and other converged infrastructure offerings like it offer many potential advantages over how IT equipment has been traditionally consumed, namely:
Standardization- As enterprise IT look to reach the "hyper-scale" agility and efficiency of Google, Amazon, Facebook, and others, authentication is a key component it requires a NIC card or firmware authentication to progress to a variety of servers or types. Yes, the typical IT shop has a solid job due to the number of legacy applications and the infrastructure it needs to manage so virtualization is a way to achieve these benefits in their existing applications, new (cloud, mobile) applications.
One Throat to Choke- Dealing with multiple vendors is tricky as you know, pointing the finger at anything that happens out of the ordinary due to potential interactions in our multi-vendor setup. Having a vendor to deal with it promises that the converged system just work and is a huge potential benefit if standing behind it from a support perspective.
Integrated Whole- More than the sum of the parts summarizes this purpose. With road-tested reference architectures and compatibility matrices across multiple customers, being able to deliver entire moving pieces faster, theoretically, can accelerate its ability to deliver new services faster.
Benefits of Vblock Training:
Data protection-Vblocks can be equipped with EMC Avamar, DataDomain, and EMC data protection products, providing single call support that includes the data center hardware and the backup solution
Replication Solutions-Vblock storage can be replicated using RecoverPoint appliances, which is supported fully and directly by VCE.
Highly Available Solutions-Vblock storage can be stretched with EMC VPLEX, providing true active-active data centers for scenarios where data centers are sufficiently close to each other.
Management Features of Vblock:
Centralized Visibility
Vblocks are managed through VCE's Vision Intelligent Operations software. The solution enables an organization to review the health of all major Vblock hardware components.

Vision 3.0 allows for multi-Vblock management from a single window.
Centralized Management
VCE Vision does not directly manage the Vblock components, and is aptly named for its ability to only provide visibility. It does, however, provide links to all element managers, enabling administrators to quickly navigate to the management screen in question.
Automation
Vblock hardware and software do not provide any automation or orchestration tools.

However, Vblocks are great candidates for automation and orchestration through the addition of products like UCS Director or VMware vRealize Suite.
Monitoring and Alerting
VCE Vision aggregates alerts from the different element managers and provides a single SNMP manager that can then be piped to any SNMP compatible monitoring tool.
Integration
VCE Vision can be integrated into VMware vCenter, allowing VMware administrators to continue using vCenter as their primary management portal.
Conclusion to Vblock Training:
VBlock Training is physical hardware that brings together compute, network, storage, virtualization and management all in one rack. Its prepackaging, called Converged Infrastructure, allows users to choose pre-configured and integrated solutions with power, weight, cooling and geometry for data center planning purposes.
Through this preparation, the competitors would get the opportunity to find out about the astounding information that can utilize considerable Marketing Intelligence and Business Intelligence to recognize the client conduct, change of each move, dealing with the robot programming, ongoing investigation, and so forth. So the hopefuls would probably create high income for the association utilizing the Vblock device. Besides, learning the Vblock ECM Vxblock online Training thought to get the hopefuls acknowledgment in the working environment and include a pace in their profession just as this is a standout amongst the most requested range of abilities of the period in the IT Industry. For more details and contact information go through our official website Idestrainings.com to get knowledge and to explore system.