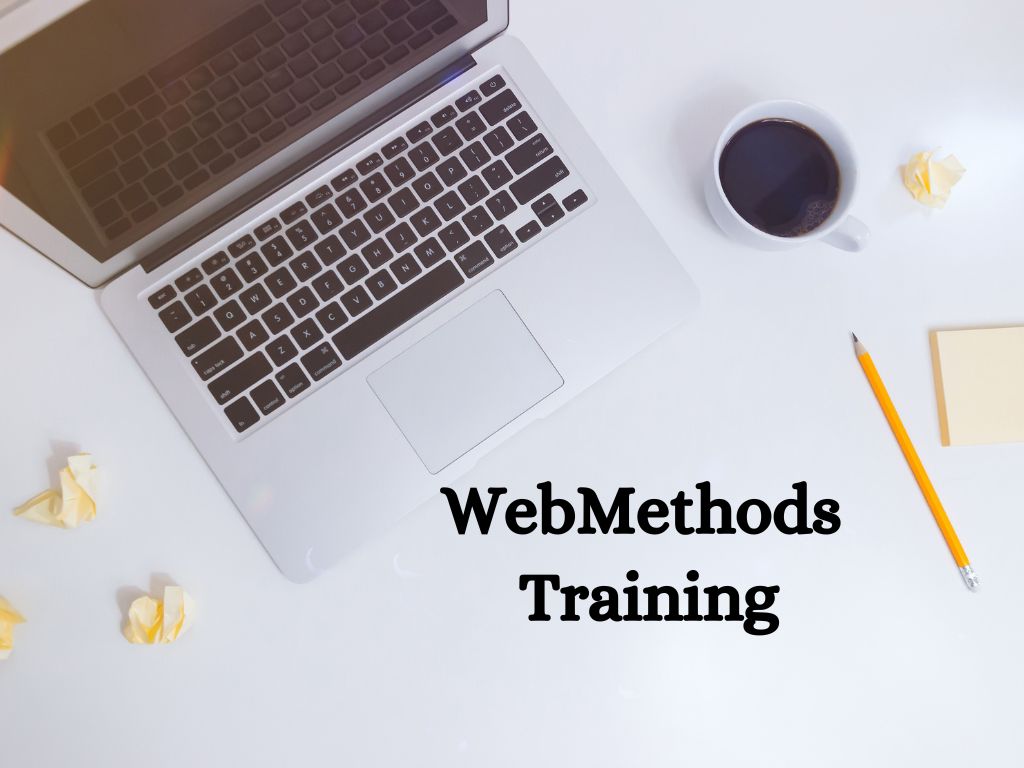 Introduction to WebMethods Training:
WebMethods Training at Idestrainings. WebMethods is an integration tool that focuses on application integration, business process integration, and b2b partner integration. WebMethods is an enterprise software and it was aboded the highest growing network in WebMethods, it is acquired by software AG company. it is mainly used EAI(enterprise application integration), that is used to integrate the disparate application record less of the platform The WebMethods provides an integrated platform with service-oriented architecture and business process management. Idestrainings provide online and corporate training for WebMethods Training. We also provide WebMethods Classroom Training in Hyderabad, Mumbai, Noida, Delhi, Bangalore, Pune etc.,,
Prerequisites of WebMethods Training:
Knowledge of any Programming Language.

Object Oriented Programming Concept.
WebMethods Online Training Course Details:
Course Name: WebMethods Training
Mode of Training: We provide Online Training and Corporate Training for WebMethods Course
Duration of Course:30 Hrs (Can be customized as per the requirement)
Do you Provide Materials: Yes, If you register with IdesTrainings, the WebMethods Training Materials will be provided.
Course Fee: After register with IdesTrainings, our coordinator will contact you.
Trainer Experience:15 years+ of experience
Timings: According to one's feasibility
Batch Type: We provide all types of batches like Regular, Weekends and Fast track
Backup Session: If the student misses the session, we also provide backup session
WebMethods Online Training Course Content:

Overview of WebMethods Training:
WebMethods is an integration platform that has many different runtime components &  various Development tools. It includes EAI & B2B capability. The WebMethods supports many e-standards Like XML Rosetta Net, EDI etc. WebMethods is considered a middleware market. The main competitors of WebMethods are TIBCO, IBM WebSphere MQ product series. It provides a good graphical tool to produce flow service that do mapping from any data format into the other format & connecting different application together.
Software AG's WebMethods Integration Platform is a proven, pre-integrated software suite featuring the market-leading Enterprise Service Bus (ESB) that enables enterprises to rapidly integrate systems, services, devices, processes, business partners and data to provide new business value and improve business performance.
Whether you need to integrate internal applications, trading partners, mainframes, messaging or are developing your SOA, EOK using WebMethods offers you the most mature, comprehensive and easy-to-use integration platform available to harness the value of current IT systems.
Enterprise Application Integration

E-Standards

Architecture Overview
Enterprise Application Integration:
Integration Server/Broker/Adapters expertise for versions 4.x thru 7.x

Consulting: Customized EAI solutions, EAI Product evaluation, Design, Implementation, Migration, upgrade and Maintenance.

Competitive migrations for ISVs – from other databases / development platforms to .Net, Windows & SQL Server.

Product Evaluations: With Superior capabilities in technologies like J2EE, .NET, AS400, Mainframe, help make the right decisions with EAI tools.

Adapter Development: Significant Adapter development work in integrating ERP and mainframe applications.

Legacy Application and Data Integration.

Legacy Application and Data Integration.

Open Source and Standards-based Integration –Jboss.

ESB/Messaging, JMS and standards-based technologies like XML/XSLT.
E-Standards:
Technical Expertise in EDI (x12, EDIFACT), XML (RosettaNet, BizTalk), HIPAA (Healthcare), SWIFT (Financial Services)
EDI implementation, Migration, Upgrade, Support and Maintenance services.
Design and Architect webMethods EDI implementation
Integrate customized partners EDI standards.
Architecture Overview:
Detailed analysis of current as well as future processes, applications and infrastructures.
Optimization of business process and performance management.
Review WebMethods configuration, Hardware configuration and the supporting systems.
Databases and network connectivity to provide tangible recommendations.
Evaluate existing architecture to identify performance limits in your hardware and architecture.
Provide/Ensure best practices implemented.
Importance of WebMethods Training:
This WebMethods is based on asynchronous messaging. Each message is encapsulated that holds process data. WebMethods uses java platform and eclipses to develop WebMethods it integration through different application layer in an integration process. We have different application layer in this integration process, such as data-level integration, API level integration, service methods integration and user interface level integration. WebMethods training there are also different tools in WebMethods like developer tool, integration server, integration platform, trading networks etc.
Integration means it is nothing but the creation of a link between previously separated system or applications and services; it means we are going to integrate different parts of the body. if you are going to develop a programs we will have different modules.

We have two different types of integration, they are EAI (Enterprise application integration) and B2B (Business to Business). EAI is a nothing but enterprise application integration, when we have been starting this web methods products its been focused on a B2B part only.B2B refers to all transaction between different business firms.

we have a lot of different tools available in the market and we have a number of middleware technologies available in the market which is having their own responsibilities in the ocean of middleware world. The architecture contains any number of components.

In 8.2 WebMethods and 28 components are there whereas in 6.1 WebMethods only 12 components and are divided into three types of different groups ( Runtime components, design-time components, Administration components).
Conclusion of WebMethods Training:
Idestrainings is all this taken care of the real time consultant and real-time scenario, all the consultant in Idestrainings are a subject matter real-time expert, who is working in web methods and they will be helping your WebMethods online training. Idestrainings trainers have supported you all your WebMethods job support project technical problems & guide you to the right path in order to obtain a favorable solution. You will learn to build your work we help to that development techniques.
Idestrainings has consultants are highly experienced and they are 24/7 training services, they are having real-time professionals with full stake technical skills. We are complete with the projects at clients deadline with we proud to say confidentially, the WebMethods Training is complete to take the best way as to care of the professionals. Idestrainings consultant helps the students and as well as working professionals till the end of a course. Trainees will get confidence by trainer support in their project. Will also support their projects completed. Our Training have done five or six projects regarding each module in WebMethods corporate training. At Idestrainings We also provide WebMethods classroom Training in Hyderabad, Noida, Mumbai, Delhi etc., We also provide training for WebMethods ESB.