Introduction to WebMethods ESB Training:
WebMethods ESB Training from Idestrainings. WebMethods Enterprise Service bus platform is critical for associations seeking to maintain or improve agility. Enterprise architecture (ESB) and IT surroundings are going through radical changes with the rise of technologies like big data, the cloud, mobile and social media, and an Enterprise Bus platform can help associations evolve and adapt more fluently. With the right enterprise service bus solution companies can more effectively develop secure, enterprise-class results to respond to business openings. They can integrate on-premises software with cloud applications built on different technology platforms. Idestrainings provide online and corporate training for WebMethods ESB Training. We also provide WebMethods ESB Classroom Training in Hyderabad, Mumbai, Noida, Delhi, Bangalore, Pune etc.,,
Prerequisites of WebMethods ESB Training:
Basic Understanding of Java, XML, XSLT, WebService, XSD
WebMethods ESB Online Training Course Outline Details:
Course Name: WebMethods ESB Training
Mode of Training: We provide Online Training and Corporate Training for PingFederate Course
Duration of Course:30 Hrs (Can be customized as per the requirement)
Do you Provide Materials: Yes, If you register with Idestrainings, the WebMethods ESB Training Materials will be provided.
Course Fee: After register with Idestrainings, our coordinator will contact you.
Trainer Experience:15 years+ of experience
Timings: According to one's feasibility
Batch Type: We provide all types of batches like Regular, Weekends and Fast track
Backup Session: If the student misses the session, we also provide backup session
WebMethods ESB Online Training Course Content: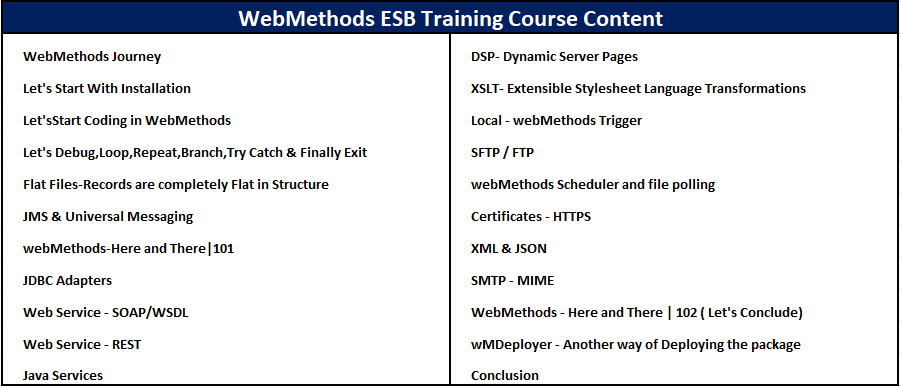 Overview of WebMethods ESB Training:
It focuses on the Enterprise Service Bus and describes a range of functions that are designed to offer a manageable, standards-based SOA backbone that extends middleware functionality throughout by connecting heterogeneous components and systems and offers integration services. They propose an approach to extend the conventional SOA to cater for essential Enterprise Service Bus (ESB) requirements that include capabilities such as service orchestration, "intelligent" routing, provisioning, integrity and security of messages as well as service management. This model is an abstract framework for understanding significant entities and relationships between them, and for the development of consistent standards or specifications supporting that environment. It is based on unifying concepts of SOA and may be used by architects developing specific service-oriented architectures or in training and explaining SOA. It uses the ESB as an important concept. At Idestrainings we also provide WebMethods Training from our real-time experts.
Roles and Responsibilities of Enterprise Service Bus.
Intent
Provide a convenient infrastructure to integrate a variety of distributed services and related components in a simple way.
Context
Distributed applications using web services, as well as related services such as directories, databases, security, and monitoring. There may be also other types of components (J2EE, .NET). There may be different standards applying to specific components and components that do not follow any standards.
Problem
When an organization has many scattered services, how can we aggregate them so they can be used together to assemble applications, at the same time keeping the architectural structure as simple as possible, and apply uniform standards?
The solution to this problem is affected by the following forces:
Interoperability. It is fundamental for a business unit in an institution to be able to interact with a variety of services, internal or external.
Simplicity of structure: we want a simple way to interconnect services; this simplifies the work of the integrators.
Scalability: we need to have the ability to expand the number of interconnected services without making changes to the basic architecture.
Message flexibility: we need to provide a variety of message invocation styles (synchronous and asynchronous) and formatting. We can thus accommodate all component needs.
Simplicity of management: we need to monitor and manage many services, perform load balancing, logging, routing, format conversion, and filtering.
Flexibility: New types of services should be accommodated easily.
Transparency: we should be able to find services without needing to know their locations.
Quality of service: we may need to provide different degrees of security, reliability, availability, or performance.
Use of policies: we need a policy-based configuration and management. This allows convenient governance and systematic changes. Policies are high-level guidelines about architectural or institutional aspects and are important in any system that supports systematic governance
Standard interfaces: we need explicit and formal interface contracts.
Conclusion to WebMethods ESB Training:
Idestrainings is all this taken care of the real time consultant and real-time scenario, all the consultant in Idestrainings are a subject matter real-time expert, who is working in WebMethods and they will be helping your WebMethods ESB online training. Idestrainings trainers have supported you all your WebMethods ESB job support project technical problems & guide you to the right path in order to obtain a favorable solution. You will learn to build your work we help to that development techniques.
Idestrainings has consultants are highly experienced and they are 24/7 training services, they are having real-time professionals with full stake technical skills. We complete with the projects at client's deadline with we proud to say confidentially, the WebMethods ESB Training is complete to take the best way as to care of the professionals. Idestrainings consultant helps the students and as well as working professionals till the end of a course. Trainees will get confidence by trainer support in their project. Will also support their projects completed. Our Training has done five or six projects regarding each module in WebMethods ESB corporate training. At Idestrainings We also provide WebMethods ESB classroom Training in Hyderabad, Noida, Mumbai, Delhi etc.,